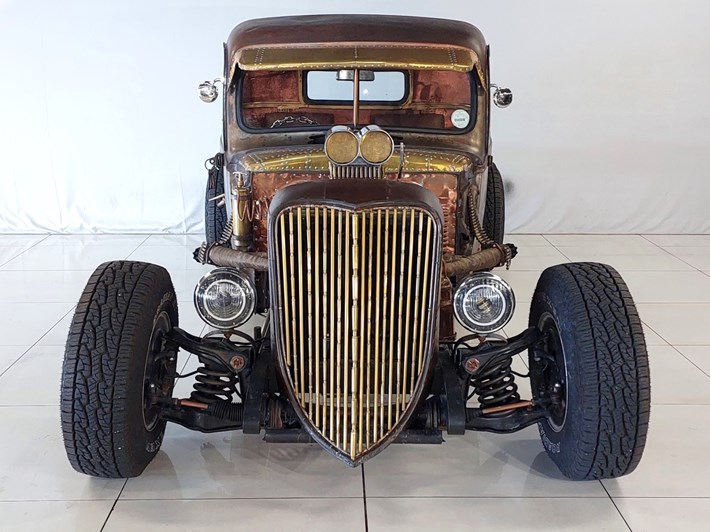 RAT RODS: WHY THESE ROAD REBELS AREN'T GOING AWAY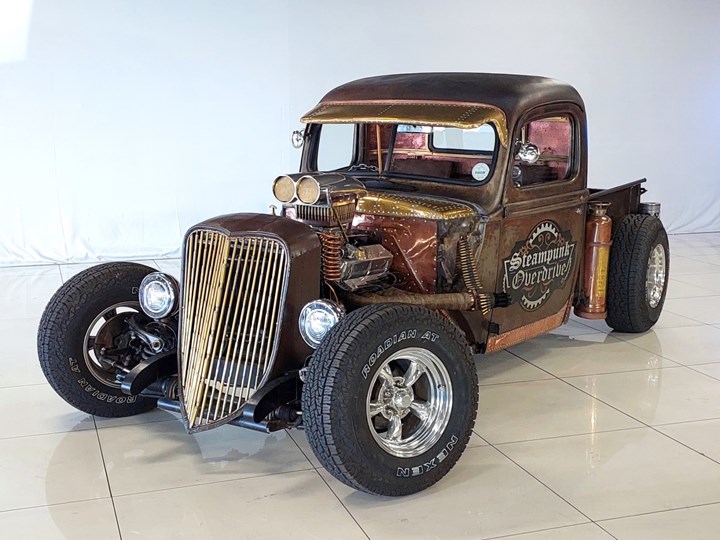 The best analogy to describe the difference between hot rods and rat rods is that you'd proudly take home and introduce a hot rod to your parents, but on your deathbed still remember the wild make-out session behind the bleachers with your bad girl rat rod.
So says Creative Rides Classic and Collectibles Auctions CEO Kevin Derrick, who describes rat rods as "automotive Frankensteins built to be driven hard and loud".
Mad Max
"They're not quite hot rods and not quite street rods. Rat rods are somewhere in-between; the best of them designed by people with Mad Max mentalities.
"The cars are low, raucous and chopped. They also tend to be designer rusty, sporting big back tyres, exaggerated carburettors and novelty gear shifters with knobs ranging from polished skulls to stylised hand grenades.
"Haters call them drivable (s)crap, while they're prized as industrial art on wheels by legions of rat rod devotees.
"Think of them what you will; but the fact remains that rat rods are unique, which makes them desirable and collectable."
Steampunk Style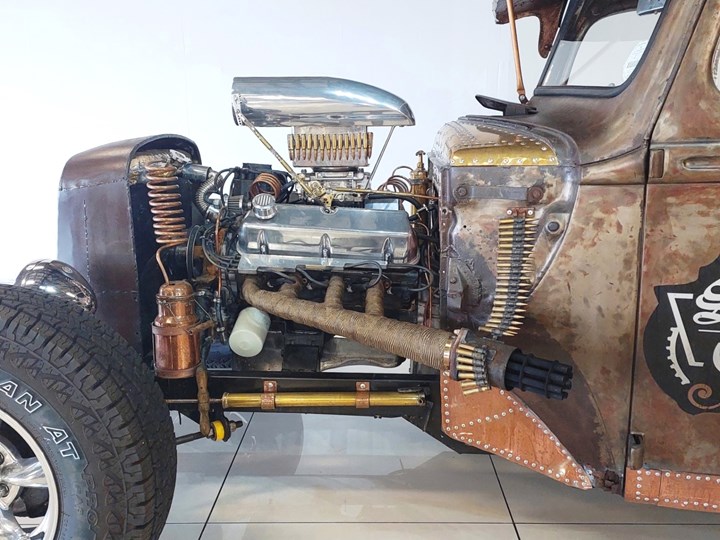 Derrick says the steampunk-inspired rat rod currently consigned to Creative Rides' Johannesburg showroom exemplifies why these metal beasts have developed such a cult following.
"Mechanical highlights include a 302 Ford V8 engine that delivers all the grunt you could want, an electronic ignition, a four-barrel Holley carburettor, a three-speed automatic gearbox and disc brakes that add an extra safety dimension to this lightweight road warrior.
"Unlike many rat rods, this one also boasts an up-to-date licence disc that makes it completely street legal, and an odometer reading of less than 1 400km."
But the exquisite design detail puts this rat rod in a class of its own, according to Derrick.
"You can gaze at the vehicle for days and still discover features you didn't see before.
"Highly decorative hand-beaten copper and brass trim is just the start. Unmissable are the twin exhausts capped by oscillating Gatling gun barrels draped with cartridge-filled bandoliers.
"The exhaust system decoration is a perfect match for the cowcatcher-styled grille, which on closer inspection you'll notice is built entirely from brass bullet casings that also complement the cartridge trim in the engine bay.
"The rat rod's tail lights take the form of stylised steel skulls mounted on either side of the wood-inlay truck bed; their silvery tone reflected in the industrial-feel steering wheel built from chromed chain.
"But the quirkiest steel-hued feature has to be the small sculpted rat that peeks through a rusty hole in the bodywork near the passenger door.
"This remarkable vehicle demonstrates unequivocally the design standard of South African rat rods, which can hold their own against the best in the world."
Rat Rod Origins
Derrick says rebellious rodders first started building rat rod-style road machines 60-plus years ago, but the term "rat rod" only made it into gearhead parlance sometime in the 1990s.
"This coincided with a new generation of auto aficionados discovering and adopting internal combustion artisanal expression, which didn't take long to evolve from subculture to cult.
"One of many reasons for their growing cult following is the anti-establishment nature of the rat rod genre, because there's no such thing as a 'standard' rat rod. They're all designed to different specifications, they're built from different parts and have different engines.
"People have often asked me to nail down a definition of rat rods and my answer is the same: 'I can't – but I know one when I see it'."
Rat Rods - The Good, Bad and Ugly
Derrick says precisely because of the "Frankenstein" nature of these vehicles, gearheads who are keen genre novices should get professional advice before buying a backyard-built rat rod.
"Just as rat rod exteriors range from wildly weird to bizarrely beautiful, what's under the bonnet can also vary from genius engineering to just plain deadly.
"Another thing to bear in mind is what you want to do with the car. Call me crazy, but in my book being able to drive it around is first prize, so I'd want a rat rod that's street legal."
Here's Derrick's headline list of rat rod pros and cons.
The pros:
· Uniqueness: The aesthetic individuality of rat rods identifies them as labours of love.
· Performance: No rat rod in history was built to run like a 1300cc compact car. They're built to growl when standing and roar on the road – the only question being the degree of power the designer put under the bonnet. The choice is usually somewhere between needing to pray and needing clean trousers.
· Comparable affordability: In a world of eye-wateringly expensive car modifications, rat rods are deliberately rough and ready. They're meant to showcase ingenious repurposing of junkyard treasures that others would see as scrap.
· Creativity: A major reason for fans identifying them as "industrial art on wheels". Good rat rods perfectly blend artistry with engineering.
The cons:
· Safety: Before you buy a rat rod, think of two things. Firstly, if you want to drive it on the road, it needs to have the basic safety features that'll make it street legal. Secondly, remember that you're driving a rocket disguised as a car. If you don't have the skills to handle the performance, don't get behind the wheel.
· Emissions: Rat rods are the very definition of "internal combustion" when it comes to engines. Unless you're a huge fan of irony, it's not the car for a "Save the Planet" bumper sticker.
· Efficiency: Rat rods don't run on the smell of a fuel rag. High performance guzzles gas, but what you lose in efficiency you more than make up for in adrenaline and sheer driving exhilaration.
Cult Of Rat Rod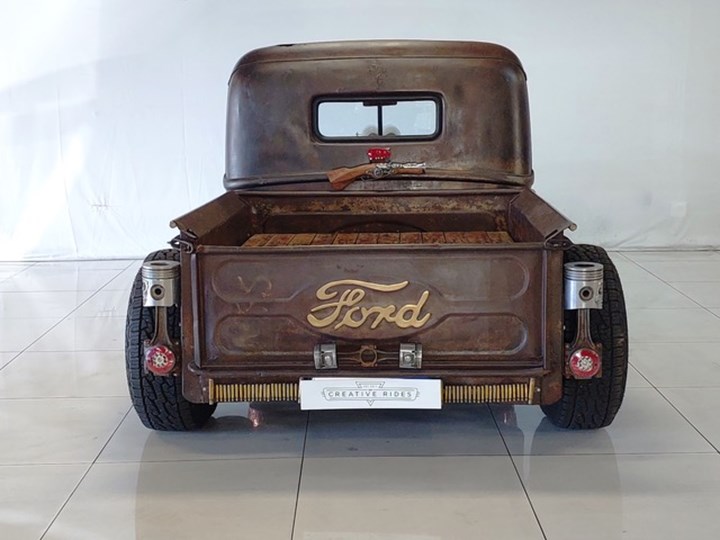 Derrick says like every niche of the collector car market, the rat rod scene is as much about people as it is about the vehicles themselves.
"Rat rod lovers believe they epitomise freedom, while haters wish the world was rat rod-free. Ironically, the number of traditional car enthusiasts who thumb their noses at rat rods is part of the reason for their cult following.
"To be a rebel you need a cause, which means as long as there are haters there will be a rat rod road rebellion, and I can't see it ending anytime soon."
Images and Text: bartlettcommunications
About the author: