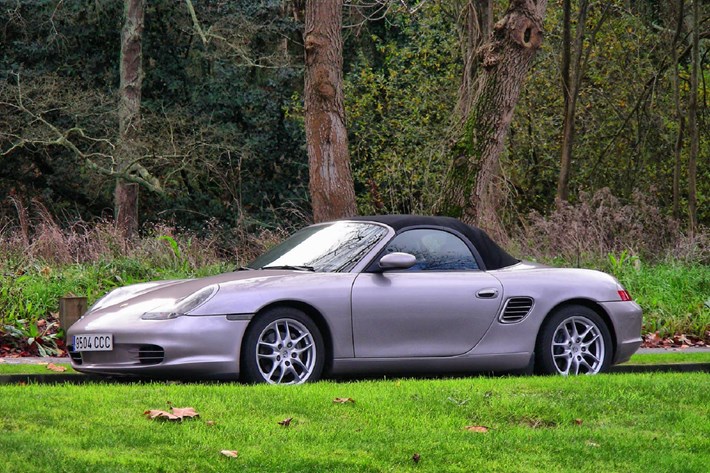 Overview                    
When it was launched in 1996, the first-generation Boxster was a revelation in many ways but it missed the mark in two crucial areas, looks and power. Thankfully, in what has long been a Porsche tradition, continuous incremental improvements addressed those issues and the 986 stayed at the top of its class right up until it was replaced by the 987 in 2004.
The original 150kW 2.5-litre flat-six was not exactly slow, but the capable chassis could handle a lot more power, so, in 1999 it was replaced by a 162kW 2.7-litre motor while a 186kW 3.2-litre S variant was introduced to head up the range and silence any remaining critics.
Part of the reason the Boxster helped save Porsche from financial ruin was that it shared a number of key components with the soon to be released 996. This helped cut production costs as both cars were largely the same up to the A pillar and they also shared the new M96 water-cooled engine architecture. Thanks to the Boxster's mid-engined layout, it was actually more composed around fast bends than a contemporary 911.
Sales picked up as the years wore and prices are attractively low for most 986 models these days. Despite some issues on earlier cars, the majority have proven to be reliable and largely trouble-free. That said, these cars are over two decades old now so being armed with some knowledge of what to look out for is essential if you don't want to turn your mid-engined Porsche dreams into a nightmare.

What To Buy
The first-generation Boxster is a great modern classic that offers an immersive driving experience without feeling like the more than two-decade old design that it is. While early cars can be had for temptingly low sums, we suggest spending a little extra and focusing on the improved post-facelift models. Don't get too caught up on the mileage as rarely used cars tend to have more issues than ones that see regular use as long as regular servicing intervals have been adhered to.
If low cost is a priority then a 2.7-litre Boxster is a fine option, especially the post-2002/3 models which had a tad more power and benefited from a number of improvements.
The 3.2-litre S variants do offer a significant boost in performance and most can be found for not much more than their less powerful stablemates, a post-facelift manual transmission model would be our choice, but any decent Boxster is a joy to drive and practically unmatched at current prices.
Checklist
The most common concern with these cars are the IMS (Intermediate Shaft) bearing and RMS (Rear Main Seal) failures. The truth is that while affected cars have been known to suffer expensive engine problems the issue is not quite so prevalent as you might think. There are also several preventative measures that can be carried out to give you extra piece of mind and the cars that are still around have usually had upgraded parts fitted by now.
The RMS seals tend to leak a bit of oil on most cars, however unless it is pouring out the seal it can be replaced with the next clutch change as the gearbox needs to be removed for the jo
The IMS bearing was a weak point on early cars and could result in engine failure, the design was upgraded several times, so the issue is far less prevalent on later cars. Specialists also offer upgraded bearings so check if this has been done on your potential purchase.
Cylinder bores were also known to crack on some vehicles, however this tended to happen below 80,000-kms and if the car has lasted 20-odd years it is unlikely to happen now. Still, check the service history and if you suspect anything then have a bore scope inspection carried out by a specialist. High engine temps are a warning sign as is a creamy oil/water mixture under the oil cap.
The flat-six engine itself is a strong unit, available in 2.5, 2.7 and 3.2-litre capacities they require a service every 20,000-km or annually so watch out for low-mileage cars that have not had regular oil changes. Missed oil services can lead to worn chain guides on the VarioCam timing chain tensioner, an issue that is more prevalent on pre-2002 models.
Lumpy idling or hesitation while acceleration could indicate a cracked HT lead or a mass airflow sensor that needs replacing. Neither is overly expensive.
The base models came fitted with 5-speed manuals while S variants had 6-speed units. A 5-speed Tiptronic automatic unit was also made available but opting for one of these is missing the point a bit. All are reliable although specialists recommend that the fluids be changed more frequently than the rather long intervals suggested by Porsche.
A stiff clutch, tough gear changes between first and second or untoward noises from the rear when engaging gear may indicate that the transmission needs inspecting.
The lower arm bushes and rose joints on the trailing arms in the rear tend to need replacing every 60,000-kms. Creaking noises when turning or going over bumps may indicate worn or cracked springs; uneven tyre wear is also something that needs to be explored further.
It may be a simple case of the tracking needing adjustment, but it can also indicate worn shocks or damaged suspension components. Aftermarket wheels can exacerbate any of the above issues, so it is best to stick to standard fitment alloys.
The standard fitment pads and discs (larger up front on S variants) are more than up to the task of bringing the Boxster to a stop, the correct replacement parts are not cheap so look out for warped discs or pads with not much life left in them. Discs also tend to corrode if left standing for long periods.
Rust is not a particularly common issue although it is still advisable to check around the arches and under the car for signs of corrosion. Blocked drainage channels can have water pooling behind the seats which will rot the rear arches over time or damage the ECU.
The engine and aircon radiators are mounted low behind the front bumpers, these tend to accumulate road debris and dirt over time. If they are in good condition it is a potential sign that the current owner carries out preventative maintenance. If not, they may have corroded and could require replacing.
Early cars came with a plastic rear window that would glaze and crack over time, glass replacements can be installed, and facelifted cars had them as standard. The roof mechanism requires periodic lubrication and you should raise the roof to see whether the fabric is free from tears and has not shrunk over the years.
The interior layout and design is very similar to the 996 and suffers from most of the same issues. The build quality did improve as production went on but certain buttons and switches as well as the door bins can feel a bit flimsy.
Check that the fabric roof closes snugly around the frameless windows, and that the seat bolsters, pedals and steering wheel exhibit the kind of wear you would expect of the mileage shown.
Make sure that the navigation system (if fitted) still operates properly, some owners have installed their own aftermarket systems which may look out of place but will most likely be an improvement on the ancient original setup.
Production History
1996:   986 Porsche Boxster launched with 150kW 2.5-litre 6-cylinder mid-mounted engine. 5-speed manual or Tiptronic gearboxes offered
1999:   162kW 2.7-litre engine becomes base engine. 186kW 3.2-litre Boxster S introduced with uprated brakes and a 6-speed gearbox
2001:   PSM anti-skid system introduced
2002:   Facelift carried out, interior gets new steering wheel and glove box as well as glass rear window. Front indicators now clear units and new wheel and body colour options made available
2003: Power increased to 168kW for 2.7-litre cars while the S gets bumped up to 192kW
2004:   Special edition 550 Spyder released. All 1,953 were painted GT Silver Metallic and fitted with MO30 sports suspension and sport exhaust. Power up to 198kW.
Last Boxster rolls off the production line with over 160 000 cars produced.
Specifications (Boxster S)

Engine:            3.2-litre dohc flat-six
Power:             186-192kW
Top Speed:     260kph
0-100kph:       5.7sec