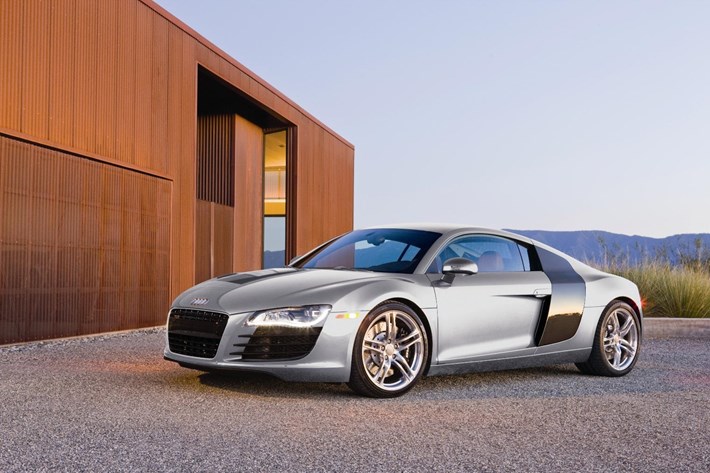 Overview                     
When Audi announced its mid-engined R8 in 2007, few people expected it to be up there with the segment leaders on its first try. Yet, not only was this new sportscar a step ahead of its usual rivals from Bavaria, it took the fight to the benchmark 911, too.
Part of the new car's success was down to a change in philosophy to the traditional Audi fast car recipe. Placing the engine midships and recalibrating the quattro system to be more rear-biased all but eliminated understeer. The naturally aspirated 309kW 4.2-litre V8 from the contemporary RS4 provided instant throttle response and a soundtrack to suit.
Audi gave the opposition a bit of time to regroup before releasing the 381kW 5.0-litre V10 taking the fight another rung up to Ferrari V8s and Porsche Turbos. Being part of the VW group meant that the R8 shared componentry with its more flamboyant Lamborghini Gallardo cousin, especially in V10 guise, as well as some of the best bits from the Audi performance parts bin.
The first-generation R8 has done wonders for the Audi brand, a well-balanced chassis and a pair of great engines have allowed it to shake up the junior supercar establishment. The R8's mix of performance and affordability is still as relevant today as it was at its launch.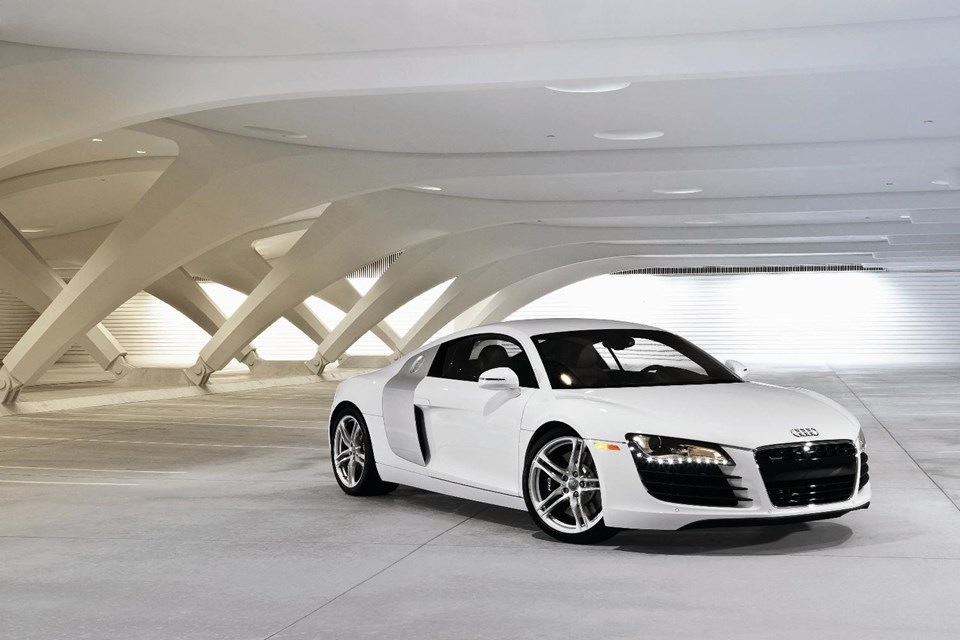 What To Buy
Available as a manual V8 at launch the R8 offerings swelled out to include a Lamborghini derived V10 a convertible and numerous limited-edition models.
Most early V8s were available with a manual gearbox as standard and a 6 speed R Tronic gearbox as an option, the R Tronic was criticised by some for its low-speed jerkiness but came into its own when pressing on. The 2012 face-lift saw the introduction of an improved 7 speed R-tronic gearbox as well as some external and internal changes intended to freshen up the design.
A number of limited-edition models were sold such as the R8 GT which was a lighter more focussed R8 V10, as well as the R8 V10 Plus and LMX. These all featured ever-increasing power outputs making sure to keep just a few horsepower below their Lamborghini stablemates and are the ones to have if owning the ultimate first-generation R8 is your aim. The South African market did not get access to most of these special edition variants though so unless you are willing to import a car, the standard V8 and V10s will have to do.
Most people will automatically assume the V10 is the one to have, however, the V8 is plenty fast enough accompanied by a satisfyingly deep exhaust note and while the V10 is appreciably faster in a straight line you would need a long empty stretch of road close to home to make the most of the extra power on a regular basis.
Optional ceramic brakes are worth having if you plan to do regular track days otherwise the standard disc and brake setup is more than up to the job. The other option that is a must both on and off the track are the magnetic ride shock absorbers which improve ride comfort while keeping the car planted in the twisties.
There are a huge range of cars to choose from, the recent release of the new R8 may have something to do with that but the older generation cars are still in demand and residual values are generally excellent.
Whether you settle for an early V8 or the last of the line V10 Spyder, the first-gen R8 is a great supercar with the looks to match. Throw in the practical aspects of reliability and reasonable running costs and you can have your supercar cake and eat it.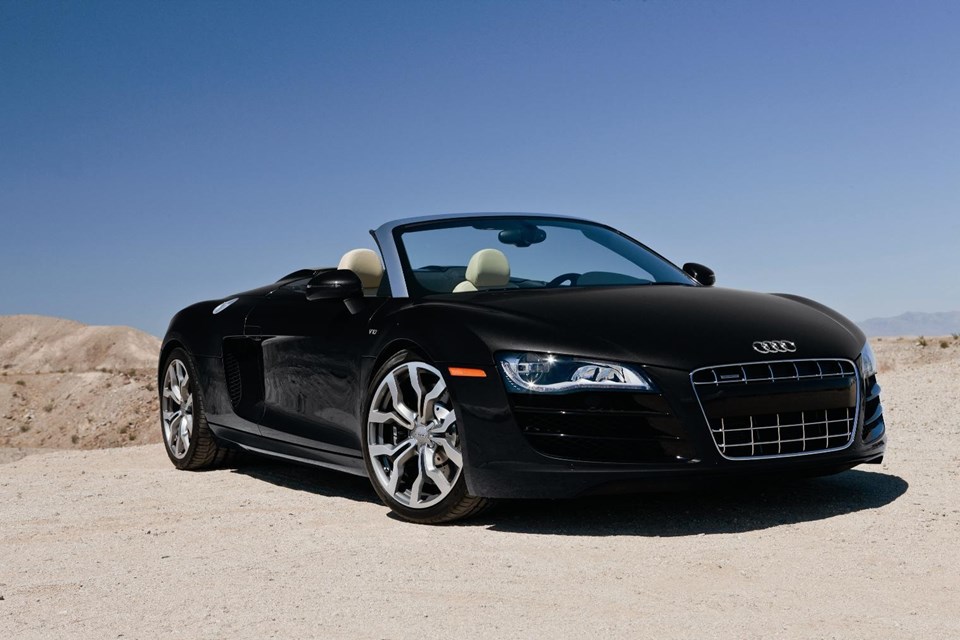 Checklist
Parts are still widely available and while servicing charges are not the same as they would be for your A4 they are on the lower end of the scale in supercar terms. Reliability has been very good on the R8 and there are precious few issues to be concerned about.
A recall was carried out on cars built between April 2009 and August 2011 for a fuel pipe that was located too close to a heat shield. Check that your car has had this checked out if it was built during this time frame.
Servicing can be either time or mileage-based, except on the GT models which have fixed service intervals. Avoid cars with patchy service histories as despite their inherent reliability, missed services can cause problems.
Some owners have noted that second gear on manual cars can suffer from crunching synchros if the gearboxes have been abused.
V10 models tend to have higher running costs especially if the carbon-ceramic brakes need replacing, not to mention the fuel consumption increase over the V8 cars.
Production History
2007:   Audi R8 coupe launched, initially available in coupe body style and 309kW V8.
2009:   R8 V10 released, 5.2 litre V10 produces 381kW. LED headlights, larger brakes and updated body styling differentiate the two models.
2010:   R8 V10 Spyder introduced with same mechanicals as V10 coupe and soft top electronically folding roof. R8 GT launched featuring an uprated 406kW V10 engine with a 100kg reduction in               weight.
2011:   R8 V8 Spyder introduced with electronic soft top folding roof and a slightly uprated 315kW V8. R8 GT Spyder launched with same mechanicals as R8 GT.
2012:   Major face lift carried out on all R8 models with changes to LED headlights to all models, uprated 7 speed S Tronic gearbox and new bumpers and trim.
            R8 V10 plus model available in coupe body style featured uprated 399kW V10 engine and model specific interior and exterior trim items.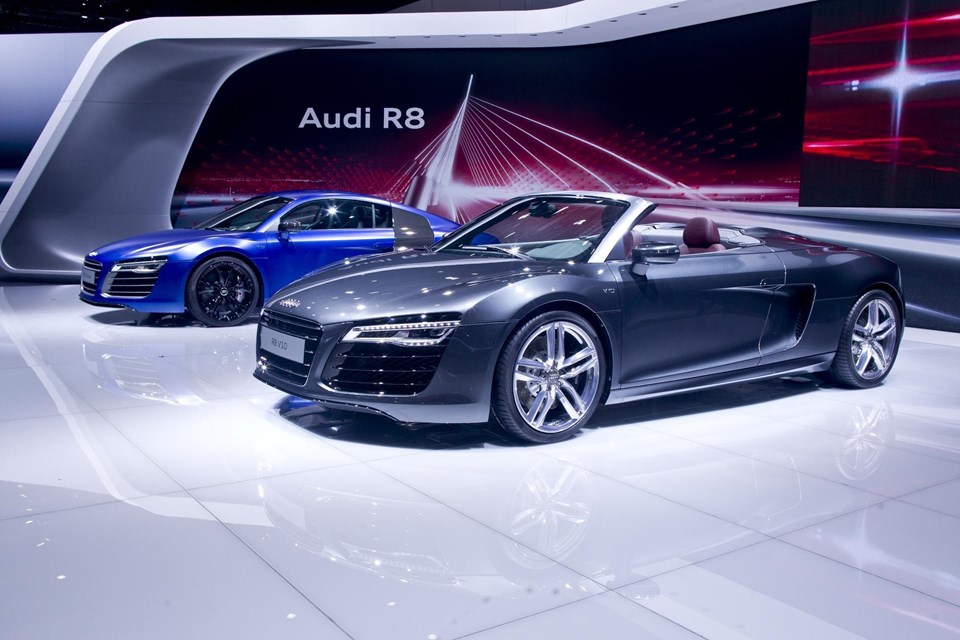 Specifications (R8 V8)

Engine:            4.2-litre dohc V8
Power:             309kW
Top Speed:     301kph
0-100kph:       4.6sec