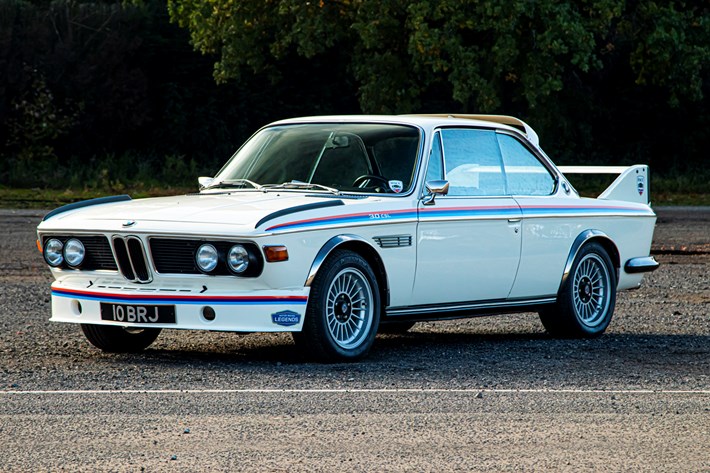 Overview                   
Over the past few decades we have become used to BMW producing powerful 'M' cars based on their standard models. This was not always so and in 1972, BMW's first foray into this sports car category started with the 3.0CSL which was based on their 3.0CS coupe. It was homologated to gain BMW entry into the European Touring Car Championship, and a number of weight saving measures were carried out to improve the overall performance of the cars earning it the 'L' bit in its badge. It was a successful move and the E9 CSL became the precursor to many lightweight versions of other standard BMW road cars such as the E46 M3 CSL and more recently the E92 M3 GTS. Conceived in the BMW motorsport division, later to be renamed BMW M GmbH, the CSL is considered to be the first of a long line of M performance cars.
Developed to go racing, the CSL achieved some great results, with wins in the Le Mans 24 hour in the special tourism class in 1973 and 1974, the IMSA GT Championship in 1975 and winning the European Touring Car Championships every year from 1973 to 1979 bar for 1974.
A CSL was also used as an automotive canvas by renowned artist Alexander Calder, becoming the first ever BMW art car, the second one was also a CSL this time painted by Frank Stella. A Hommage CSL was revealed in 2015, showcasing some cutting edge design and hinting at the future of the BMW Coupe while paying tribute to the classic lines of the original.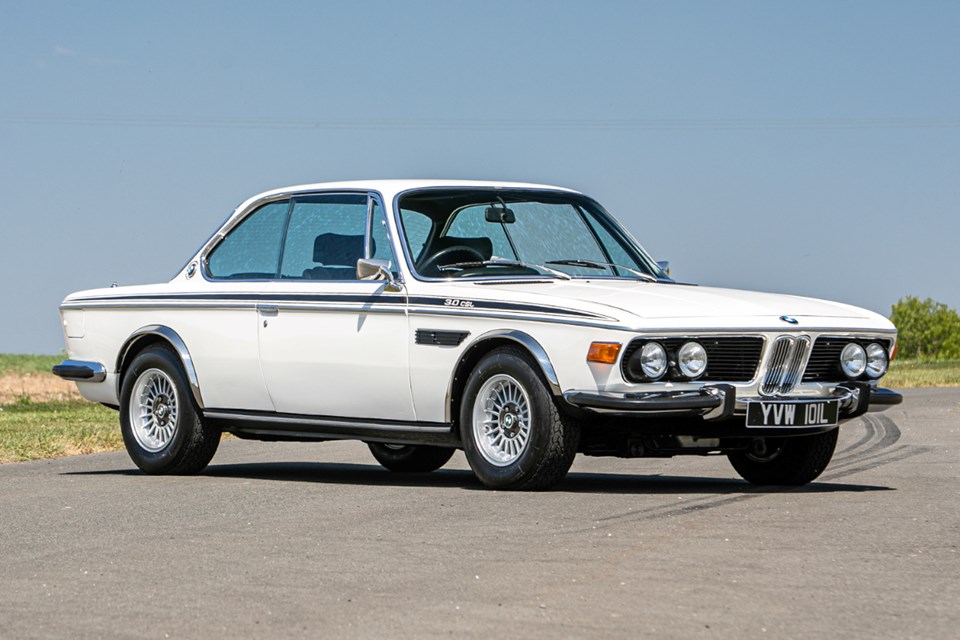 What To Buy
1096 CSLs were built in total with 500 of these being imported into the UK in the 70s, however these versions retained the standard interior trim negating the total weight saving somewhat. The other benefits of the Aero kit, thinner gauge (therefore lighter) steel, and aluminium parts were still there. The UK specification cars had what was referred to as the 'city package' which included most of the basic spec from the 3.0CS and CSi models to improve day to day useability. All cars had 4 speed manual gearboxes although many have since been converted to five speed units, a lot of BMW parts are interchangeable on these cars and searching for a totally standard car may take some time.
The original CSL came with a twin carb 3.0-litre engine that it shared with the 3.0CS, later iterations received a small bump in capacity to push swept capacity up to just over the 3 litre mark and also adding fuel injection, enabling them to be entered in the over three litre racing categories. Optional extras were not very numerous and the most noteworthy were factory fitted air conditioning and a limited slip differential, in 1973 the engines were further increased to 3.2 litres providing a modest power and torque increase and the rarest version of the CSL, the Batmobile is based on this version. With only 39 made they are very sought-after and command eye watering prices. With their outlandish aero kits, they still turn heads today and unlike so many aero add-ons actually contribute to the high-speed stability of the car. To bypass the laws governing the size of external aero devices, the iconic rear wing was left uninstalled in the boot of new cars.
Performance is still very respectable but don't expect modern day turbo like levels of torque, instead these cars deliver their power in that creamy straight six way that used to be a hallmark of all performance BMWs. You will need to explore the upper reaches of the rev range to get meaningful acceleration and for this you will be rewarded with a great sounding exhaust and a chassis that is well balanced if a little tail happy at the limit.
The 3.0 CSL has over time become a true collector's car with prices increasing steadily to reflect this. It combines everyday useability and practicality with sports car performance in the same way that M cars do today. Be wary of patchy histories and modifications that compromise the nature of the car.
A classic coupe silhouette, sonorous straight six engine and decent reliability all make the CSL a great classic to own and enjoy. With prices unlikely to dip anytime soon, it is an investment that satisfies both the head and the heart.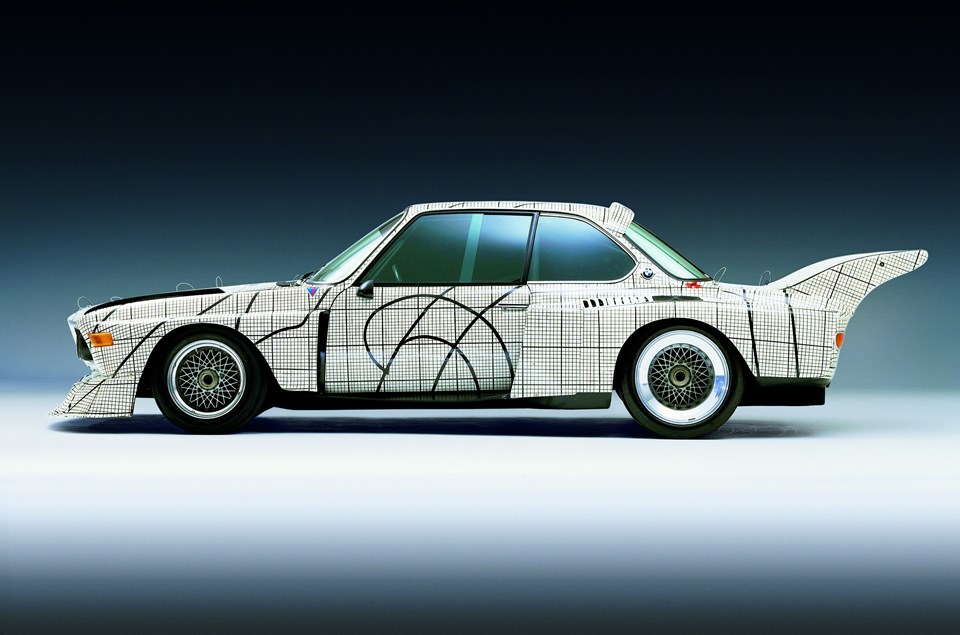 Checklist
Engines are extremely strong and apart from requiring valve adjustments every 15,000km or so, they go on and on. Head gaskets can blow if the cooling system is not in good condition.
Mechanical components are generally easy to source and can be found through various specialists if BMW does not have the specific part that you are looking for. Many parts are also interchangeable with later BMW models so a lot of E9 coupes have had upgrades and modifications carried out over the years.
The main area of concern on the 3.0 CSL is the body, the non-aluminium panels can rust while the aluminium components can corrode over time. Parts are not easy to come by and a badly rusted car can be a nightmare to get right. Scrapyards are a good place to start hunting as well as car clubs.
Pay particular attention to the wheel arches and sunroof channels if fitted. Interior trim items are very scarce and will have to be sourced second-hand so it is worth looking for a car that has a complete interior.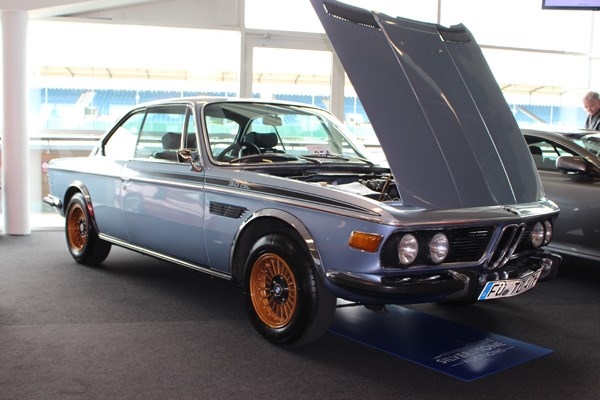 Production History
1972:   Launch spec engine same as 132kW 3.0 CS with twin carburettors, only available in LHD. 142kW 3.0-litre engine gains fuel injection in late 1972 and UK spec BMW CSL goes into production, these UK spec cars retain electric windows, sound deadening and standard bumpers.
A small increase in capacity mid-year to just over 3.0-litres makes the cars eligible for the over 3.0-litre racing categories.
1973:   Engine displacement increases to 3.2 litres, power now at 154kW. Only available in LHD.
1975:   Final CSL rolls off production line totalling 1096 cars.          
Specifications

Engine:            3.0-litre sohc inline-six
Power:             142kW
Top Speed:     213kph
0-100kph:       7.7sec