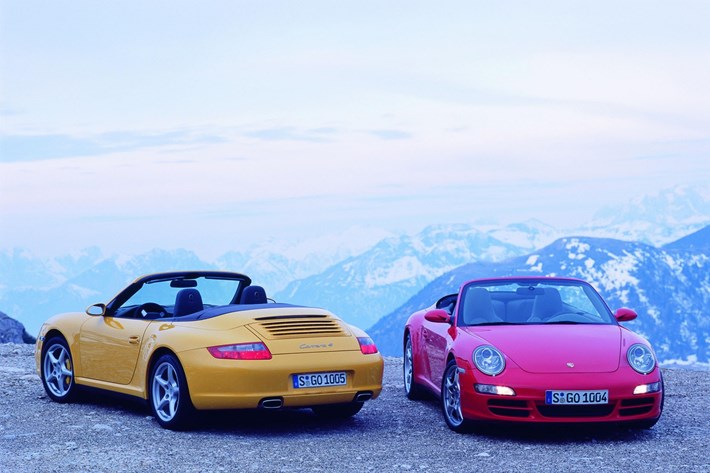 Overview                    
Incremental improvements are often cited as the hallmark of the 911 range, year after year subtle updates are introduced to hone and perfect what has become the most recognisable and arguably desirable sports car ever made.
The 997-generation 911 may have inherited much from its forebear, but the changes it received made a big difference to its looks and performance, and even in the last years of production the 997 remained a class-leader.
While the body panels were said to be almost all new, a casual observer might easily confuse the two models, unless that is, they were looking at them from the front. The 997's return to the more traditional headlight design was the most obvious visual difference and a welcome change.
Available with either a 242kW 3.6-litre which was a carry-over from the 996, and a newly developed 265kW 3.8-litre power unit, the Carrera range could be had in either coupe, convertible or targa body styles. Four-wheel-drive was introduced later in 2004 and these variants had slightly wider bodyshells.
Initial transmission options were a newly designed 6-speed manual or the familiar Tiptronic auto. Other than the additional power, the S versions also came standard with Porsche's new PASM stability management system. The interior was all-new, the design now more closely linked to earlier air-cooled Porsches.
Other than some minor changes the range received its next big update in 2009 when new direct injection engines were introduced, adding power and removing the troublesome IMS shaft. The sporty PDK transmission replaced the ageing Tiptronic unit and updates to the lights and interior finishes were carried out. In true Porsche tradition options were plentiful and pricey so few cars were highly specced. Popular items were the upgraded Bose sound system, sports seats and rear wipers.
The 298kW 3.8-litre Carrera GTS was introduced in 2011 and featured the wider four-wheel-drive bodyshell. It could be had in coupe and convertible versions. The limited-edition 911 Speedster featuring the same engine arrived the same year while the retro-inspired Sport Classic was built in very limited numbers the year before.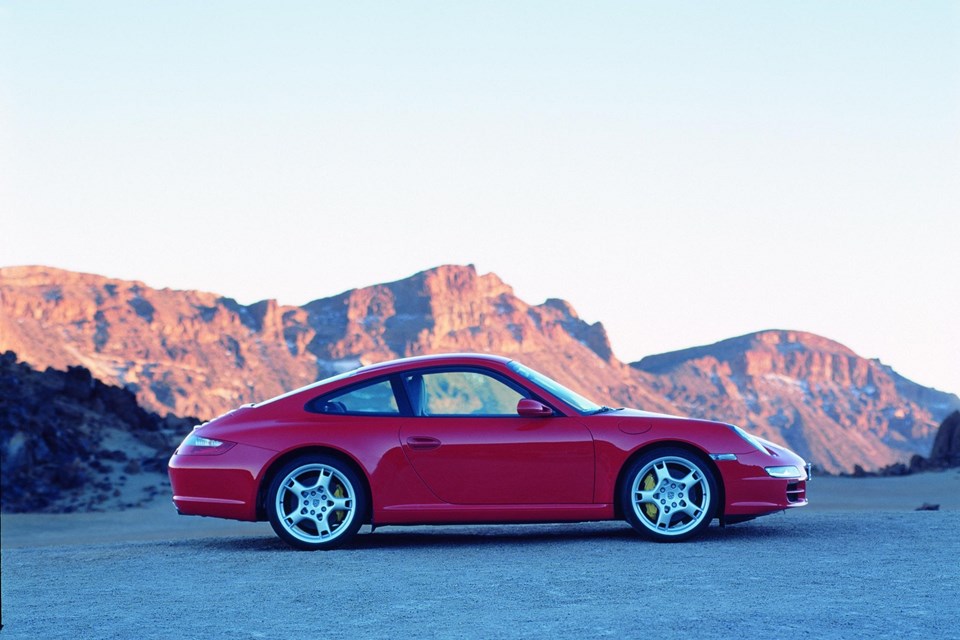 What To Buy
The 997 was a popular car throughout its eight-years of production, the updated looks have aged well and there is a lot of choice out there. The most common cars out there are the more powerful S models with either Tiptronic or PDK transmissions. Four-wheel drive was also a very popular box to tick when the cars were new. Convertibles are generally a few grand more than the targas and coupes and are a rarer find too.
If you are looking for pure driving enjoyment, a manual or PDK Gen II Carrera or Carrera S in two-wheel drive spec is a great choice. Targas give the cabin an airier feel, especially in the back, but they do not feature the cool retracting roof of the newer 991 models.
Those intending to visit the track should look out for cars equipped with the sport chassis (which included a limited-slip diff), sports chrono pack and switchable sport exhaust system. The X51 power kit was very pricey and added around 19kW to Carrera S models so was rarely fitted.
Checklist
With so many online platforms having focused on the small percentage of admittedly very expensive engine failures, it is best to have any potential purchase checked over by a 911 specialist, this will allay your fears and hopefully highlight any potential issues that may be lurking around the corner. After all, there are thousands of satisfied 997 owners out there and following a few simple checks can ensure that you too can become one of them.
Intermediate Shaft bearings have failed on a number of earlier cars although it is nowhere near as bad as an internet search might have you believe. Post-2005 models have upgraded bearings and Gen 2 cars got rid of the IMS shaft completely.
The Rear main seal (RMS) can also drip oil and can generally be attended to when the clutch needs doing as the gearbox needs removing to get to the seal. 2007 MY-on cars are less affected by this issue. The tandem vacuum pump is another problem area that will also show itself as oil dripping from the back of the engine, however this tends to afflict the Gen 2 models more.
Bore scoring is something that affects a small percentage of Gen 1 cars (especially S models) and an oily deposit on the left side exhaust pipe and/or ticking during idling can indicate an issue. Bore scopes are the only sure way to know and should be factored into any Gen 1 purchase price.
Radiators mounted behind the front bumpers can accumulate leaves and road grime and can get blocked or develop small leaks leading to overheating issues.
Manual gearboxes are robust as are both the Tiptronic and PDK units. Some specialists recommend oil changes whenever the clutch needs changing which is around every 80,000-kms.
Front bushes on the suspension arms can wear out and if this is found in combination with excessive tyre wear on the outside edge and warped brake discs, the car will most likely have seen some track use.
Brakes on all variants are typically strong and more than up to the task of fast road and occasional track use. If the switchable exhaust is fitted check that it still works as the flap int eh exhaust can seize.
Convertibles have a fully electric soft top, so check that it opens and closes properly. The front bumper and bonnet may have been resprayed to get rid of stone chips but check over the rest of the car for any signs of undisclosed additional repair work.
The interior was a step up in quality from the 996 and the only obvious signs of wear and tear on good cars should be around the driver's seat side bolster and gear knob. Air con unit condensers can wear out so check that all is working well.
Gen 2 cars had an upgraded Porsche Communications Management (PCM) system which some may prefer, although both setups are going to feel old compared to modern systems.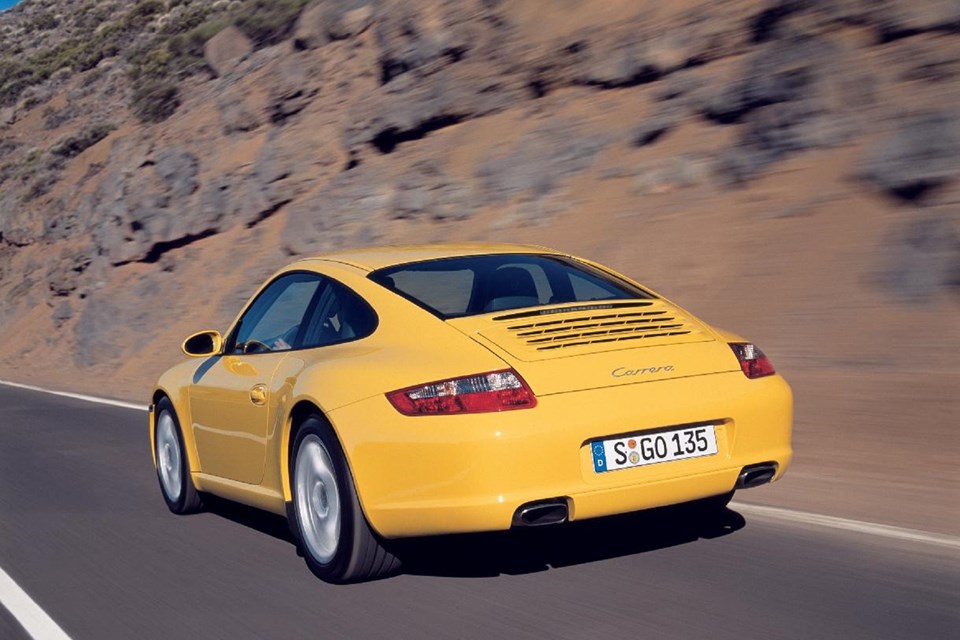 Production History
2004:   The second water-cooled 911, the Porsche 997 is launched
            242kW 3.6-litre Carrera and 265kW 3.8-litre Carrera S models available with either 6-speed manual or Tiptronic transmission options
Convertible body style added mid-year
            Four-wheel drive model introduced in November
2009:   Entire range face-lifted, LED taillights, new paint schemes, interior trim and alloys
Direct injection engines mean no more IMS and an additional 19kW to both models
Dual-clutch PDK replaces Tiptronic gearbox
2010:   Sport Classic special edition built (250 in total) with 298kW and styling cues from the 1973 Carrera RS
2011:   Carrera GTS with 298kW introduced
            Speedster with GTS spec engine built in limited numbers -356 in total
2012:   New 991 model gradually phases out 997 range
Specifications (Carrera S)

Engine:            3.8-litre dohc flat-six
Power:             265-283kW
Top Speed:     293kph
0-100kph:       4.6sec