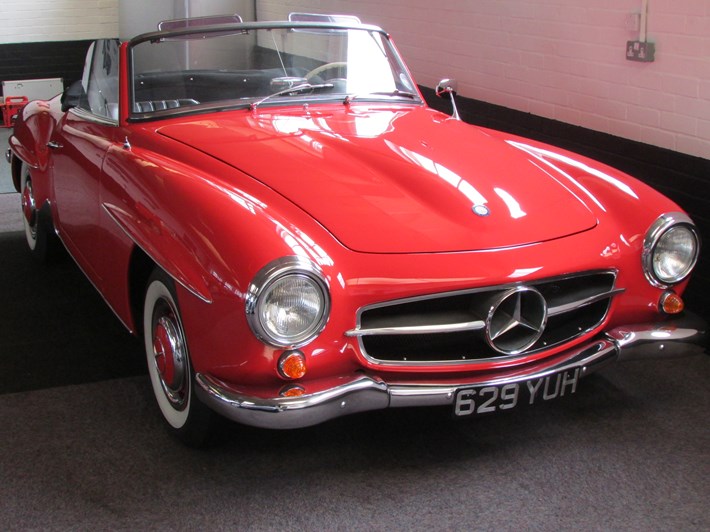 Overview                      
The Mercedes-Benz 190SL owes its existence to the efforts of Max Hoffman, an American Mercedes importer who managed to persuade Daimler management to build a more affordable alternative to the hugely successful 300SL.  
So, in 1954 the stunning 190SL was shown at the New York Auto Show, it was to be made available solely in roadster form and fitted with a 1.9-litre four-cylinder engine riding on a modified saloon car platform. This combination would give it a more relaxed character to the harder-edged 300SL which was had a fuel-injected 3.0-litre inline-six engine and tubular spaceframe.
The 190SL's stunning exterior lines borrowed heavily from its more exclusive stablemate and when it went on sale in 1955, customers had a choice of either a soft-top or slightly less practical removable hard-top. As only minor changes were carried out during the 8-year production run, a 4-speed manual gearbox and 1.9-litre four-cylinder engine were standard throughout so any model year is a good one.
Values have been strong for a number of years now so most surviving 190SL's should have been kept in good condition, however, don't take this for granted as there are still some out there with shoddy repair work and patchy histories.
Spares are generally widely available, either from Mercedes-Benz themselves or through aftermarket suppliers, although some components do come at quite a price. The more accessible nature of the running gear also makes for easier servicing although you may want to employ the services of a specialist for more complex jobs.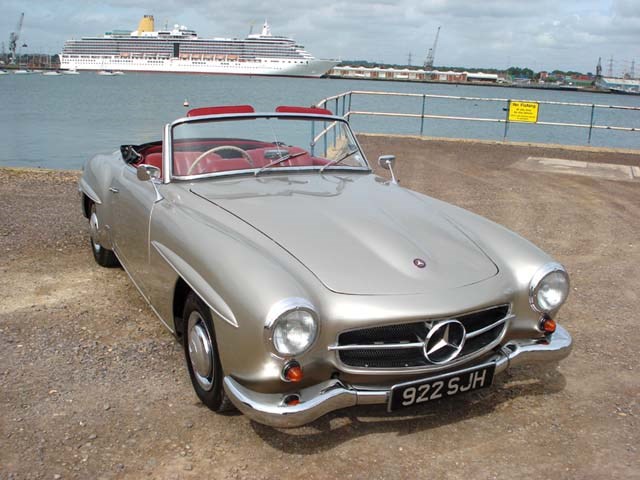 What To Buy
The Mercedes-Benz 190SL is an achingly beautiful, laid-back cruiser that just oozes style from every delicately curved body panel. Don't get too distracted by a shiny new paint job though as rust is an ever-present issue and comprehensive repairs were not always financially viable, especially during the depressed pricing period in the '70s and early '80s.
Prices have historically tended to follow in the footsteps of the 300SL and original models in perfect condition are now commanding some serious figures. Values vary wildly as rusty cars and incomplete projects with missing trim will require a hefty sum to get right. Seeing as that beautiful bodywork can hide all manner of expensive issues be sure to get a specialist to thoroughly examine your potential purchase.
Mechanically, these cars are relatively simple to maintain and non-original but otherwise solid cars can provide a more affordable entry point into 190SL ownership.
A fair number of the 25,000 models built still exist too, the majority of cars reside across Europe and the US and whether you opt for a removable hard top or soft top convertible, make sure that the history and level of originality have been verified.
Checklist
The 1.9-litre engine was an all-new design featuring a cast-iron block and aluminium head, correctly maintained, these engines will soldier on for decades.
The twin Solex carburettors can give issues if not correctly set up and poor rebuilds tend to cause rough running and heavy consumption. Some owners not too concerned about originality have converted their cars to run on Webers, but either system should work well if kept properly maintained.
Water pumps can develop leaks and if left unattended may end in overheating and head gasket failure or worse.
The 4-speed manual gearbox offers full synchromesh on all forward gears and should engage each gear smoothly and without any crunching or recalcitrance. The long gear lever tends to have a fair bit of play in it, but this is considered normal.
The 190SL shared its independent suspension setup with the 300SL convertible and tend to require periodic maintenance, the front springs can sag over time the mounts for the rear springs usually corrode over time.
Worn bushes and dampers can make the car feel excessively wallowy over bumps and the steering can also feel less than precise to inputs.
The four-wheel drum brakes should provide more than adequate stopping power in most driving conditions and if the car is pulling to the side or the pedal takes very low down it may be time for new brake shoes and a readjustment.
An optional brake booster became standard equipment from 1956-on and some earlier cars may have been retrofitted with this item.
Rust is one of the major issues here and the period unibody construction of the 190SL means that there are plenty of cavities and corrosion hotspots to look out for. Specific areas to inspect include boot and footwells, rear trailing arm mounting points, wheel arches, chassis frames and around water drainage holes.
These cars were built using a combination of assembly line and hand-built methods and panels were tailored to fit each individual car.
Body parts and items like the wheels, doors and boot lid were stamped with the body number which is a good way to ascertain the originality of the vehicle and it has a marked effect on values.
Since labour costs can be prohibitive, unless you are specifically looking for a project make sure that the body above all else is in pristine condition.
Unless you find a garage queen with no miles on the clock, the interior would by now have been subject to a refresh and retrim. The leather and carpets are reasonably hard-wearing and relatively cost effective to replace however minor trim items can be eye-wateringly expensive.
Cars with removable hardtops did not have a separate convertible soft-top and there is a very real chance that at some point a previous owner would have been caught in a downpour having left the roof at home.
190SL's with soft-tops should have the roof frame checked and check that the roof lining does not have any tears or excessive wear around the folds. 
As with the body panels, certain interior parts like the seats and door trims were marked with the body number, the more matching numbers you find, the more original your car is.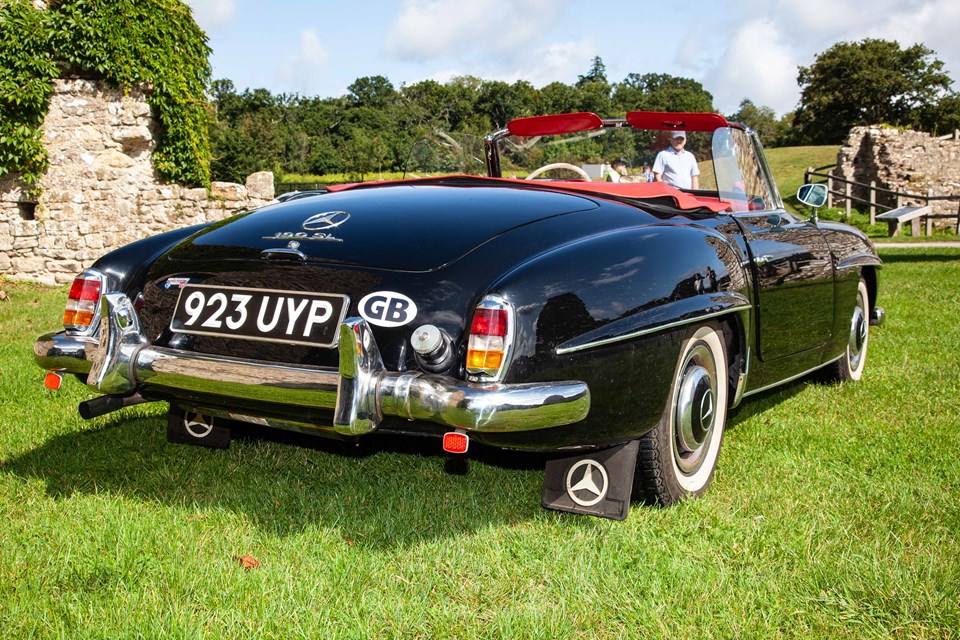 Production History
1955: First Mercedes-Benz 190SL rolls off production line. Brake booster becomes available mid-year.
1956: Engine suspension updated from three to four-point mounting. Taillights are modified.
1958: Steering lock now standard on all cars.
1960: Boot handle design changed.
1961: Engine updated from M121.921 to M121.928, no claimed changes in power outputs.
1963: 190SL production ends with nearly 26,000 units built.
Specifications

Engine:            1.9-litre inline-four
Power:             77kW
Top Speed:     171km/h
0-100kph:       15sec est.