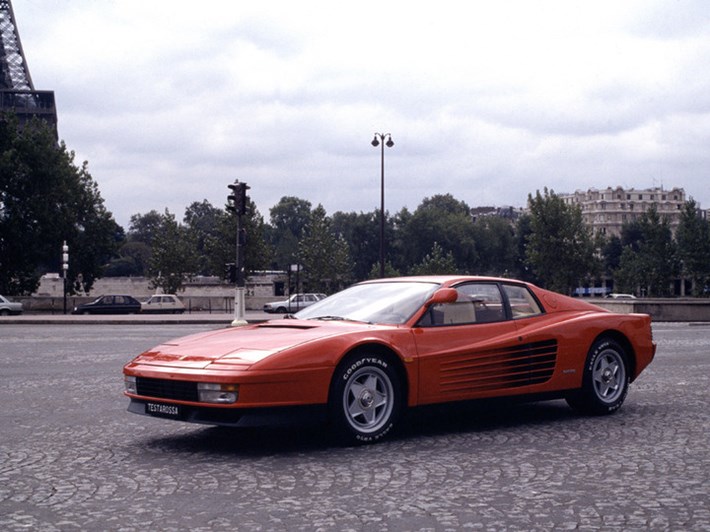 Overview
The Ferrari Testarossa arrived in 1985 to replace the aging Berlinetta Boxer and it embraced the excess of the 1980s with open arms. Its name and red cam covers may hark back to the racing 250 Testa Rossa of the '50s, but that is all these two redheads have in common.
Those signature side intake strakes (necessary to feed the side-mounted radiators) and angular styling could not have been more different from the BB's smooth, flowing lines. Yet under the aggressively styled body was a well-balanced chassis and a revised 5.0-litre flat-12 with 180mph performance potential.
While the basic design would last all the way through to 1996 in the form of the updated 512TR and F512M, the Testarossa itself was left largely untouched during its 6-year production run although the very first cars featured a single high-mounted driver side mirror which tends to get collectors salivating.
A few other minor mechanical changes were carried out over the years too but when it comes to finding a Testarossa, you basically have one choice and it will most likely be in red.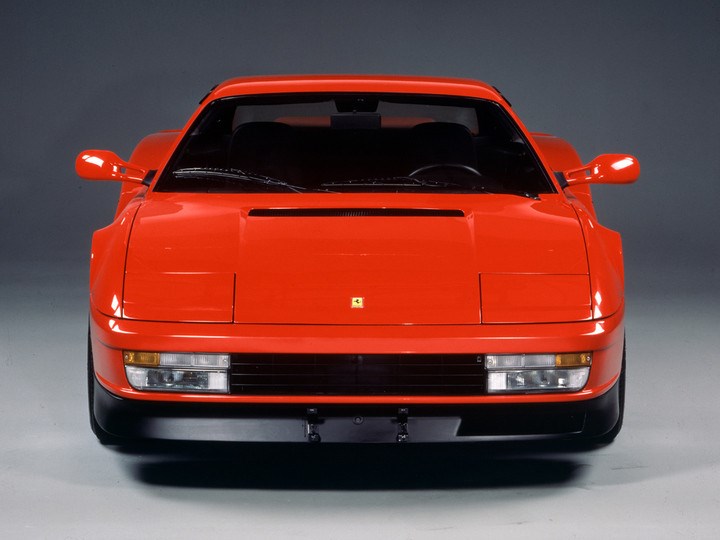 What To Buy
The Testarossa has not always been a prized high-value Ferrari and during its lean years some owners may not have always been as fastidious with the servicing and maintenance schedules as they should have.
Cars that have been left untouched for years may also require a significant recommissioning service so don't dismiss clean, well-used models out of hand.
Thanks to a relatively high production number, prices in the past have been reasonable for these accomplished sports tourers but that is all changing very quickly, good ones are now getting very pricey. The early single side-mirror models seem to have quite a following and mileage and colour also have an impact on values.
Subtle differences between Euro and US models don't significantly alter the driving experience and with minimal changes throughout production, the model year is far less important here than condition. Buy the best you can afford and keep a little aside to keep your Testarossa in the condition it deserves.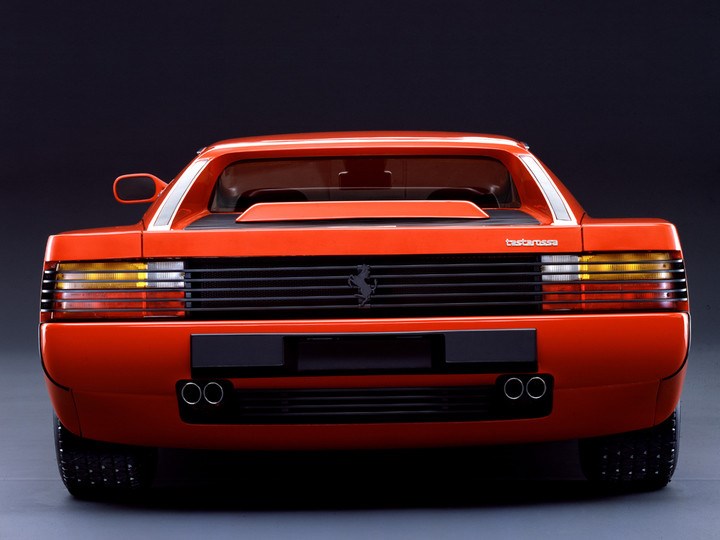 Checklist
An evolution of the 512BB unit, the flat-12 has proven itself to be a strong and reliable motor. Maintenance costs are high however and a service every year or around 6-7000 miles is required. If left neglected this engine can be very costly to repair.
Water pumps on pre-1989 cars can fail prematurely, and a factory update was carried out so check the records for evidence of this.  Many cars are left standing for long periods and rubber seals and pipes, especially for the air conditioner can perish or harden with disuse.
Cambelt changes are required every 15,000 miles or 3-years, the engine needs to be removed for the operation and is labour intensive as result.
There was one 5-speed transmission option throughout production with some minor updates in 1988. It is a hard-wearing unit and does not require much more than a periodic clutch change which needs doing every 15,000 miles or so. It is an engine out job and can be combined with the cambelt job to cut costs, the updated internals from the 512TR can also be used to extend its lifespan. Regardless of the gearbox and clutch condition, the gears (especially second) will be hard to engage until the gearbox oil has warmed up.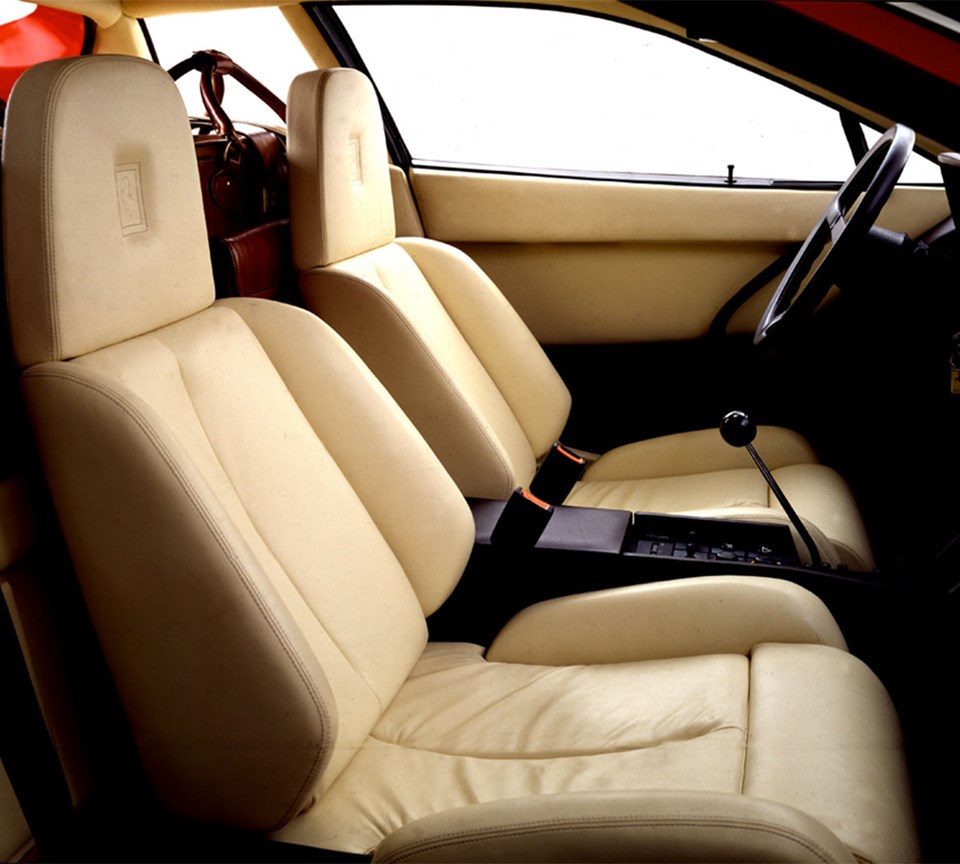 Cars produced in 1985 and early 1986 were fitted with a Michelin TRX tyre/wheel system. This system was short-lived and due to the odd-sized alloys required a conversion to the later setup to be able to use standard tyres.
 The Testarossa is a heavy car and the shocks and bushes will need to be checked regularly. The brakes are strong, and they should only require attention at every alternate service.
A pulsing or vibration through the brake pedal when decelerating which could indicate warped rotors.
That single outside mirror on the first batch of cars was due to a misinterpretation of a European law and from 1986-on low-mounted mirrors became standard. If they are mounted high then this is an aftermarket job and you may want to ensure that there is no rust or damage around the mirror.
While there are not too many visual differences between Euro and US cars, the US spec included large safety bumpers at the rear and a third brake light from 1986-on. Regardless of the minor cosmetic differences the majority of the body panels were made of aluminium and rust should not be a major issue here.
It is still important to check for badly repaired accident damage or poor resprays, the body panels should align well and those complex side strakes should be totally straight.
The Testarossa comes from an era when parent company Fiat thought nothing of fitting switches, buttons and vents from its mid-range saloons into its supercars. Thus, the cabin of the Testarossa, especially the dashboard, has not aged particularly gracefully.
The electronics are a weak point in many cars and only the most pampered cars will be trouble-free.
Check all switches and buttons to see what needs attention and if the car is fitted with a decades old immobiliser/alarm system it may be best to have a specialist remove the whole lot and fit something more modern and reliable.
Sourcing replacement trim and switchgear can require some searching but the leather interior can be relatively easily re-covered and most cars should still look good in this regard.
There was a recall on US cars regarding the passive restraint seatbelts as well as a steering column locknut issue, check the documentation to ensure that the fixes were carried out.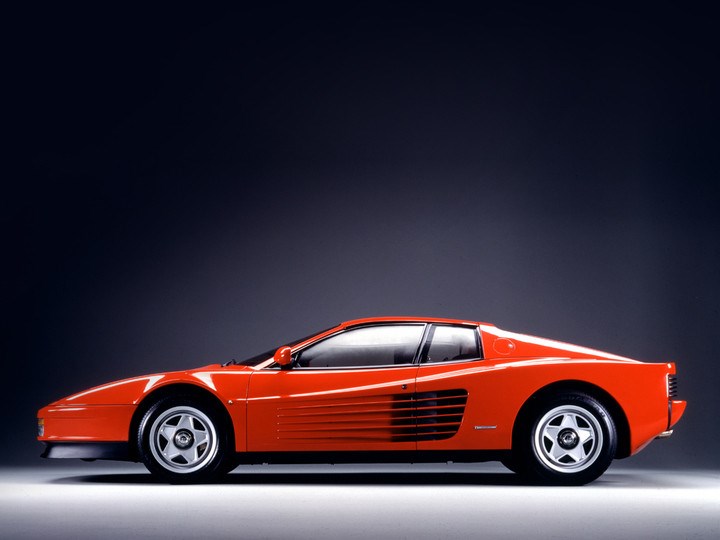 Production History
1985: Ferrari Testarossa replaces long running 512BB. 385bhp flat-12 powers the rear wheels through a 5-speed manual gearbox. US variants fitted with catalytic converters and produced 10 bhp less than Euro cars
1986: Michelin TRX tyre system changed for more conventional setup. One-off Silver Testarossa Spider delivered to Gianni Agnelli. A handful of unofficial conversions also exist
1987: Passive restraint system introduced on US versions. The dashboard design also received some subtle changes
1988: Single bolt wheel changed to a more conventional five stud design
1989: Catalytic converters now standard fitment on Euro spec cars
1991: Ferrari Testarossa production ends with 7177 units built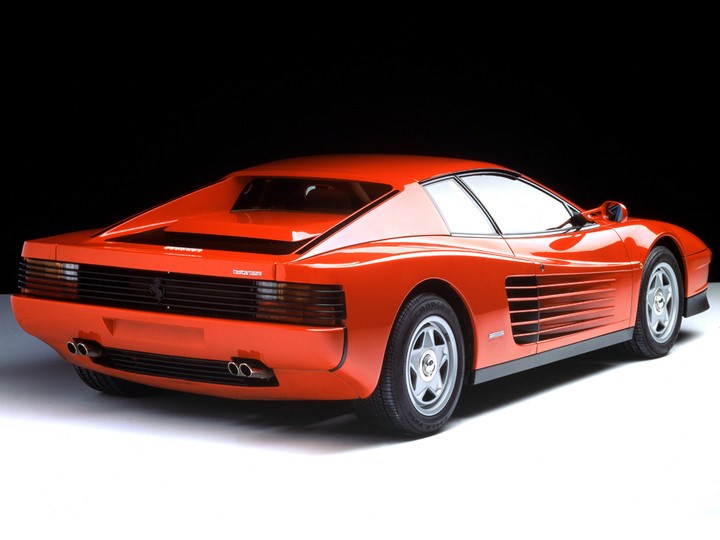 Specifications

Engine:            4.9-litre Flat 12
Power:             385bhp (Euro) 375bhp (US)
Top Speed:     180mph
0-60mph:        5.3sec