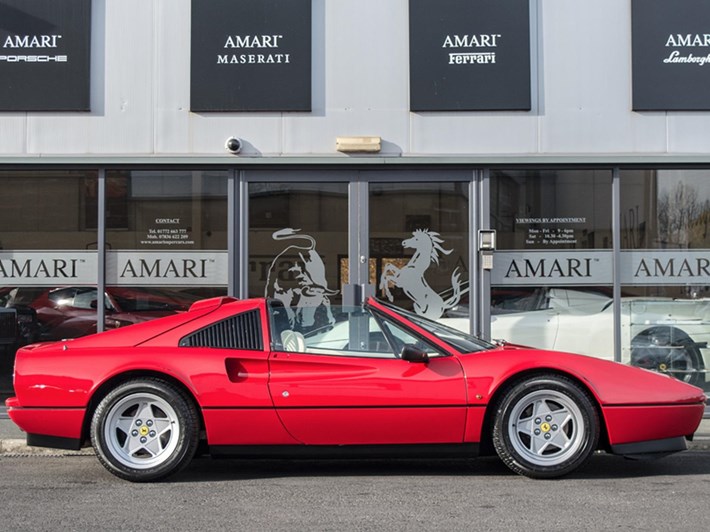 Overview       
With Ferrari's first mid-engined V8 approaching its tenth birthday by the mid '80s, it was high time for a replacement to take on the competition. Yet despite the 308's age, it was still selling well and rivals like the Porsche 911 were hardly pushing technological boundaries. So, when the 328 was launched in 1985, it was more of a thorough update rather than an entirely new model.
Outwardly very similar to its predecessor, the 328 did feature a number of detail changes to set the two cars apart and it enjoyed a marked improvement in handling, performance and interior quality. The revised styling softened the edges of the 308, bringing with it a more modern '80s feel. Some prefer the purer lines of the original car but there is no denying that the 328 is the better drive and mechanically it moves the game on a few steps.
Today the 328 is a great car both for the first time Ferrari buyer as well as the seasoned enthusiast looking to add an appreciating classic to their collection.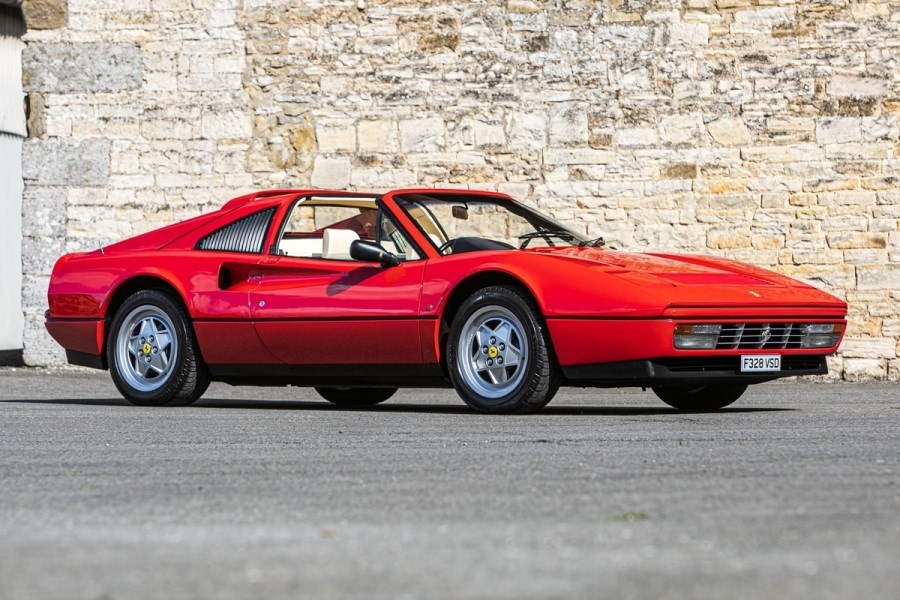 What To Buy
As with the 308 there were 2 body styles available, namely the GTB coupe and the GTS with Targa roof. The GTS was by far the more popular choice with 6,068 units built versus the 1,344 for the GTB yet prices today are much the same for both body styles. Differences between the two cars aside from the obvious are that the GTB featured dry sump lubrication whereas the GTS made do with a more conventional wet sump which was also the standard spec on all cars sold in the US.
The Italian only GTB and GTS turbo were built in limited numbers to bypass that countries tax laws and featured a 2.0-litre turbocharged engine producing 189kW. These cars are very rare and not easy to find outside of their home country. They can be identified by their different engine covers and additional boost gauges in the instrument panel.
ABS was offered as an option from 1988 onwards necessitating a change in the wheel design to accommodate this new setup. With 496 right hand drive cars produced in total, choice is limited so do not get too hung up about which side the steering wheel is on or a specific colour or interior trim either as you may be looking for a long time.
As the values of these cars are so closely linked to their condition and mileage, a fully documented service history with verifiable maintenance documentation is essential. A servicing history done mostly by specialists instead of Ferrari main dealers should not be seen as a negative as they generally focus more on the older cars and tend to have in-depth knowledge about them.
The 328 is a very well built and reliable car, benefitting from years of development starting with the 308 and GT4 before it and as long as you pick a healthy example you should have a trouble-free ownership experience.
The Ferrari 328 is an excellent driver's car that combines all the desirable Italian super car traits of looks, sound and power and adds the less common aspect of reliability into the mix. The sound of that howling V8 directly behind you and the clicking of the gear lever through its metal gate as you carve down a winding road is an experience to be remembered.
After a period of stagnancy prices have been rising steadily for these cars and you will struggle to find a bargain. This does mean that cars are generally well looked after and you rarely find a ratty example for sale. Whichever you choose, make sure that you use the car for what it was intended for and not store it away waiting for the values to increase.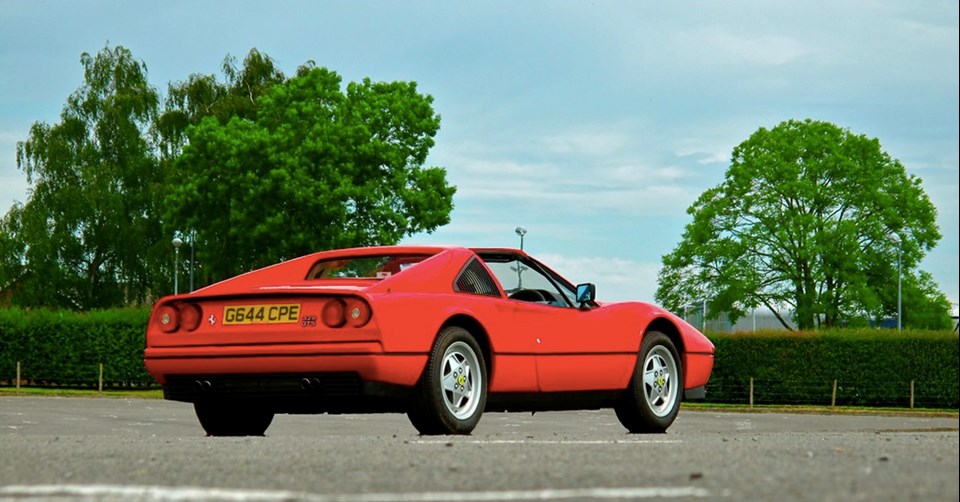 Checklist
Parts are available but do come at a cost so finding a good car that needs minimal work may be more cost effective than repairing a less complete one. There are a number of Ferrari specialists who know these cars very well and it is worth getting in touch with one to get your car checked over before buying.
Engines are very strong and stand up to hard driving well as long as they are looked after. Cam cover gaskets and cam seals are weak spots for oil leaks. Timing belts need to be changed regularly however the engine does not need to be removed making this a far less labour-intensive job than on some other Ferraris.
The transmission is also tough and lasts a long time. Things to look out for are gears jumping out of first or reverse which indicate a worn gearbox. Clutches should last around 50,000-kms.
Rust is thankfully less of an issue on the 328s as they have galvanised shells. You should still look out for the usual problem areas which are the front wings, lower door seals and where the bumpers are bolted to the bodywork. Badly repaired accident damage may also result in rust bubbling up.
Evidence of frontal damage can be check by inspecting the box section frame for creases between the pop-up lights and the floor.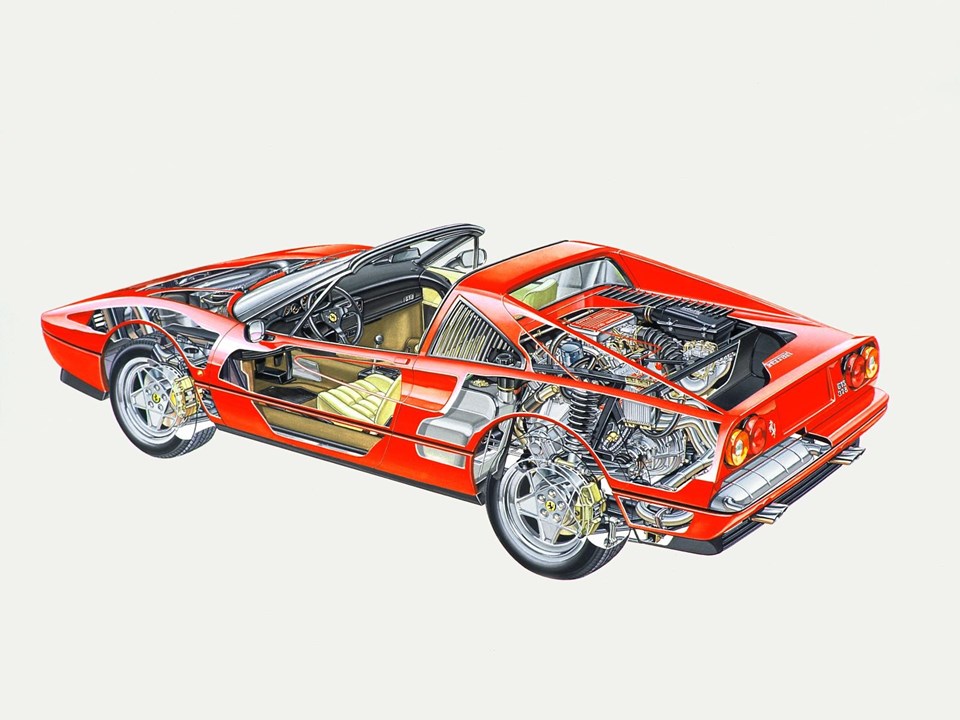 Production History
1985:   Comprehensively redesigned Ferrari 328 replaces 308
             Changes include new exterior and interior styling and 201kW 3.2 litre V8
             Chassis is now fully galvanised
1988:   ABS available as option. Wheels changed to convex design to accommodate the system.
1989:   Production comes to an end with 7,412 328's built
GTS –               6068 built
GTB –               1344 built
GTB Turbo –    308 built – Italian market only
GTS Turbo –    828 built – Italian market only
Specifications

Engine:            3.2-litre dohc V8
Power:             201kW
Top Speed:     266kph
0-100kph:       5.7sec