United Kingdom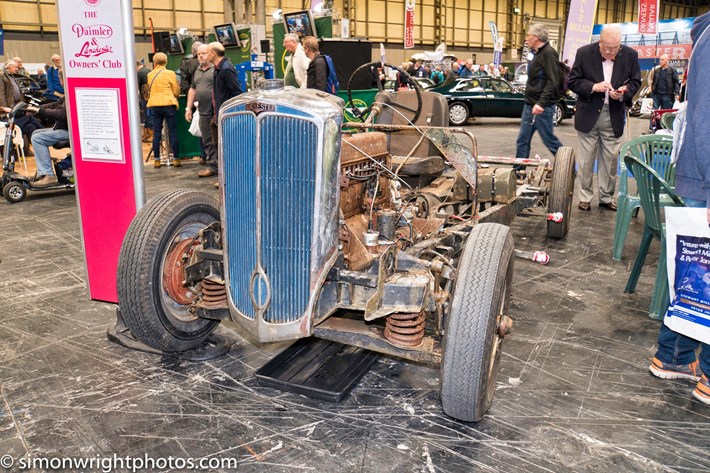 The Classic Car and Restoration Show at the NEC near Birmingham, in England, broke records again in 2018, with over 28,000 people attended the 3 day show to view over 1,000 cars. It mixed original barn find vehicles before they had been restored and pristine classic cars all together, with over 150 classic car clubs represented. Another big part of this event was that genuine restoration projects were being worked on over the three days. There were also several stage shows and interviews that always drew a good crowd.
The Carole Nash Barn find area was laid out like a barn, with straw bales scattered all over the place and a country and western band playing music, with a selection of 20 vehicles that had been discovered in a poor state of repair. Surface rust, torn and damaged interiors and flat tyres were all as the vehicle had been discovered. The car that looked like it required the least work was a dusty blue Renault Dauphine Autobleu, while a Rover 100 was very dirty all over but with only patches of surface rust on the outside. The most unusual car in this area was a 1964 Russian Moskvitch 403  'Soviet Union Police Car', which had appeared in several feature films.
The Pride of Ownership display contained showroom class vehicles which the  public voted for their favourite during the show. The winner was declared on Sunday and was a white MGB GT. A famous historical rallying Austin Maxi was runner up.
There were plenty of interesting cars on display, from Allard right through to Vauxhall and some oddballs, including a sleek Lotus sports car that had been turned into a pickup! There were also some fine examples of Crayford Mini convertibles, including a rare 1966 Wolseley Hornet convertible, one of just 57 made for the Heinz food company as prizes in a competition.
There was something for everyone, with massive American cars of the 1950s next to small Eastern bloc Trabant 2 stroke saloons. As you would expect there were plenty of locally built cars on display, with the Midlands having been a major car production area in the past. Most kinds of Austin, Rover, Triumph and Jaguar cars showed the skills of past car workers, all now lovingly maintained by owners who are proud of their individual piece of motoring history.
Classic Car Auctions held a two day sale over the weekend, with 165 cars coming under the hammer. They achieving 81% sales and took £2.1 million.
The highest price was achieved by a recently restored 1972 Alfa Romeo Montreal which sold for £59,400.
The show was a great success and will return again next March.
https://www.necrestorationshow.com/
By Simon & Janet Wright.
About the author: