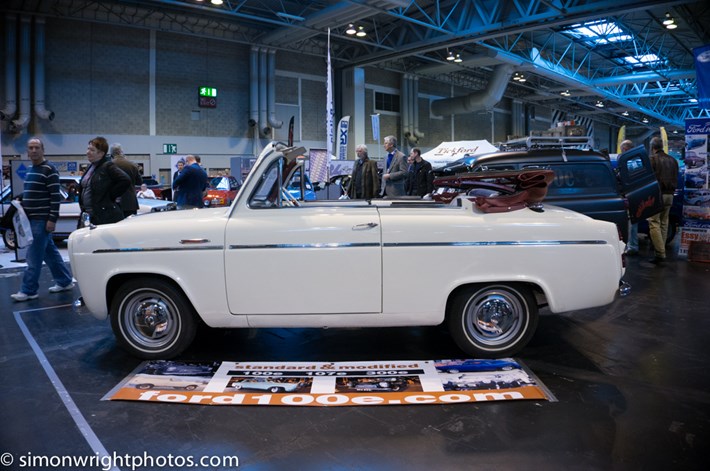 Billed as the UK's Biggest and Best Classic Motor Show, this years event certainly didn't disappoint. With over 250 Classic cars clubs and 1,700 classic cars and 300 classic motorbikes on display, spread across 11 halls, it really required more than one day at the show to take it all in. The vehicles covered over 100 years of motoring history, with Rover celebrating 130 years in 2014. The theme os this years show was "The Big Screen" with car clubs encouraged to incorporate the theme in to their stands. The event sponsors had arranged for three of the most famous fictional cars to be on display - The DeLorean from Back to the Future, Ecto 1 from Ghostbusters and K.I.T.T from Knightrider. The motorcar has played an important part in modern entertainment in many forms, from the Aston Martin DB5 in James Bond, right through to the humble Mini which made its star performance in "The Italian Job"
Apart from the "Big Screen" theme there were lots of other things to see at the show. Jaguar Heritage made a first appearance at the event with a display of "Big Cats' including the new revival of the Lightweight E-Type. Another manufacturer joining the show was Porsche GB with a display of professionally restored Turbos and Targas which were celebrating their 40th anniversary this year. Vauxhall joined in with its various owners club to bring some of their heritage vehicles to the show and gave star billing to a World War 1 D-Type Staff car in remembrance of the centenary of the start of the First World War.
It is difficult to do the show justice in a report, and if you are in the UK next November then it really is well worth attending the next Classic Car Show.
© By Simon & Janet Wright.