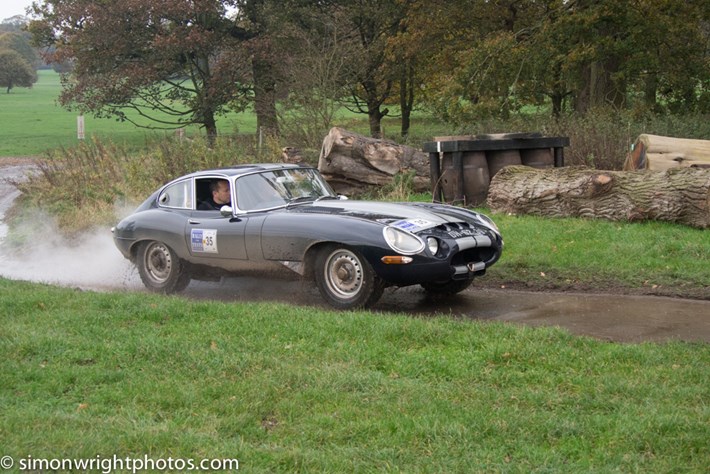 The Classic Rally Association annual Rally of the Tests is a celebration of the original RAC Rally of Great Britain for classic rally cars from the 1950s and 60s. This year the event went from Buxton in Derbyshire down to Bristol using some of the classic stages through Wales on the way. The event always draws an international entry with crew members coming from The Netherlands, Ireland, Belgium, Switzerland and Sweden to challenge the local British crews.
The large entry had some unusual entries including an entire class consisting of Volvo cars, another full of Triumph sports cars and a special class for the Porsche 911 from 1965 to 1985. After three tough days of rally action, the overall winners were Ryan Pickering and Andy Ballantyne in a Triumph TR4 sports car ahead of Darmot Carnegie and Paul Bosdet in a Volvo PV544 and David Morgan and Martyn Taylor in another Volvo 123GT.
The class winners were
Class 2 - Saloons Pre 1962 up to 1500cc - Ted Gaffney/Brian Goff - Morris Mini 850
Class 3 - Sports Pre 1962 up to 1600cc - John Abel/Andrew Duerden - Alfa Romeo Guilia Sprint
Class 4 - Saloons Pre 1962 1501cc-2000cc - Richard White/Richard Scott - Volvo 122S.
Class 5 - Sports Pre 1962 1651cc-2500cc - Jonathan Hancox/Richard Lambley - Triumph TR4.
Class 6 - Saloons Pre 62 Over 2000cc and Sports over 2500cc - Frank Fennell/Kevin Savage - Mercedes Benz 300SE.
Class 7 - Saloons 1962 to 1968 - Kevin Haselden/Matt Fowle Mini Cooper S
Class 8 - Sports 1962 to 1968 - Andrew Buzzard/Robb Lyne - Alfa Romeo Guilia Sprint GTV.
Class 9 - Saloons and Sports Post 1966 up to 1700cc - Clive Baty/Henry Carr - Renault 5.
Class 10 - Saloons and Sports Post 1968 over 1700cc - Paul Davis/Tony Davies - Ford Escort RS2000
Class 11 - Porsche 911 1965-1985 - Roger Powley/Leigh Powley - Porsche 911
Additional awards
Concours d'Elegance pre 62 - Phillip Haslam/Peter Fletcher Jaguar XK120 dhc.
Concours d'Elegance Post 62 - Stephen Owens/Ian Mitchell Morris Mini Cooper S 1275cc.
Team Prize went to Flat 6 & Torque consisting of
Howard Warren/Ian Tullie - Porsche 911 (1991cc)
Tomas de Vargas Machuca/Sean Toohey - Porsche 911 2.2S (A&D) (2198cc)
Paul Crosby/Andy Fish - Porsche 911 (2687cc)
© By Simon & Janet Wright.