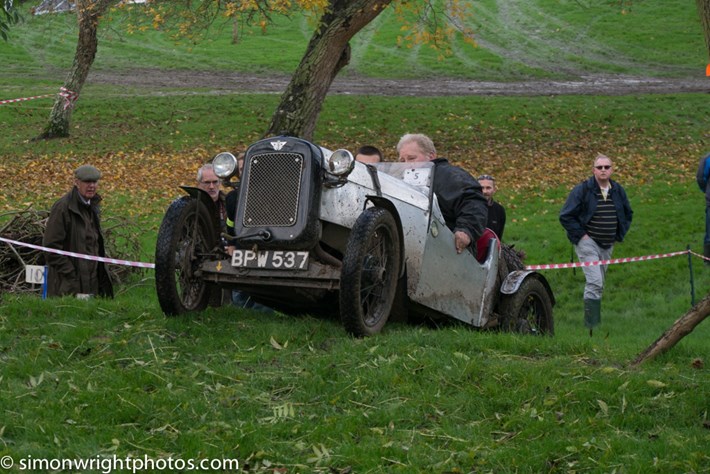 The Vintage Sports Car Club hold several Trials during the year and end the season with the Cotswold Trial. Based around the Bugatti Owners Club Hill climb course at Prescott, near Gloucester, the trial uses several hills near to Prescott during the morning, then returns to the Hill climb course for the final four courses of the day. None of the courses use the famous hill climb track, but are all based on the car parks and paddock areas. All of the courses are based on loose or grass surfaces, but at this time of year, they soon become muddy swamps and are a real challenge for the competitors. The aim is to get as far up the douse (hill) as possible without sliding backwards. The courses are all marked with distance indicators so that the marshalls can easily see how far a vehicle has progressed before stopping. To add to the difficulty, some of the courses have compulsory stop and go areas, where the vehicle must stop completely before recommencing its climb. This is one event where weight is an advantage, and all the cars carry as many passengers are they can to help the tyres cut through the mud and gain traction. It is usual to see the passengers in the vehicle bouncing up and down to try and gain more traction and it is an amazing sight to see these vintage vehicles being bounced all over the hill side.
It was a dry and cold day, but the preceding days had been wet, so the first cars up the course had a definite advantage on the wet grass, and many made it to the top of the course. But as the number of vehicles take drove over the grass increased, it soon turned to a mud bath, and the one course at Prescott had a very steep incline at the start, and as the afternoon progressed, it became increasing difficult for the cars to make it over the first ridge. The second course in the orchard had a stop and go area, and that too became very muddy and more and more cars failed to make the restart. There had been other problems during the day which had resulted in Hills 6 and 14 not being used and some competitors were unable to tackle Hill 8 due to closure which resulted in those competitors being given an average score for the hill.
The clear winner of both the Harold Powell Cup and the Inderwick Cup was Matt Johnston in a 1928 747cc Austin 7 No. 131 who scored 301 points. The next nearest competitor was Jonathan Mellor in another Austin 7 No 136 who scored 260 points. The Cotswold Cup went to Miss Hannah Mycock in a 1929 1087cc Riley Mk IV No 23 with a total of 220 points to win the Novice Class.
© By Simon & Janet Wright