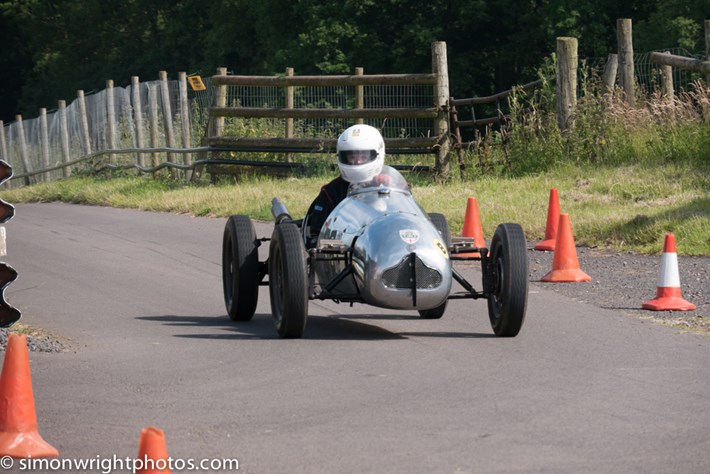 A glorious summers day swept across the Worcestershire countryside as competitors arrived at Shelsley Walsh for their annual hill climb meeting at the beginning of July. The weather was hot and so was the competition as the vintage cars were put through their paces on the steep 1000 yard course in front of a large crowd of spectators.
Robert Cobden proved to be the fastest on the day in his 1937 Riley Falcon Special in the Pre 1941 Racing Cars 1101 to 1500cc class to win the Fray Challenge Trophy. His time was just 36.26 seconds, over a second and a half faster then Pete Candy in the 1936 Riley Super Rat whose time of 37.82 seconds made him 2nd overall. The other main award for the MAC Challenge Trophy went to Charlie Martin in the 1930/28 Morgan Special with a time of 38.47 seconds.
Other class winners included Mike Sythes in a 1930 Morgan Super Aero, Patrick Blakeney-Edwards at the wheel of a 1928 Frazer Nash Super Sports, Mrs Jane Murray in a 1938 Frazer Nash BMW 328, John Warden in a 1937 Delage D6 Course and John Guyatt in a 1936 Darracq Talbot largo T150c.
The Edwardian Automobile engined cars were led home by Mike Lemon in a 1913 Vauxhall 30-98 2 seater, while the Non-Automobile engined Edwardian class was won by Tony Lees in a 1913/18 Vauxhall Viper Special. Special Sports cars unto 1100cc or 750cc supercharged class proved an easy win for Terry McGrath in a 1928 Amilcar CGS. Riley were proving successful in the racing cars classes, with Dr David Pryke in a Morgan/Riley 4/4 winning the Special Sports car class 1101 to 1500cc unsupercharged or up to 1100cc Supercharged. Durward Lawson was another class winner in a 1937 Riley Special, with Julian Hart also winning his class in yet another Riley with the 1938 Riley Big Four Special. The Pre 1941 Racing cars up to 1100cc class was won by Anthony Garner in a 1934 Lagonda Richmond Rapier, James Baxter in the 1935 ERA R4A won the 1501 to 3000 cc class, while the over 3000cc class was won by Robin Baker in the 1930 Hispano/Amilcar. The final class winner was Richard Ashford in a 1948 Cooper T9.
By Simon & Janet Wright