United Kingdom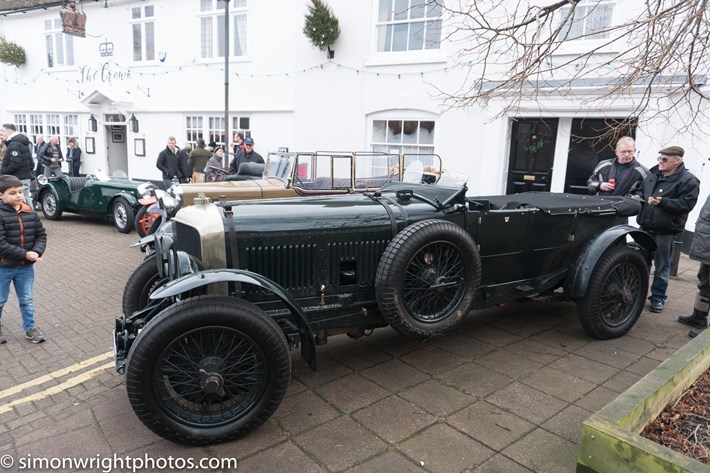 Stony Stratford, near Milton Keynes was the place to be on New Years day in the UK. The 9th annual Vintage Stony car meeting filled the town centre of this small English town with a mouth watering selection of Vintage and Classic Cars and motorcycles, The Pre-war cars and motorcycles took over the Market place, while the more modern classic cars filled the high street and adjoining car parks. This year, to add a little variety, there was even a vintage powerboat on display.
The oldest car on display was a French 1902 Gladiator, built in Paris.  The 650cc engine used a chain drive to the rear wheels. Alongside it was a 1903
Curved Dash Oldsmobile built in America. This model is listed as being the first mass produced automobile, built on an assembly line, using interchangeable parts. Over 19,000 were built between 1901 and 1907.
With a large turn out of cars, some of the more unusual included a pair of BSA cars, one being a 1935 BSA Special Sports 3 wheeler. BSA is better known for their motorcycle production in the UK.
One corner of the Market square had four American Hotrods, including a 1930's Ford Model B Roadster with a 4.5 litre flathead engine and a 1935 5.3 litre Ford Coupe.
To celebrate Grand Prix driver Jim Clark on the 50th anniversary of his death in 1968, Hagerty Insurance had the original Jim Clark Lotus Elan and a  Lotus 20 Formula Junior single seater racing car on show in a marquee in the centre of the Market square. At 12 noon, all the display cars started their engines to create a minute of noise in tribute to Jim Clark.
The Spirit of the Show award went to Mary Antcliff & Nigel Dowding with their 1934 Aston Martin Mk2 (AYR 804). Last year they took the car to South America raising funds for Prostrate Cancer.  The Farthest travelled award went to Alan Brown with his 1931 Invicta (PL 5676) from South London. Finally an indexed ant judge had to decide which car he would want to take home, and that went to Ray Cobley and his 1927 Humber 14/40 (TN 2201).
The High Street had classic cars parked both sides of the road. As in previous years, there were quite a few American cars on display. Cadillac, Ford, Chrysler and Plymouth were among some of the American manufacturers represented on the street. In contrast, at the other end of the High Street was a small competition 1959 Auto Union 1000S with its small 980cc two stroke engine.
Moving off the high street and into an adjacent car park, there were even more classic and modern cars including more American vehicles including a pair of 1930's pickup trucks. The Italian Stallion Ferrari were represented by a couple of more modern sports cars. There were plenty of British classic cars on show, with the original Mini and Morris Minor, plus various locally built MG sports cars all waving the union jack.
Just after midday, there was a heavy rain storm that, for many people, bought an early end to the day as everyone tried to find shelter. Money donations were taken on the day and raised £4,850 for charity. The next event at Stony Stratford will be Classic Stony on Sunday 3rd June 2018.
By Simon Wright
About the author: