United States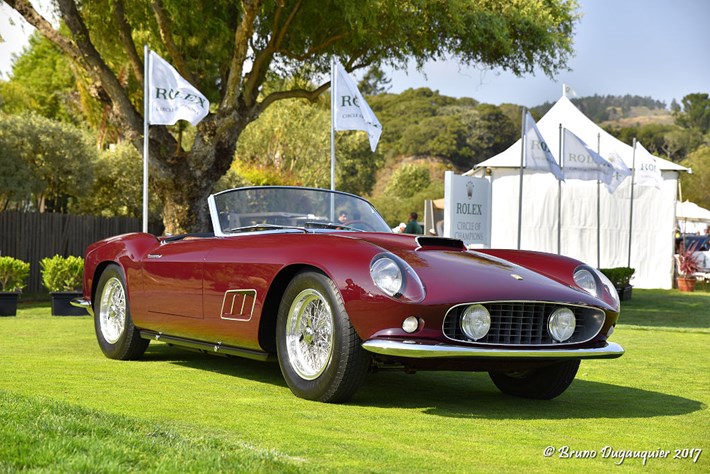 The Quail, The Peninsula, two names that make you think of luxury, the Dolce Vita ...
The 15th elegance contest, sponsored by The Hon. Sir Michael Kadoorie, was held in the prestigious setting of the Quail Lodge, the famous Carmel golf course on the 18th of August. Sir Michael Kadoorie is the owner (among others) of the luxury hotel chain The Peninsula.
The reception of the guests was held with champagne around 10:00 am. There was time to visit the premises and the numerous exhibitors and competitors. There was a choice between different restaurants of the group 'The Peninsula' to enjoy refined dishes. The site expands year after year to occupy all the available space. Helicopters are often displayed and only luxury yachts aren't included yet. A good idea for the next edition?
In addition to being an elegance contest, the event is intended to be a showcase for partner car brands such as Pagani, Koenigsegg, Bugatti, Bentley, Lamborghini, AMG, BMW, Acura and Lexus. Lesser known brands like Singer and Gunther Werk - who revisited the Porsche brand - or the Japanese Ken Okuyama and his interpretation of the Lamborghini Countach of the future were present.
Concerning the elegance competition: after judging the different classes, the jury finally chose a car that was not very known to the general public, the ATS 2500 GTS Coupé Allemano by Bruce Milner. Only 8 copies of this car were made and its chassis (2006) is one of two lightweight coupés built in 1964. ATS is a small craft company created by the Conte Volpi de Serenissima. It's lead by engineers Carlo Chiti and Giotto Bizzarrini. It is rather unusual to see this kind of car in these competitions.
Finally, for the second consecutive year, the award ceremony was held for the 'Peninsula Classics Best of the Best Award'. A winner of the 'Best of Show' in one of the major car contests in 2016. The winner, nominated by an international jury of famous names in the car industry, was the Maserati A6GCS / 53 Berlinetta with a body by Pinin Farina. Of the four copies built, this one is the only one still having its chassis, its engine and its original body. She had won the 'BoS' last year at the Villa D'Este. Good memories!
This event, even if it may seem a bit mundane, remains a very nice experience for fans of beautiful car bodies, whether they are old or new ... an experience to be repeated with pleasure.
© Bruno Dugauquier
About the author: