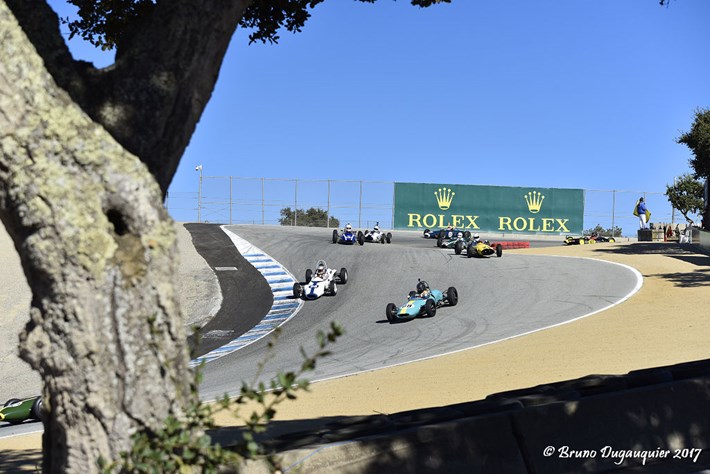 The Laguna Seca Circuit in California was once again the scene of several sporting events on the 19th and 20th of August, with a commemorative exhibition on sixty years of racing on the circuit - made famous by its 'Corkscrew', a turn that makes several drivers tremble.
The most representative cars of each decade were on display, as well as Wayne Rainey's Yamaha. At the end of the 1950's, the Ferrari 500 TR was king, as was the Porsche 356. In the 1960s, Shelby King Cobra took most first places. Porsche achieved many successes at Laguna Seca with the 917/30 or 962 model in the 1970s and 1980s. So did the Indy Cart when the track was homologated, or the Trans-Am with the Mustang Boss 302. Truly the queens of Laguna Seca.
A 'pre-meeting' was organized on the historic track the previous weekend. Fewer cars in action, but plenty of commitment from the drivers.
Thursday and Friday were reserved for practice and qualifying races. On Saturday, 8 races from group A took place in the morning, with a second round in the afternoon. Among the cars in group A were those of the championship IMSA GTP from 1981 to 1991 or those of years 1973 to 1981 - by far the most spectacular.
On Sunday, though fewer media present due to the Pebble Beach Elegance Contest, seven Group B races took place throughout the day, also in two heats.
From year to year, the entries were unvaried. This year being the 70th anniversary of Ferrari, Italian cars had almost all deserted Laguna Seca to attend the exposition Fairway One of Pebble Beach. Too bad, a Ferrari race would have been welcome.
More results at  http://www.mazdaraceway.com/rolex-monterey-motorsports-reunion
© Bruno Dugauquier