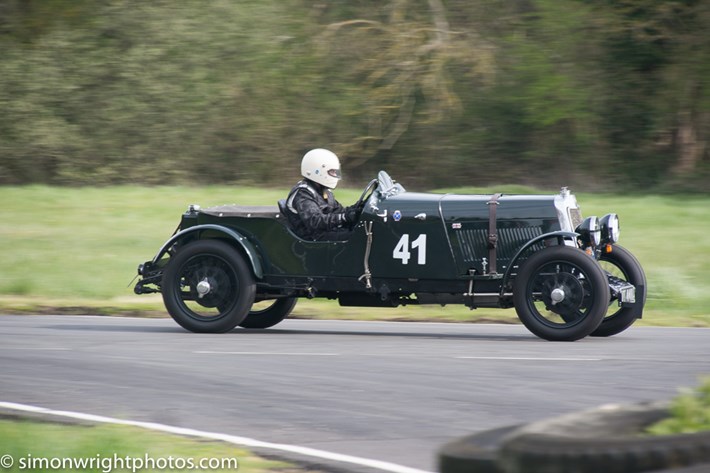 A sunny, bright but cold start to the month of May saw the centre of England turned in to a very expensive vintage car par, as the Vintage Sports Car Club (VSCC) arrived at Curborough, near Lichfield, for their annual Speed Trials. As usual, an over subscribed entry saw a maximum field of cars compete against the clock round the short and twisty Curborough circuit. All the competitors got a couple of practice runs in the morning, before the competition started in earnest after lunch. As usual at these events, the large entry was split in to various classes, to allow cars of equal performance to compete against each other.
The overall fastest time of the day, and the Curborough Trophy went to Tom Walker driving a 1930 11.76 litre Amilcar-Hispano Special, who managed a time of 36.53 seconds, to win by just 0.9 of a second. The other overall awards went to Julian Grimwades in a 1934 Frazer Nash Single seater who set the fastest time for a Pre-war car, Tony Lees driving his AC/GN Cognac took the Fastest Time by a Vintage car and Greg Lerigo in his 1932/35 Riley Special who set the fastest time by a Sports Car.
The ever popular Edwardian cars were split in to two classes, with Geoff Smith in the 1918 Piccard-Pictet Sturtevant Aero Spl taking the non-automobile engined class with a time of 42.82 seconds. The ever popular and spectacular Mark Walker won the automobile engined class in his 1905 Darracq 200HP with a time of 41.28 seconds. Some of the other class winners included Joe Tisdall in his small 1932 Austin 7 Ulster, John Fack in his 1935 Railton Light Sports, Kevin Morton in a 1931 Riley 9 Special and Dudley Sterry in his regular 1937/39 HRS Sports.
The battle for the combined classes Standard and Modified Sports cars and saloons from 1101 to 2000cc unsupercharged and up to 1500cc supercharged saw a family battle settled in favour of Mrs Jo Blakeney-Edwards who won the class, beating her husband Simon Blakeney-Edwards in the shared family 1929 Frazer Nash Super Sports, with Tim Kneller taking 2nd overall in the class in his 1933 Riley TT Sprite. Simon was officially 2nd Vintage in class.
The cooler weather didn't see as many spectators arrive in Vintage cars as in previous years, but the few who did come in their vintage cars still made the car park as interesting as the paddock, and the good sized crowd enjoyed their Bank holiday weekend motorsport.
By Simon & Janet Wright.