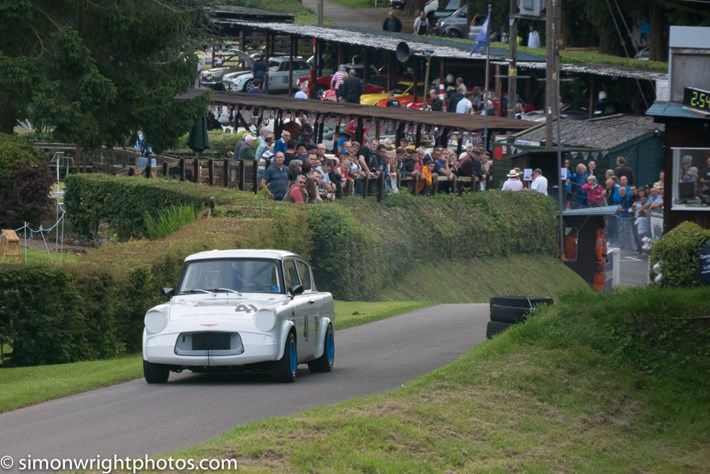 The Midland Automobile Club (MAC) had organised a really special Classic Nostalgia meeting this year, at their home venue of Shelsley Walsh. The Teme Valley echoed to the sound of a V16 Audi as it roared up the hill in tribute to Hans Stuck, who drove the original car at this venue in 1936. Behind the wheel in 2016 was his son, former Grand Prix driver Hans Stuck Jnr. Audi had got behind the event and arrived with various famous and classic cars, with Stuck also driving up the hill in the Audi IMSA S4 GTO, which was making its UK debut after only arriving in the country 6 weeks ago. The IMSA S4 GTO is capable of reaching 190 mph as it is powered by a turbocharged 5 cylinder, 20 valve engine which produces 720 bhp. In the paddock there was a display of an Audi R8 GT car and a Audi Quattro, plus David Llewelllyn's Audi Quattro S1 rally car. This fitted in perfectly with the other major attraction at this meeting, the presence of around 15 Group B rally cars, plus several of their famous original drivers. These included former British Rally Champion Jimmy McRae and co-driver Ian Grindrod re-united with their MG Metro 6R4 and local Midland driver Russell Brookes and his co-driver Mike Broad with their famous Andrews Heat for Hire Opel Ascona, plus other cars like the Lancia Delta Integrale, Ford RS200, Renault 5 Turbo, Ferrari 308 and a couple of Audi Quattros.
Many of the spectators had taken the weekend to dress in period clothing from the 1940s and 50s, and in the courtyard were various performing artists singing songs from that period with dancing demonstrations and the opportunity for the public to join in one the dance floor. Lunch time saw various interviews staged also in the courtyard with Hans Stuck and various of the Rally drivers, plus flying displays from the Trig Aerobatics display team and also a sole spitfire fly over on the Saturday.
As well as all of this, there was a hill climb competition taking place, with many classic and vintage cars competing with Frazer Nash, MG, Cooper, Austin Healey, Lotus, Morgan and Austin amoung some of the famous marques represented on the hill.
The Fastest timed run on Saturday went to a rather special vehicle, the Mannic Beattie Sports Libre Car, driven by Nic Mann, which looks like a clubman racing car but is powered by a turbine helicopter engine. The sound of the whooshing turbine as it raced up the hill to a new class record time of 25.47 seconds, was something very special. On the Sunday, the fastest time went to Keith Harris in a Chevron B25 single seater racing car with a time of 29.18 seconds.
There was also a special award of a Omologato Special watch called the Spirit of Shelsley Walsh which was made to Chris Jacques who brought back the 1934 Maserati 8CM that Whitney Straight drove in the past at Shelsley Walsh.
By Simon & Janet Wright.