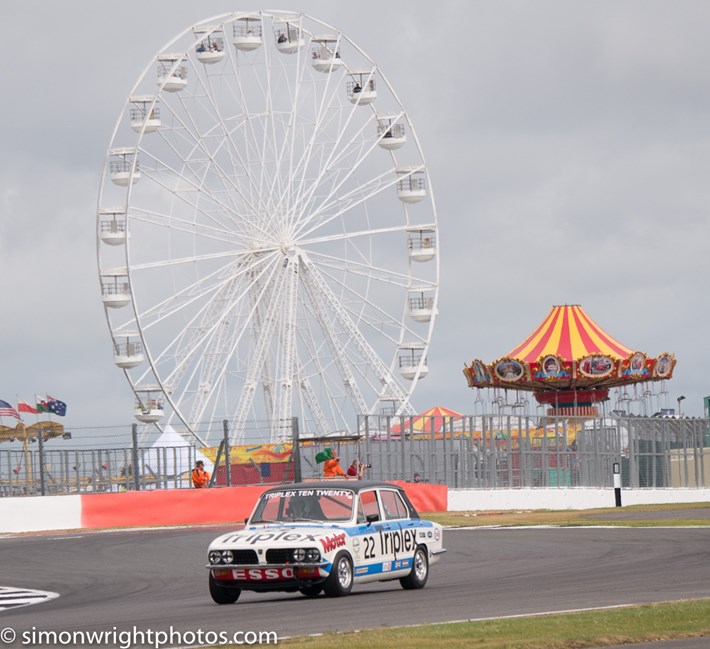 What is billed as the World's biggest classic motor racing festival broke records again with over 100,000 visitors attending Silverstone over the three days of the Silverstone Classic meeting. With over 1,000 of the Worlds most valuable classic competition cars taking part in 20 races over the weekend, the enthusiasts were treated to almost every major category of motorsport from Formula 1 and Le Mans cars right through to the ever popular GT and saloon cars round the full Grand Prix circuit. Of special interest were a couple of special 50th anniversary Can-Am Interserie races for the powerful Group 7 sports cars that raced in America and Canada in the 1960s and 70s.
The FIA Masters Historic Formula 1 series had a couple of races over the weekend which saw close and exciting racing from modern Grand Prix cars from the 1970s and 80s. It was appropriate that with Williams having scored their first ever Grand Prix victory at Silverstone, that Nick Padmore in a Williams FW07, similar to the car used by Clay Reggazoni to score that first win, should take victory in both races. This year also saw a couple of Can-Am 50 Interserie challenge races to celebrate the powerful sports cars that raced in America and Canada 50 years ago in the Can-Am Trophy races. There was a reasonable turn out of Can-Am cars with several McLaren Chevrolet cars of various vintages up against a couple of Lola Can-Am cars and a single Shadow Can-Am car. There was some spectacular racing, especially in the Saturday race with Andy Newall in a thundering Can-Am McLaren M8F with an 8.8 litre V8 Chevrolet fighting to hold off the much smaller and more nimble 3 litre V12 Matra MS670B/C sports prototype driven by Rob Hall, which took the win after the tyres went off in the McLaren just before the end of the race.
In addition to the actual races, there were also track demonstrations by Grand Prix Legends, GT Legends and Motorcycle Legends over the weekend. Included in the Motorcycle legends were Wayne Gardner and Freddie Spencer back on-board their 500cc bikes for several laps of the circuit.
As well as all the track racing action, there were massive displays of over 10,000 privately owned classic cars within the circuit, from all kinds of car clubs and individuals., There was also a major display from Porsche, Club GB which also staged a 200 plus car cavalcade celebrating 40 years since the introduction of the company's first transaxle model in 1976. There were other celebration parades from Lamborghini, Dodge Viper, Morgan, Lotus, Honda, Mercedes, Lancia, Nissan, Piper, Panther, Jaguar, BMW, Allard, Westfield and even the Austin A35, all of which had large club displays in the centre of the circuit.
Another anniversary being celebrated in the International pit garages was a tribute to the late James Hunt, who was World Champion in 1976. There were several of his former cars on display, plus some trophies and his son Freddie, a racing driver in his own right, signing autographs at various times during the weekend.
© By Simon & Janet Wright