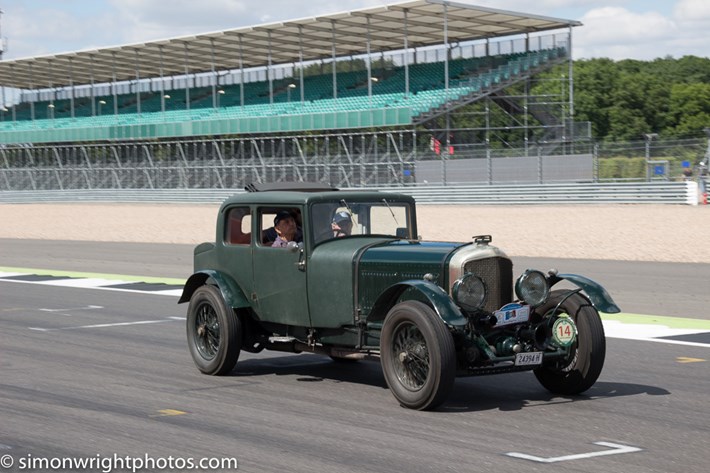 Bentley Drivers Club race meeting. Silverstone. 6th August 2016.
The annual Bentley Drivers Club meeting at Silverstone at the beginning of August was held round the short and fast national circuit layout. The eight race program was for a mixture of Bentley events and other sports car and saloon races. First of track was the 25 minute Bic Healey Trophy race. alongside the Austin Healey cars were Beside the mix of Austin Healey cars entered, there were four AC Ace Bristols and an MG in the race. Jonathan Abecassis won in his Austin Healey 100/4 from Drew Cameron driving an Austin Healey Speedwell Sprite.
The Aero Morgan Challenge Series was the next race and after an eventful race it was Oliver Bryant in a Morgan +8 from pole position who took victory from Keith Ahlers in another Morgan +8.
The first Bentley event was a 15 minute Scratch race for Pre 1966 & Pre War Team Challenge cars. Paul Forty took his first pole position of the day in his Bentley Mk VI Special but it was Michael Haig who battled his way through the field in another Mk VII Special who won the race.
The FISCAR (Fifties Sports Car Racing Club) had a nixed grid for its 30 minute race. After an exciting race with several different leaders, it was Robin Ellis in his Lotus Elite S2 who took the chequered flag to win.
The MG T register, AC & Morgan race had a small field with no MG T or AC cars present. John Henry Williams took pole position in his Morgan 4/4 and led the race from start to finish. James Sumner was 2nd in another Morgan 4/4.
The 15 minute Allcomers Handicap race allowed more modern cars to take part and David Tilley in the Hart Sports Racing machine was first over the finish line after fighting his way through from 10th place after problems on the first lap. David Rushton in his Morgan +8. was 2nd and John Taylor in a Crossle 9S took 3rd
The Bentley Handicap Race was held over 15 minutes and saw Paul Forty in his Bentley Mk VI Special lead from start to finish to win by over 31 seconds from Stuart Worthington in another Bentley Mk VI Special.
The final race of the day was the Allcomers Scratch race & Bentley Scratch race for Post 1966 cars. It was David Tilley again in his Hart Sport Racing machine that lead from start to finish. This time it was Rushton who had problems in his Morgan +8 and retired on lap 11. This left John Taylor in the Crossle 9S to finish a distant 2nd, almost a lap behind at the flag. David Hughes was 3rd in his Ford Sierra Cosworth.
© By Simon & Janet Wright