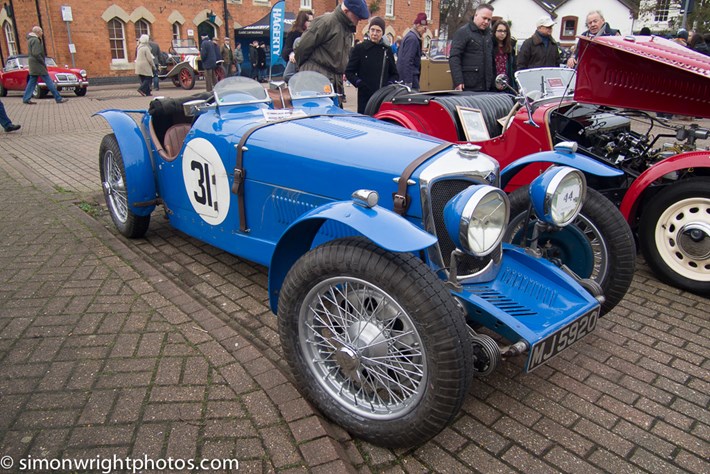 Well the New Year has arrived and what better way to celebrate the start of 2016 than to attend a huge car meet with hundreds of vintage and classic cars. Stony Stratford is an ancient coaching town situated on the old roman road Watling Street, and is located next to Milton Keynes in England. On New Years Day they hold the Vintage Stony celebration, where the centre of the town is closed off to normal traffic and filled with classic and vintage cars. The Market Square is the location for the pre-war vintage cars, and the high street and shoppers car park are the locations for the classic cars. By 10am both areas are pretty well full, with huge groups of spectators milling around, admiring these fantastic vehicles. The weather was kind again this year with dry but overcast conditions, and a chill wind which made sure everyone was well wrapped up.
The selection of cars was truly fantastic with the oldest being a 1902 Oldsmobile Curved Dash, which is credited with being the Worlds first mass produced automobile built on an assembly line using interchangeable parts. Interestingly it features a tiller rather than a steering wheel and comes complete with a bicycle warning bell attached. It originally sold for US $650 and was cheaper than the current Ford model of the period. Around 19,000 were built between 1901 and 1907.
Another unusual sight was two Brough Superior motorcars on display. Brough Superior are mostly known as a motorbike manufacturer from Nottingham and they only built 85 cars in total, between 1935 and 1939. The usual types of vintage cars were scattered around the market place, with Bentley, MG, Austin, Morris, Morgan, Hillman, Riley and Ford all present, plus a vintage Citroen big saloon. Also on the edge of the market place was a collection of vintage and classic motorcycles.
Moving in to the High street and the classic cars, there were several Porsche models, Various Mini including a pickup and a van, and quite a few American muscle cars including several Ford Mustang including a couple of Mach 1 models. There was also a beautiful two tone white and blue 1956 Chevrolet and a massive 1960 Oldsmobile 88 Super. The British Ford Zodiac next to it, looked small by comparison. There were various Fiat, Alfa Romeo, Lancia, Mercedes, and Opel cars representing Europe, and Rover, Hillman, Ford, Vauxhall and most British Leyland models also on display.
This event is completely free for the public and is a great way to start 2016. Happy New Year to everyone, and let's look forward to another 12 months of classic motoring enjoyment.
By Simon & Janet Wright.