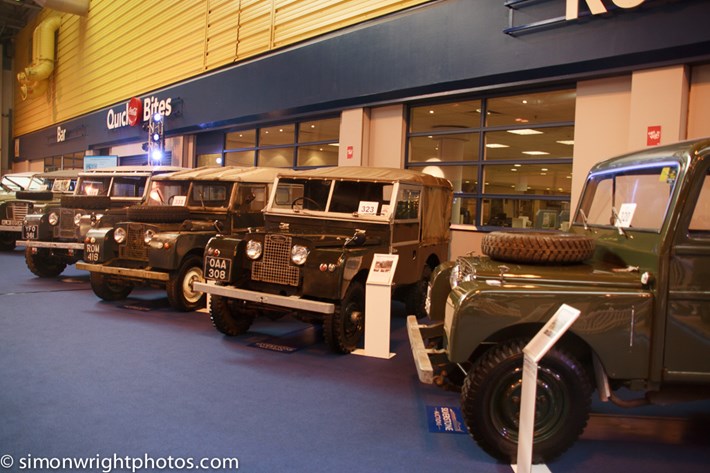 Now in it's third year, the Restoration & Classic Car Show drew over 20,000 people to the National Exhibition Centre over the weekend the 5th and 6th March 2016. With 120 Classic Car Clubs in attendance and over 700 vehicles in various stages of restoration, the show is unique in Britain in that it caters for wrecks as well as perfect classic vehicles. There was a display of barn finds, vehicles that had been found after years of poor storage, some in better conditions than others. The most interesting was a 1906 Holsman G10 from America. Basically a motorised farm buggy, it had no radiator, clutch or even a foot brake, but could reach 10 mph. Another barn find in good condition was a 1958 Renault 4CV which had been off the road for 42 years. Fortunately the local authorities in the area had never used salt on the winter roads, so the car was in surprisingly good condition with a few marks on the paintwork from storage and slightly worn seats. In a more poorly state was a 1979 Vauxhall Cavalier 1900GL Coupe which had lots of surface rust on the bonnet, and rust where the vinyl roof jointed the pillars and a frayed and tatty interior.
The feature of the show is restoration and many of the club stands were demonstrating and doing actual restoration work on members cars during the show. There were also stage areas set up which were showing different restoration techniques on project vehicles. There was also a large auto jumble and trade stands, where tools and equipment could be purchased to make any restoration job easier.
There were several awards being presented at the show. The Lancaster insurance Pride of Ownership award went to Stuart Turp with his gold coloured 1969 Ford Capri which received the most votes from showers. Jim Scott took 2nd with a 1966 Ford Cortina and Martin Healey was 3rd with a 1964 Saab 96 2 stroke. A blue 1989 Austin Metro city owned by James Cribb won the Golden Spanner award and title Restorer of the Year. In the Barn Find section it was the 1953 Aston Martin DB2 saloon that the crowd voted for aa their favourite Barn Find car.
Silverstone Auctions had a successful sale at the show with a special 1950 Land Rover series 1 nation wagon with bodywork by Pickford, sold for £47,250, more than £20,000 more than its lowest estimate. At the other end, the last Lamborghini Diablo SV build by Lamborghini before Volkswagen took control, fetched £174,375, nearly £25,000 more than its lowest estimate.
The show proved to be a great success and we look forward to the next one in 2017.
© by Simon & Janet Wright