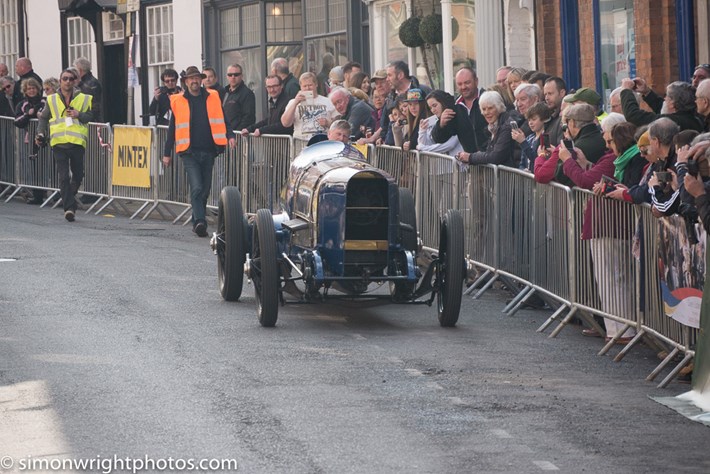 The first Bromyard Speed Festival took place at the beginning of April and was a great success. The inaugural event took place in the small rural market town of Bromyard in Herefordshire, where the streets of the town centre were closed to allow racing cars to drive round the town centre. Four years in the planning, saw the town centre lined with around 5,000 people who witnessed parades of racing cars, classic and vintage cars and motorbikes drive round a circuit using High Street, Broad Street and a return leg down Rowberry Street. When the event opened at 10am, Barrie 'Wizzo' Williams, the well known local racing driver lead the first parade in his Mini Cooper. He also got to drive a classic go kart later in the day.
Bromyard has many connections to the motor industry as it was the original home of Morgan before they built their factory at Malvern. It was also the place that Lard Montagu purchased 16 vehicles from Williams Garage in 1957. These vehicles had been retained against unpaid customer accounts and some of them went on to be displayed in the Montagu Motor Museum which is now the National Motor Museum at Beaulieu. Williams used the money from the sales to expand their operation in building the UK's first production Go-Karts.
Morgan became a sponsor of the event, providing both a course car and a display of vehicles near the start line. There was also a display of Morgan cars, both 3 and 4 wheels models, round the course. The National Motor Museum provided a real high-light of the day by sending Sir Malcolm Campbell's 1924 World Land Speed Record breaking 350 hp Sunbeam Bluebird car, which did a couple of runs up and down the high street. The car has a very limited turning circle and had to be man handled to turn it round at each end before it did its return run.
Each parade did several laps round the course, to the delight of the large crowd, who also had the opportunity to examine the cars close up in various paddocks around the town centre. Vintage cars including MG, Bentley and Bugatti, and classic cars from Austin Healey, Ford and Ferrari and Jaguar were amoung the many cars driven enthusiastically round the course. For many people though the sight of real racing cars being driven on normal roads was a memory they will keep for years, even though the cars were all driven at sedate speeds in convoy formation to ensure public safety. There were several Formula Ford single seaters, but the most spectacular was a Formula 2 March. There was also a parade of Rally cars which included the Mini Cooper and Ford Escort as well as an old Saab 96.
The warm and sunny weather made this free event a great family day out, and introduced a lot of people to motorsport and classic cars, and the 2017 event is already being planned. for further information see their web site at www.bromyardspeedfestival.co.uk
© By Simon & Janet Wright