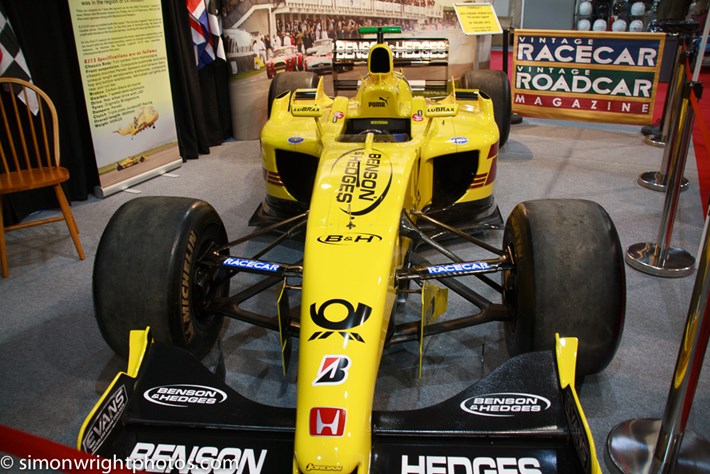 Billed as Europe's Premier Winter Classic Motorsport show, Race Retro continues it's tradition of combining indoor static displays from the world of historic motorsport and its outside live action Rally Stage demonstration. The show uses 4 halls at Stoneleigh park, near Coventry, with the first hall housing Rally cars, plus various motor sport art displays, the second hall house the main motor racing stands, the third hall is for motor bikes racing and grass roots motorsport including Trials, Stock car racing, hot rods and drag racing, and the fourth hall house the auto jumble and is used as the paddock for the rally cars taking park in the live action rally stage which is run over the weekend.
The guest of honour this tear was former World Champion Damon Hill and the main display was four Williams Grand Prix cars, including Damon's Championship winning Williams Renault FW18. Damon had a tour round the show on Sunday morning and was able to see several of his fathers racing cars on display, including the Embassy Shadow DN1 Grand Prix car which Graham Hill raced in 1973. The British Motor Museum Stand had the Rover BRM Gas Turbine sports car that Graham Hill raced at Le Mans in the 1960s, though the car that Damon seemed most interested in on that stand was a vintage Austin Single seater racing car.
Speed Street ran through the middle of the main hall and contained several large stands, including an impressive display of eight racing cars to celebrate the 50th anniversary of the Historic Sports Car Club, showing the many different categories of racing that the club support. A first for the show was the Leyland Thomas recreation on the Chateau Impney Hill Climb stand. This recreation of J G Perry-Thomas' record breaking 1920 World Speed record breaking car has taken over 25 years to recreate. It made its public debut at Race Retro and is due to compete at the Chateau Impney Hill Climb in July.
Another car making its show debut was an Austin Healey 100/4 which had competed in the New Zealand Grand prix in 1954. After being in storage for 34 years, it has now been fully restored and should be competing in historic events again this year. It was on the Sywell stand.
In the Rally hall was a tribute to 'Remembering Henri Toivonen' with several of his old rally cars on display.
The Live action Rally Stage allowed various historic rally cars to give some spectacular displays round the tight tarmac course in the grounds of Stoneleigh Park. Most popular are the mighty Group B Rally cars including several Audi Quattros, a Lancia Delta S2 and a couple of MG Metro 6R4 cars, plus various Ford Escorts, Triumph TR7 V8s and even a couple of Mini Coopers.
© By Simon & Janet Wright