United Kingdom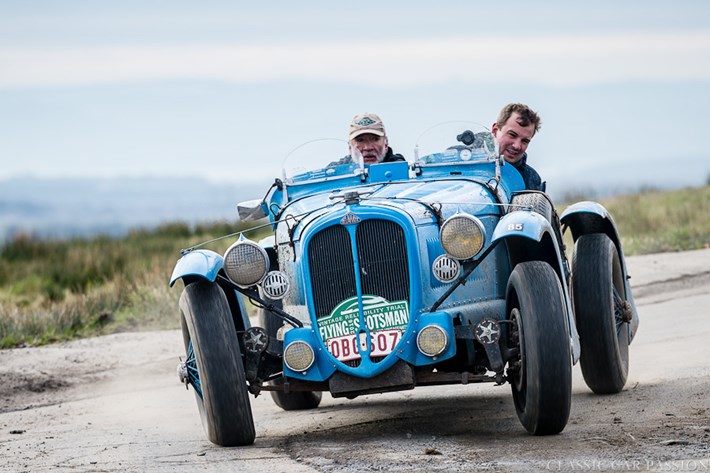 The Talbot 105 Alpine of Gareth Burnett and Martyn Turner put an end to Bentley's winning streak as it crossed the finish line in what was the toughest Flying Scotsman rally in the event's eight-year history.
The 110 crews faced rain, hail, sleet and snow as they journeyed from the starting line at Leicestershire's Belvoir Castle, driving around 700 miles through Lincolnshire, Yorkshire, Northumberland, and into Scotland for the Gleneagles finale.
After back-to-back wins by Bentley specialist William Medcalf for the past two years, Gareth reclaimed the trophy having previously won the event in the same 1931 vintage car back in 2013. 
Gareth said: "As much as we are delighted to win and grateful to the Endurance Rally Association for organising such a fantastic event, I'd also like to thank all the other competitors for bringing out these amazing vintage cars out and doing with them what they were designed for. It's a pleasure to be on the road with them."
The winning crew finished with an overall total of 0:28:06 with second place going to John Abel and Leigh Powley in the 1937 Lagonda LG45 on 0:28:45, and the 1938 Bentley Derby 4 of Stuart Anderson and Andy Pullen on 0:29:38, finishing in third.
There was also a win for the oldest Pioneer car in the rally, the 1911 Knox Type R, bravely crewed by Michel Laarson and Maryon Grief who tackled every speed test, regularity, and challenging mountain climb alongside cars 30 years junior.
Fred Gallagher, Rally Director of the Endurance Rally Association (ERA), said: "Our competitors faced every type of weather condition imaginable over three days of intense driving in some very exposed terrain and remained in great spirits throughout. Our thanks go to every crew and marshal who once again made it a fantastic event for the vintage motorist."
There were two special awards presented at the prize giving dinner at the luxurious Gleneagles Hotel and the Concours D'elegance went to Shane Houlihan and Richard Pain in the 1932 Alfa Romeo 8C.
The Spirit of the Rally award went to Matthew Abrey and Jasper Hulscher in the 1931 Ford Model A, who found themselves taking the engine out of the car on Saturday night after the clutch failed. A new clutch was driven from Norfolk to Scotland arriving in the early hours. It was 'all hands on deck' to get the clutch fitted and car reassembled but the crew managed it, even checking out of the first time control on time.
Class wins went to stunning mix of marques, with Paul Crosby and Ali Proctor in the 1939 MG TB Supercharged winning Class 2 for cars up to 1500cc, and Martin Hunt and Robert Mannix in the 1937 Frazer Nash BMW 328 winning Class 3 for cars 1501 to 2000cc.
Last year's runners up Bill Cleyndert and Dan Harrison in the 1928 Ford Model A won Class 4 (Vintage cars 1920-1930 over 2000cc), while Shane Houlihan and Richard Pain in the 1932 Alfa Romeo 8C won Class 5 (Vintageant cars 1931-1948 2001 to 3000cc). Class 6 (Vintageant cars 1931-1948 over 3000cc) was won by Dirk and Nick Van Praag in the 1936 Delahaye 135M.
The ninth Flying Scotsman Rally will take place from Friday 31st March to Sunday 2nd April 2017, starting from Slaley Hall, in Hexham, Northumberland, in order for the crews to experience more of the Scottish terrain. Entries are now open.
For more details including all the results and the latest updates on the forthcoming Peking to Paris Rally, visit www.endurorally.com