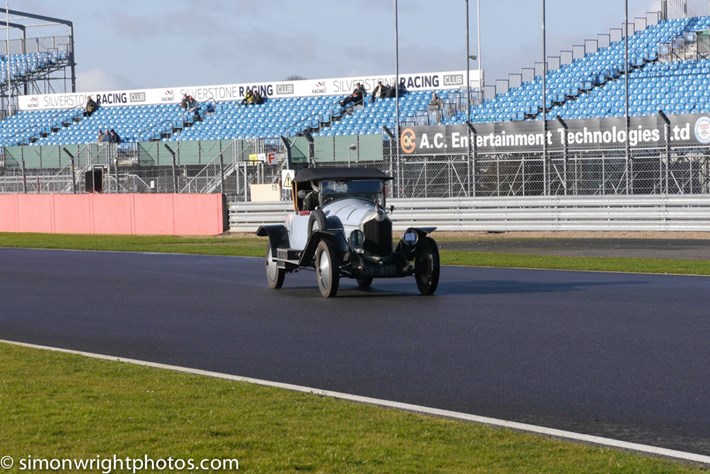 The 'Pom' is the Vintage Sports Car Clubs start to the track season each year. The event consists of a series of tests where any road car is able to compete on an equal footing using a complex handicap formula. This years entry ranged from a 1923 Crossley Sports 19.6 of David Biggins (No 1) right through to a 2008 Skoda Octavia Scout of John Collins (No 52). The event was held in bright sunshine on a cold but dry February day which enabled everyone to have a great time and blow away the winter cobwebs. The event proved to be a walkover for the vintage Frazer Nash drivers, with them taking the first four places. Frederic Wakeman driving a Frazer Nash Super Sports (No 3) was the winner of the overall Pomeroy Trophy for the best performance. Charles Gillett won the Densham Trophy for the best performance by a VSCC eligible car not winning the main trophy in a Frazer Nash saloon (No 4). The final trophy went to David Biggins in a 1923 Crossley Sports 19.6 (No 1) who took home the Pomeroy Edwardian Trophy for best performance by an Edwardian or 2 wheeled brake car.
Former winner Patrick Blakeney-Edwards was 3rd and class winner in his Frazer Nash TT Rep (No 8) and Martin Hunt completed the Frazer Nash dominance finishing 4th and winning his class driving a Frazer Nash Targa Florio (No 23). The first modern car home was the Ford Cortina (No 37) of Adrian Goding who was 5th and a class winner. The final class winner was Alastair Pugh in a 1939 Frazer Nash BMW 328 (No 18)
© by Simon & Janet Wright.