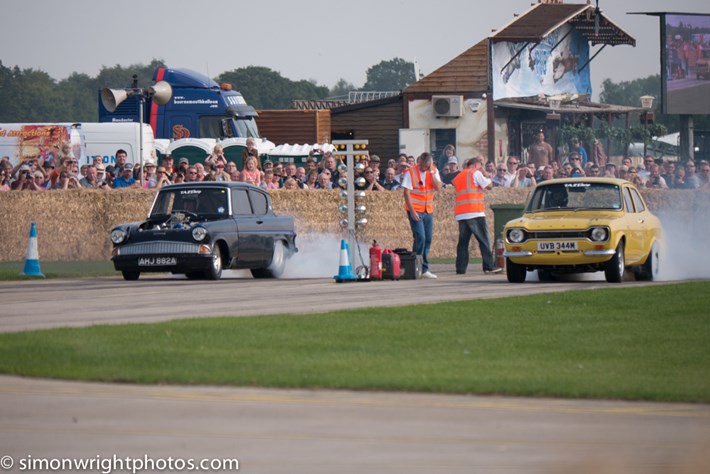 The second running of Pistons and Props at the Sywell Aerodrome in Northamptonshire, England was a much bigger and better event, with more car clubs attending and a special aerial tribute to the Great War of a century ago. This event celebrates classic vehicles both on the ground and in the air, with the runway and taxi way turned in to a racing strip for the weekend. The taxiway was turned in to a Drag racing strip and UK Street machines burned up the track while the many historic racing cars used the taxi way and the main runway to give the crowds a demonstration of racing cars at high speed.
The Drag racing was spectacular with many tyre smoking burn outs which were very popular with the spectators. These were followed by a large selection of classic racing motorcycles, Karts, vintage racing cars and the high light was a Group C Martini Lancia Le Mans car from the 1980s. The runs were concluded with a selection of modern single seater racing cars including several Chevron Formula 2 cars.
Away from the track action, there were hundreds of classic cars on display, with various car clubs displaying members treasured classic cars. There were group displays of Minis, Ford Anglia's, Morgans, TVRs, Lotus and others too numerous to mention. There was also musical entertainment from Elle and the Pocket Belles and the Houndogs.
In the air, Saturday saw the Battle of Britain Memorial flight in addition to the Yakovlevs and the Blades who were performing on both days. Sunday saw the Great War Display Team recreate a World War 1 dogfight battle over the aerodrome which was very spectacular.
The event was a great success with many of the crowd turning out in period costume and its popularity should continue to grow.
© By Simon & Janet Wright.