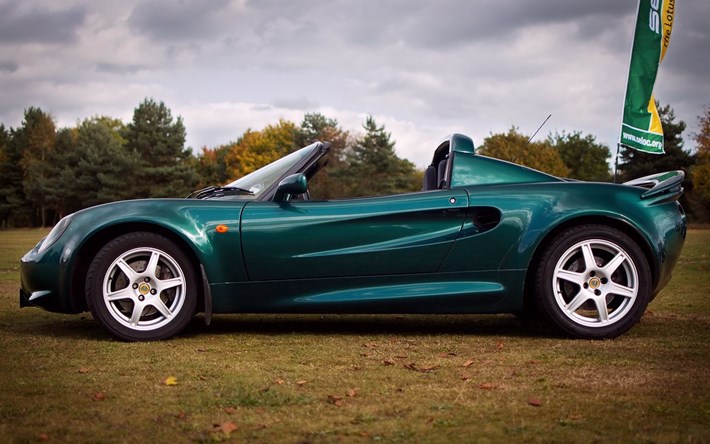 Overview                      
The Elise was a return to form for Lotus to the days of cars like the sublime Elan which had been built with Colin Chapman's lightness above all else philosophy. This was perhaps even more relevant in the '90s when many of its rivals were trying to cater to a broader market offering comfort and practicality over driving purity.
The Elise does not pretend to be anything but a distilled tool for those who enjoy the art of driving. Lightness, excellent steering feel and a communicative chassis are its main attributes and the Elise has stayed true to this basic formula throughout.
Introduced in 1996, the Series 1 Lotus Elise was enthusiastically received by the motoring world, initially the plan was to produce a few thousand cars and end production in 2000 but the strong demand for these cars means that the Elise is now on its third incarnation and still going strong.
The later versions have slowly increased in weight, in part due to increased safety regulations and due to the addition of a few creature comforts, however, they all still offer a level of driver involvement that is absent from most other cars on the road.
What To Buy
The Elise has been in production since 1996 and to see which one is right for you it is worth taking a look at the differences between the various versions that have been produced.
Early Series 1 cars were fitted with the Rover-K series engine and their basic specifications make them the purists' choice. No power assistance or driver aids of any kind were offered, what you did get was one of the best handling and most responsive cars available all with an extra helping of lightness. The 111S and 340R with increased power and a stronger track focus were also introduced. Initial plans to produce 2,500 units turned into almost 9,000 by the time the Series 2 was introduced in 2000.
It featured a number of changes to make it compliant with ever more stringent emissions and safety regulations. Initially offered with the Rover-K series engine as in the Series 1 but with a new ECU, the powertrain was changed to Toyota sourced engines in 2005 for emissions requirements. The addition of ABS, Air conditioning and electric windows in some models meant a weight penalty but the increased power outputs meant that performance did not suffer. The 111S was reintroduced with the Rover K series engine but only lasted until 2005 when the move to Toyota power took place. Other track focussed cars introduced were the 135R and Sport 190, with more power and handling upgrades.
Series 2 facelift cars introduced in 2011, they continued with Toyota powertrains and inevitably put on a few kilos in the form of safety equipment and additional specification. They are more sophisticated and better equipped than the original Elise and are more useable as everyday transport than the original cars but some of the rawness has inevitably been lost. Compared to most other competitors they are still very focussed driving tools.
A number of limited-edition models, engine variations and transmission options means that you are spoilt for choice when choosing your Elise although finding one on local soil will be a challenge. A very basic interior with only gearstick and steering wheel to keep you company none of these cars are intended for cross country trips.
Entry-level models are great for a weekend blast although you may want to look at the more powerful versions if you intend to do frequent track days. On that note, watch out for overly abused cars and stay away from modified vehicles and you should end up with a fantastic sports car that will bring a smile to your face on any journey. Except perhaps a long one.
Checklist
The Rover K-Series engine found in Series 1 and early Series 2 cars is generally robust but radiator hoses can work loose and the head gasket can blow if they overheat. Over revving can cause cracked cylinder liners identified by an excessively smoking exhaust. Cam belts need changing every 6 years and it is worth doing earlier if regular track driving is planned. Toyota engines have cam chains. Fuel Injection pump fuses were uprated from 1998-on and are worth retrofitting to older cars.
Transmissions are robust but shifts can get sloppy with age, requiring cable replacements, earlier cars had unbraided rubber hoses to the clutch making it function erratically. Braided items can be retro-fitted and newer cars should have them installed from the factory.
The body is constructed of aluminium panels glued to the chassis so rust is not an issue. Corrosion to the foot well floor was common in Series 1 and early Series 2 cars.
Sports Exhausts tend to wear out quickly while the standard items are longer lasting
Window winder mechanisms tend to give various problems and can be repaired by specialists to save on costs
A number of recalls were carried out so check whether your specific model had them carried out to avoid future issues
Production History
1996:   Lotus Elise Series 1 goes on sale with 87kW 1.8-litre engine.
1998:   Sport 135 with 107kW released.
1999:   111S introduced with power up to 105kW and closer ratio gearbox.
2000:   Track focused 132kW 340R introduced in limited numbers – track pack option increased power to 140kW, Sport 160 introduced with 118kW.       
2001:   Lotus Elise Series 2 introduced, 111S model introduced but now with 118kW.
            135R (known as Sport111) and Sport 190 continue as track-focused offerings.
2005:   Toyota powertrains adopted across the range. Rover powered 111S model discontinued replaced by 111R with 140kW Toyota engine.
2006:   Minor updates to ECU and the introduction of LED rear lights
2007:   New Base Elise S released with 99kW retaining 5 speed gearbox
            111R renamed Elise R.
2008:   160kW Supercharged Elise SC introduced with 6 speed gearbox.
2010:   Series 2 Facelift introduced. Base model now with 1.6-litre engine producing the same 99kW as outgoing 1.8-litre motor. S and S Cup models come fitted with supercharged 1.8-litre engine.
2011:   Final year of sale for street legal Elise in US. Series 3 is introduced.
Specifications (Series 1)

Engine:            1.8-litre dohc inline-four
Power:             87kW
Top Speed:     200km/h
0-100kph:       6.0sec