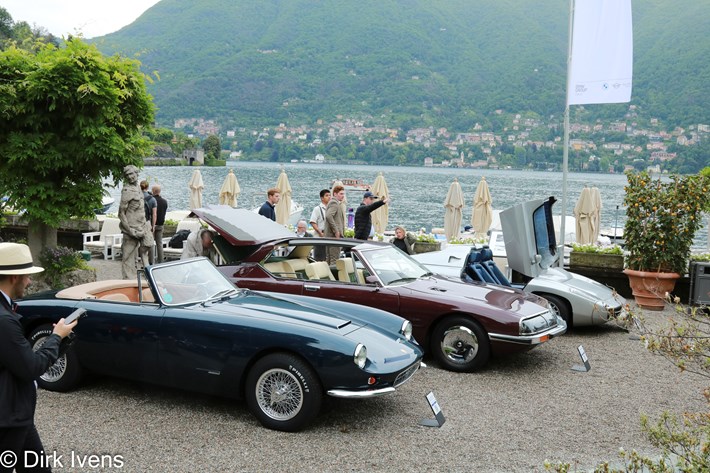 In the pouring rain, the magnificent grounds of the Grand Hotel Villa d'Este provided a fantastic backdrop for the exceptional diversity of historic cars that took part in this year's Concorso d'Eleganza Villa d'Este. The exclusive beauty contest for historic cars captivated the many visitors and international press who attended the event from 19 to 21 May. There were eight prize categories and an overall prize or 'best of show'.
The winner was a Duesenberg SJ Speedster, with bodywork designed by Gurney Nutting in 1935. On Sunday, the lucky owner received the "Best of Show" trophy from Helmut Käs, Director of BMW Group Classic and President of the Concorso d'Eleganza Villa d'Este.
Gary Cooper, Clark Gable, Greta Garbo, James Cagney and many other stars drove a Duesenberg in the 1930s, as did Jay Gatsby in the remake of "The Great Gatsby". The company's founders, Fred and August Düsenberg, emigrated from Westphalia (Germany) to the United States in 1880.
Their success in motor sport soon made their name popular. Duesenberg - now spelt "ue" - confidently positioned itself in the high-end market with a small range of exclusive models. In 1932, the extravagant SJ was the high point of Duesenberg's career. With an impressive power output of 320 bhp when the compressor was switched on, the enormous car reached speeds of around 220 km/h. The expression "it's a Duesy" was coined as a synonym for the quality of the vehicle.
The People's Choice Award went to the 1961 Ferrari 250 GT Spyder California, with elegant bodywork by Pininfarina/Scaglietti. This year's Coppa d'Oro Villa d'Este trophy went to Jonathan Hui's historic car from the Keybridge Collection in Hong Kong.

Christophe Graaf d'Ansembourg, from Belgium, received a trophy for the most impressive sound made by his 1970 Porsche 917 K.
On Sunday, the exclusive cars could also be admired under a beautiful spring sun at the Villa Erba, which attracted more than 9,000 visitors.

The 100 years of Le Mans exhibition, featuring legendary racing cars from an entire century, was followed by the magnificent parade of all the prize categories in the Concorso d'Eleganza Villa d'Este 2023.
Exceptionally, two prize categories were awarded this year for the 75th anniversary of Porsche and the 100th anniversary of Le Mans.
Winners Concorso d'Eleganza Villa d'Este 2023
BMW Group Trophy (Best of Show by the jury): 1935 Duesenberg SJ Speedster by Gurney Nutting (William Lyon).
Coppa d'Oro Villa d'Este (Best of Show Audience Award): 1961 Ferrari 250GT Spyder California (Keybridge Collection).
Special awards
Concorso d'Eleganza Design Award for concept and prototype cars: 2022 Pagani Huayra Codalunga (Pagani).
BMW Group Ragazzi Trophy (Youth Prize): 1985 Ferrari 288GTO (Horst Koester).
Concorso d'Eleganza Villa d'Este President's Trophy (Pebble Beach Concours d'Elegance President/Amelia Island Concours d'Elegance President) : 1968 Ford GT40 (Rob Walton). Also won the Auto et Design Trophy - most exciting design.
BMW Group Classic Trophy (most sensitive restoration) : Rolls-Royce Silver Wraith James Young Drophead Coupé 1949 (Yohan Poonawalla).
Rolls-Royce Trophy (most elegant Rolls-Royce) : Prototype Rolls-Royce Sports Phantom of 1928 (Alexander Schaufler).
Vranken-Pommery Trophy (best iconic car) : Porsche 901 Prototype 'Quickblau' of 1963 (Alois Ruf).
ASI Trophy (best-preserved post-war car) : Aston Martin DB2 Coupé 1950 (Stephan Hofmann).
®Text and photos by Dirk Ivens.