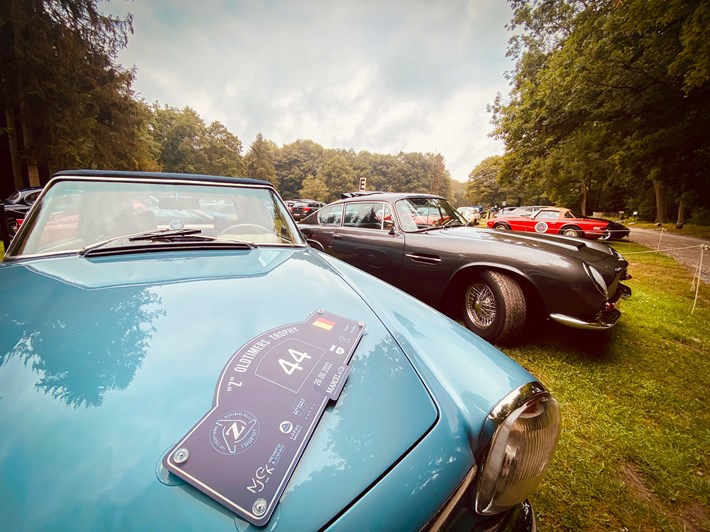 The countdown is accelerating like a speeding car! So is the latest news that is rather pleasing.
The Muppets Dan Erculisse and Etienne Stalpaert, are on their way to concoct a surprising route! And they have more than one trick up their sleeve !
For lunch, Philippe and Géraldine de Wasseige, the generous hosts, open the doors of their sumptuous castle perched on the banks of the Meuse in Dave. It is almost like being in a princess movie, with a hint of motor racing, of course!
And for the prize-giving ceremony, as well as the cocktail party offered by Chant d'Eole, the entire DriveCity team, accompanied by Antoine d'Ansembourg and Nicolas Nelson, will welcome us in a brand new space dedicated to classic cars and racing cars. A real paradise for lovers of retro steering wheels and engines that roar like hungry lions!
©Pierre-Olivier Tulkens
True to what has now become a tradition, thanks to Raidillon and an artist whose name will be revealed later, the rally will support the Ohana association. A non-profit organisation that aims to offer unforgettable moments to sick or disabled children and their brothers and sisters. The association offers a wide range of recreational, sporting and cultural activities and exceptional trips to brighten up their daily lives. The mission of the ASBL is to put smiles on the faces of these children and their families (www.Ohana.be)
So, fasten your seatbelts, check your mirrors, and get ready for a memorable day! The excitement is high and there will be surprises, so be prepared! Don't miss this opportunity to be part of this exciting adventure. Places are limited, so register early. The clock is ticking!

A big thank you to our partners without whom this exciting and unforgettable day would not be possible; Raidillon, Intensum, Lotus Brussels, Meuwèse & Gulbis, Marcel & Co, Gentleman Driver Center, Sterckx - De Smet Group, Mechanic Heritage and Intesa Sanpaolo Wealth Management Belgium.
More information? Visit the website
(Re)live the previous editions: