United Kingdom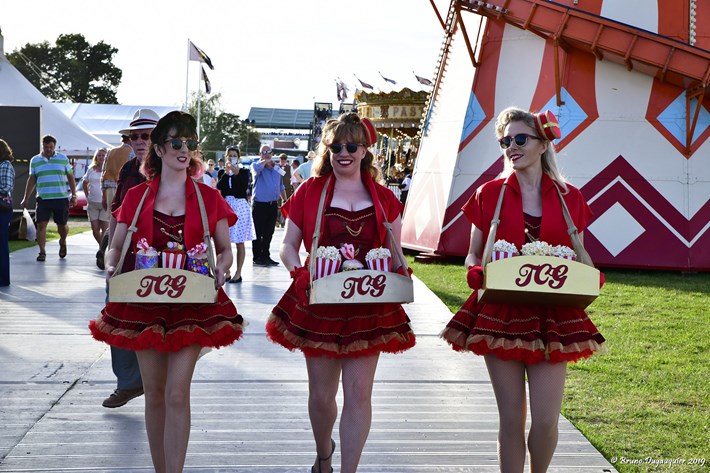 Back on the Goodwood Revival and its extraordinary atmosphere that make you relive the '50s and' 60s, a true return to the glorious past of the great British automotive companies, with this year, special parades devoted to the 60 years of the Mini (under all of its forms), the commemoration of the 1959 RAC Tourist Trophy and the Stirling Moss Aston Martin DBR1 fire, a tribute to Cooper Car Co LTD, which began its car maker career in the late 'eighties. 40 with small Formula 3 of 500 cc, to then evolve in the championship Formula 2 and F1; not to mention the Austin Mini Cooper S, and how not to mention the D-Day commemoration and the almost uninterrupted parade of amphibious landing vehicles, Jeep Willys and other military gear including a cat Patton ... on carrier.
A weekend dedicated to the traditional historic races with this year a race dedicated entirely to the Bentley Motors Company which celebrates its 100th anniversary, if Friday's qualifying practice showed some nice passes between some competitors; the race proved less animated, but a beautiful demonstration even of old grandmothers of more than 80 years ...
World-renowned drivers, including those from endurance racing, such as André Lotterer, Nicolas Minassian, Jochen Mass, and Romain Dumas were invited to compete in the weekend's flagship race, the 'RAC Tourist Trophy Celebration'; while the GP moto driver Dani Pedrosa participated in the Barry Sheene Memorial Trophy, but with less success than Moto GP ...
The buildings of Earl Court Motorshow were this time divided into two, one devoted to the re-enactment of the film 'The Italian Job', the robbery of a bank with the spectacular escape of thieves in the sewers of Turin ... in Mini, and the other part, much more restricted, reserved for British 'sponsor' builders ....
The atmosphere of this Goodwood Revival is nice, even if we can regret the presence of more and more people in the aisles become at certain times of the day, impractical ... It was close to saturation ...
https://www.goodwood.com/motorsport/goodwood-revival
© Bruno Dugauquier
About the author: