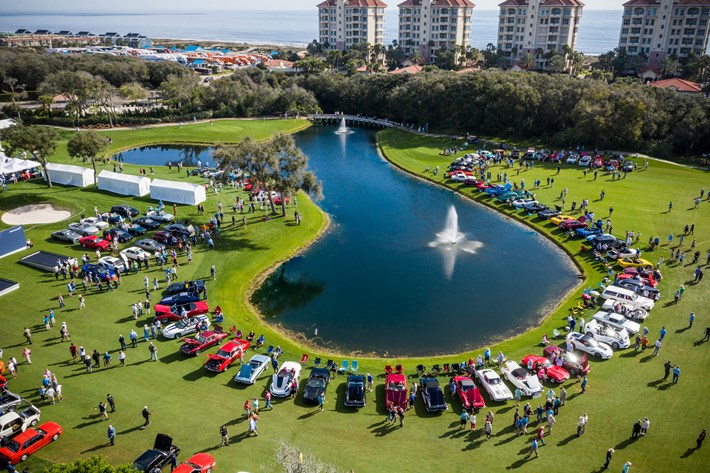 The Amelia Island Concours d'Elegance selects a member of racing's greatest as its Honoree
each year. The 2019 honoree is "Mr. Le Mans" Jacky Ickx, who is a six-time Le Mans winner,
1979 Can-Am Champion, a Formula 1 victor and a Daytona, Sebring and Paris-Dakar winner.
Interesting Cars and Classes:

● Specially curated by John Oates of Hall & Oates, the 2019 "Cars of the Rock Stars"
class includes vehicles and guitars from John Oates' personal collection and features
additional vehicles owned or closely associated with well-known rock stars. These
vehicles include Janis Joplin's 1964 Porsche 356C, a 19569 Chevrolet Stingray Racer
driven by Elvis Presley in the 1967 film "Clam Bake," and Brian Johnson of AC/DC's
1928 Bentley Vandan Plas, among others.
● A dignified fleet of one-off cars is poised to occupy the lawn this year in a class titled
"Heads of State." This fleet is made up of cars of Kings and Queens, Presidents, Popes
and even a Dictator. Vehicles include a 1956 Cadillac Series 75 Presidential Limousine,
built for use by President Eisenhower, a 1941 Cadillac Custom Limousine also known as
"The Duchess," a 1938 Cadillac V16 Limousine Town Car commissioned to the Vatican
Motor Pool, and more.
● To acknowledge the 70th anniversary of the VW Bug's arrival in America, the 24th
Annual Amelia Island Concours d'Elegance will highlight an overlooked segment of
Europe's automobile culture with a class of Custom Coachwork Volkswagen.
● A special class of Mercedes-Benz 500K & 540K-series vehicles will also take center
stage at this year's Concours. Introduced at the 1934 Berlin Auto Show, the Mercedes-
Benz 500K was a superstar and supercar from its first moments and the essence of
what would come to be 'grand touring' cars.
● A striking mid-engine Corvette prototype will be featured as a part of the 2019 Amelia
Island Concours d'Elegance's Mid-Engine sports car class. The display is also
scheduled to include examples from DeTomaso, Ferrari and Lamborghini. On March 10,
the XP-987 GT will be displayed alongside a recently-acquired 1973 GM rotary engine.
● Founded in 2013, Cars & Coffee will be back on March 9 with over 450 show vehicles
and thousands of spectators. Cars & Coffee allows individuals with vintage, exotic, and
collectible vehicles to gather on the same show field used to display vehicles entered in
the following day's prestigious Concours d'Elegance.
Show Facts and History:
● The first Amelia Island Concours d'Elegance took place in 1996. Each year, the show
celebrates the automobile and the people who love cars for their beauty, power, speed,
poise and their ability to entertain and transport us physically and emotionally.
● Bill Warner is founder of The Amelia Island Concours d'Elegance and chairman of the
Amelia Foundation.
● In 2018, The Amelia Foundation donated $140,000 to Spina Bifida of Jacksonville and
$100,000 to Community Hospice & Palliative Care of greater Jacksonville and thousands
more to The Navy-Marine Corps Relief Society and Shop With Cops and numerous
other charities.
● Chopard has been named as the official timekeeper of the 2019 Amelia Island Concours
d'Elegance. Chopard Chopard's Co-President, Karl-Friedrich Scheufele, and Jacky Ickx
have a long-lasting friendship and Chopard has created a watch to celebrate Amelia's
2019 honoree, the Mille Miglia Jacky Ickx Edition V in steel.
● HistoricRacingNews.com has been named the official live stream partner of this year's
Concours. The four hours of coverage, providing unprecedented insight into the award-
winning event from its Florida home, will be produced by HistoricRacingNews.com's
multi-Emmy award winning production team.
● Since 1996, the show's Foundation has donated over $3.45 million to Community
Hospice and Palliative Care of Northeast Florida, Inc., Spina Bifida of Jacksonville, The
Navy Marine Corps Relief Society, Shop with Cops and other deserving charities on
Florida's First Coast.
● Last year's competition drew more than 300 cars and motorcycles into 35 classes to the
10th and 18th Fairways of the Golf Club of Amelia Island. The 1929 Duesenberg J/SJ
Convertible and 1963 Ferrari 250/275P went on to win the 2018 Best In Show honors.
● In 2013 and 2016 the Amelia Island Concours d'Elegance won Octane Magazine's EFG
International Historic Motoring Event of the Year award.
RM Sotheby's:
● Since 1999, RM Sotheby's has held the esteemed role of the official auction house of
the Amelia Island Concours d'Elegance, presenting an incredible selection of the world's
most desirable automobiles at the prestigious Ritz-Carlton and setting numerous auction
benchmarks in the process.
● Now in its 21st year, RM's 2019 Amelia Island Sale is set to reinforce the company's
clear market leadership. Last year's sale boasted successful results and rose the bar
once gain above our competitors in sell-through rate, percentage of cars sold within
estimate range, and number of lots sold above $1 million.
● This year's auction has now been extended across two days, featuring a desirable
assortment of great American Classic cars.
● The auction will be led by beautifully restored 1930 Duesenberg Model J 'Sweep Panel'
Dual-Cowl Phaeton, alongside additional sought-after Classic Era motor cars.