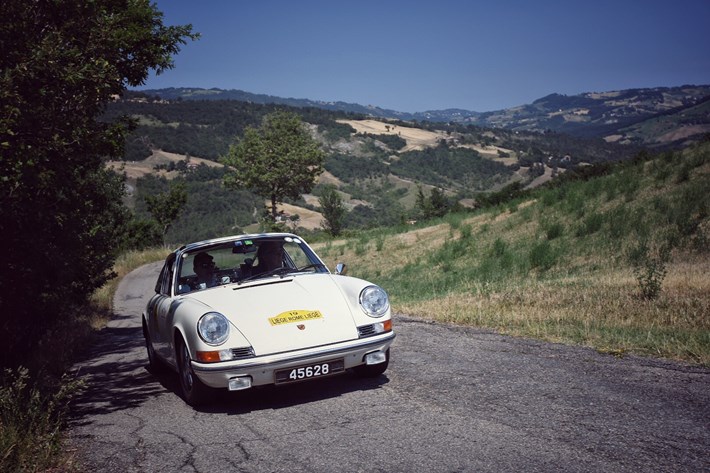 Christian Crucifix and Yves Noelanders (Ford Anglia) winners of a Liège-Rome-Liège with even better days to come!
They are back! A week after the start from the Parc de Sept Heures in Spa, the survivors of the Liège-Rome-Liège 2017 are back in Belgium, arriving in Liège at the Place Saint-Lambert on the dot of 18.30hrs this Saturday. In front of a large crowd of enthusiasts, each team that had covered the 4,200 kilometres race though Belgium, the Grand Duchy of Luxembourg, France, Switzerland and Italy received a salvo of applause. Because in all honesty, taking into account the course devised by Joseph Lambert, reaching the finish is a victory in its own right …
"
For the organisation as a whole, with twenty five persons on the course and some ten others in Belgium who took charge of the start and the finish, to hear the enthusiastic comments from the teams that made it back represents and enormous satisfaction,
Jean-François Devillers explained, at the foot of the Palais des Princes-Evêques.
Aiming at a far more sporting Liège-Rome-Liège, more in line with the Marathon de la Route of old, we made a gamble. The team that took charge of this event, with Joseph Lambert and Eric Chapa as the driving force, quite simply won unanimous support. During an entire week we were able to prove that this new version of the Liège-Rome-Liège is a true endurance event and taking a look at the drivers and co-drivers who did not compete this year, but who were present this Saturday in Liège, we can bet on the fact that there are better days to come. Mission accomplished!
"
After having hesitated between the Porsche 911 and the Ford Anglia, Christian Crucifix, perfectly seconded by Yves Noelanders, had opted for the gorgeous 1960 machine boasting the blue oval. He made the right decision, seeing the duo quite simply never left the top rung of the rankings, to win the event. "
Pointless in stating that the Liège-Rome-Liège was far from being a formality
, Christian and Yves commented in unison.
We knew that we would have trouble in the mountain passes, but with a course concocted by Joseph Lambert, it turned out to be an event where we needed to work hard from beginning to end. We're completely worn out, but we have won! And what a magnificent event
…"
With a total of 928,1 points, Crucifix and Noelanders finished in front of the Porsche 911 of Jacques Evrard and Christian Bernard (1081,0 points), who had retaken the position from the Porsche 914/6 of Serge Adriaens and Freddy Moors (1086,9 points) in a fierce battle for the 2nd place that kept all the followers on tenterhooks through until … Liège! A difference of less than 6 points after 55 regularity tests and 4,200 kilometres, who can top that?
In the wake of the leading trio, the British duo Mark and Susan Godfrey (MG B, 1299,8 points) were delighted with their 4th place surrounded by the Belgian Regularity specialists while the youngsters Florent Hontoir and Alexandre Peeters (Opel Ascona B, 1613,6 pts) more than completed their mission, integrating the top 5 that was their dream before the start. As for Yves Deflandre and his son Benoît (Porsche 911, 1769,6 points), they never stopped improving, accumulating partial victories but undergoing two mechanical issues at crucial moments. They finished the event in 6th place, they also proving that this Liège-Rome-Liège can also be a family affair.
The top 10 of this 2017 vintage was completed by Kurt Declerck and Steven Vyncke (Porsche 911 Targa, 7th, 1908,4 points), who admitted that this had most probably been the best regularity event they had competed in, Denis Robert and Jean-François Delincé (Ford Escort MK1, 8th, 2989,4 points), Tony Kevers and Baudouin Halleux (Porsche 911, 9th, 3206,4 points), not forgetting Victor Guilmain and Paul-Henry Jans (Porsche 924 S, 3842,6 points), all delighted with the experience.
At the end of this Marathon de la Route greeted with an enormous amount of interest shown from beginning to end throughout the week, the Trajectoire team is going to take a breather … prior to already starting to tackle the 2018 edition. Particularly as Joseph Lambert already has two or three rather brilliant ideas up his sleeve! The rendezvous has already been set …