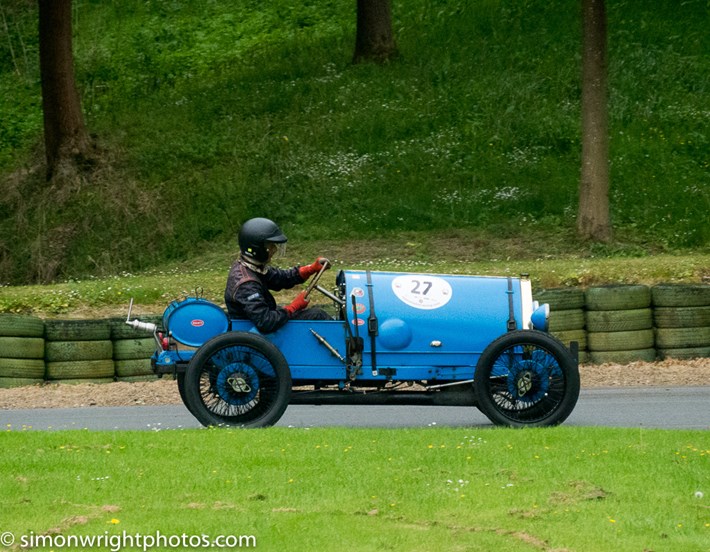 Now in it's eleventh year, the Bugatti Owners Club's French themed weekend, La Vie en Bleu, this year for the second time split the weekend with an Italian Saturday, La Vita Rossa. Life is Red bought back the Ferrari Owners' Club back with a round of their Pirelli sponsored hill climb championship, plus another class for invited Italian marques including Lancia and Alfa Romeo. Another Italian high-light was Duncan Pittway in his Fabulous 1911 Fiat S76, the Beast of Turin' doing demonstration runs. Saturday also retained some of its traditional non-Italian championships, with the Pre-War Austin 7 championship, the Classic Marques championship and the MG Car Club speed championship. The French connection remained with the Bugatti Owners Club handicap and some stunning demonstration runs by the new Bugatti Chiron and a couple of Veyron's. On Saturday the Italian flag flew high over the paddock, while on Sunday it was the French flag flying and the invited car clubs were Alpine Renault, Citroen Car, Matra Enthusiasts, Peugeot Sport and Renault who had cars displayed in the Orchard.
Each day was run as a separate event, with practice runs in the morning and two timed runs in the afternoon. La Vita Rossa on Saturday saw Fastest Time of the Day (FTD) go to Pete Tatham in his Force HC GSXR with a 43.15 seconds run. The Bugatti Owners Members Handicap Racing Cars class went to Nigel Andrews in a Modiale FF2000 with a time of 49.58 seconds. The best Bugatti was awarded 3rd place, the Type 35 of Bruce Stops with a time of 59.76 seconds.
The Bugatti Owners Members handicap for sports cars 1st place award went to Richard Ploeg in a Mazda MX5 with a time of 53.27 seconds. The final Bugatti Owners Members Handicap was for saloon cars and the 1st place award went to Mark Tooth in an Austin Mini 1275 GT with a time of 57.26 seconds.
The MG Car Club Speed Championship pre 1996 Cars class was won by Rob Orford in an MGB Roadster with a time of 52.91 seconds. The second class of MG Car Club Speed Championship cars was won by Andy Walker who set seventh fastest time overall in his MGB V8 with a 47.30 second run.
The ERA club for ERA engined cars class saw five ERA cars entered for six drivers and one Riley ERA prototype. The cars looked as spectacular as ever and Nicholas Topliss set the fastest time in the class with a 49.93 second run, which was the thirteenth fastest time overall, but the class was based on handicap and it was Ben Fidler in ERA AJM 1 B Type that took the 1st place award with a time of 52.57 seconds.
The Classic Marques championship saw a large field entered, with a nice mix of mainly British sports cars entered, but it was the German Porsche Boxster of Steve Lyle that won with a new class record 49.35 seconds.
There was only a small class of Pre War Austin 7 road cars for the Bert Hadley Championship which saw Bernard Cowley tale 1st in an Austin Seven Special with a time of 66.15 seconds. The Track cars class of the same championship saw Paul Geering take 1st in an Austin 7 Pigsty Special in 59.08 seconds.
The Italian element was next out with a nice selection of Ferrari, ranging from a classic 250 GT Lusso right up to a F430. Richard Prior was in stunning form to win the class in his Ferrari 355 GTB with a 49.37 seconds run, which was the ninth fastest run overall.
The final class was the Italian Marques Invitation class which saw a mix of Alfa Romeo, Lancia and Abarth entered. Taking the honours with Pete Fletcher 1st in an Abarth 500 Essesse with a run of 54.48 seconds.
By Simon & Janet Wright.
About the author: