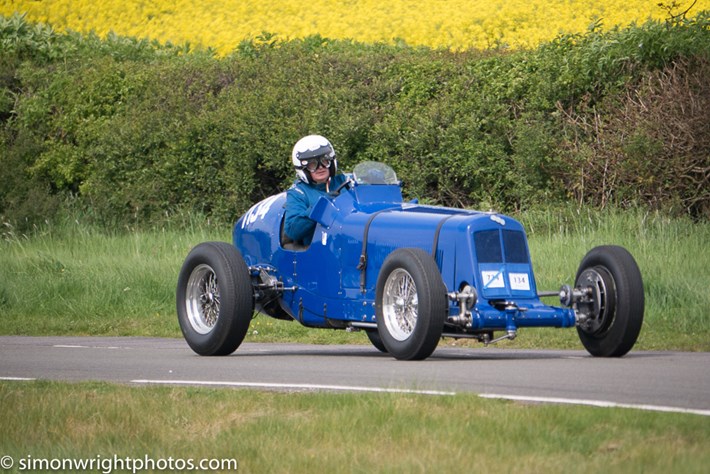 The Vintage Sports Car Club (VSCC) held the first round of their 2017 Speed Championship at Curborough, near Lichfield, over the May Day holiday weekend. The Speed Championship covers both Hill climbs and Sprints and this year has nine events. The entry this year was over subscribed, so a maximum field arrived on a sunny day to tackle the short ant twisty track. This traditional event retains the single lap format for the course and saw plenty of action over the short 1/2 mile layout.
The Curborough Trophy for the fastest time of the day went to Tom Walker driving the 1930 11.7 litre Amilcar Hispano Special who set a time of 36.56 seconds. The fastest Pre-war car was the 1934 3.5 litre Frazer Nash Single Seat car of Julian Grimwade, who set a time of 37.69 seconds. The trophy for the Fastest Vintage went to Tony Lees in his 1925 AC/GN Cognac, in a time of 37.8 seconds, though Tom Walker was also in the Vintage Class, but a driver can only win a single award. The other Overall awards went to Douglas Cawley in his 1929 GN/Ford Piglet for Fastest Sports Car in a time of 38.99 seconds, and to James Crabb for the fastest Young driver, in ERA R12C with a time of 39.54 seconds.
The entry was split in to twelve separate classes based on engine size, allowing competitors the opportunity to compete for an award, whatever size of car they drive. The class winners at Curborough were Peter Howat in an Austin 7 Ulster, Miss Joanna Collins in a Riley Brooklands, Mrs Jo Blakeney Edwards in a Frazer Nash Super Sports, and Marcus Black in a Talbot Lago T23. The Edwardian automobile engined and non automobile engined cars were combined in to a single class that saw Andrew Howe-Davies in a 1911 Scat Racer take class honours. The Special Sports Cars class winners were Keith Morton in a 1931 Riley 9 Special, Dr Christopher Downham in a 1935 Riley 9 Ulster Imp replica, and Jonathan Mellor in a 1922 AC/GN Beetle.
Finally, the Racing Car Class winners were Carl Gary in a 1922/24 Hardy Racing S/S, plus overall winning drivers Terry Crabb, Tony Lees and Tom Walker.
© By Simon & Janet Wright.