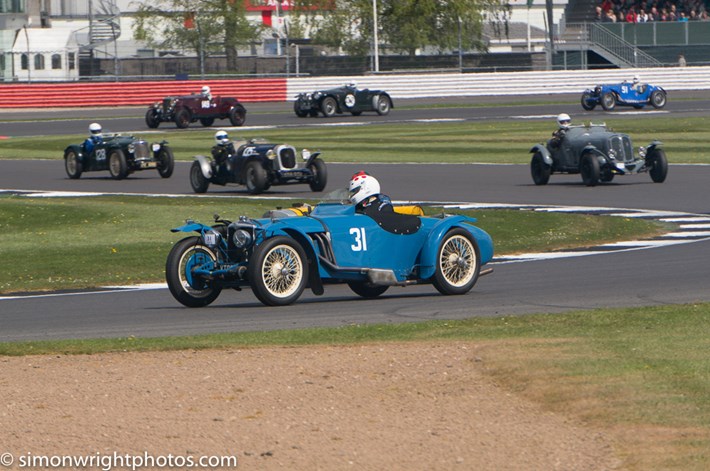 The Vintage Sports Car Club (VSCC) have re-launched their race meetings as Formula Vintage for 2017. The first meeting was a two day event at Silverstone, using the shorter National circuit. The meeting featured the GP Itala Trophy as the high-light of the eighteen race program.
The meeting started with the Silverstone Trophy for Special Pre-war Sports cars incorporating the Fox & Nicholl Trophy for large capacity Standard and Modified Pre-war Sports cars. It was won by Ruediger Friedrichs in the Alvis Firefly who took the Silverstone Trophy, finishing 13 seconds ahead of Douglas Cawley in his GN/Ford Piglet. The Fox and Nicholl Trophy was won by Richard Pilkington in a Talbot T26 SS ahead of Marcus Black in his Talbot Lago T23.
Race two was an invitation event for the HGPCA for Pre-1966 Grand Prix cars. The superb field was beaten by the Lotus 18 907 driven by Chris Middlehurst, heading a Lotus 18 1-2-3-4, Peter Horsman was 2nd, winning his class, Sam Wilson 3rd and Andrew Hibberd 4th. The other class winners were Paul Grant in a Cooper Bristol Mk2, Graham Adelman in a Maserati 250F, John Bussey in a Cooper T43, Tony Ditheridge in a Cooper T45, Eddy Perk in a Heron F1 and Sid Hoole in a Cooper T66 F1.
Next out were the Standard and Modified Pre-war Sports Cars. Andrew Mitchell in the HRG 1 1/2 litre took a close victory, just 1.09 seconds ahead of Tim Kneller in his Riley TT Sprite. The other class winners were Ralf Emmerling in a Riley Brooklands, David Ozanne in an Aston Martin Speed Ulster, John Polson in a Talbot AV 105 and Peter Bradfield in an Invicta S Type. In the VSCC Standard Cars it was an Aston Martin Ulster 1-2 with Richard Bradley ahead of John Briggs. The Team Handicap was won by The Three Awls and first on Handicap was Philip Champion in a Frazer Nash Super Sports.
The feature race, the GP Itala & Lanchester Trophies race incorporating the Stanley Mann Cup for Pre-1931 Vintage Bentley Cars was next. Julian Majzub was a clear winner of the GP Itala Trophy, leading from start to finish in his Bugatti T35B ahead of a pair of Frazer Nash Super Sports driven by Patrick Blakeney-Edwards and Charles Gillett. One of the more unusual cars in the race was the Hotchkiss AM80 of Steven Smith, with an offset body placing the driver and main body to the left of the vehicle, that finished 11th overall. The Handicap winner was James Morley in a Bentley 3/4 1/2 litre while the Stanley Mann Cup went to Ewen Getley in a Bentley 3/4 1/2 litre, who was presented with his trophy by Prince Michael of Kent in the paddock after the race.
Next was another invitation race, for the FISCAR Tom Cole Trophy. The Fifties Sports Car Racing Club (FISCAR) includes GT and Sportscars from the 1950s. There were plenty of home grown Austin Healey sports cars in the race, but also foreign exotica like a Ferrari 500 TRC, a Maserati 300S and an Alfa Romeo Giulietta SVZ from Italy. Guillermo Fierro Eleta in the beautiful Maserati 300S lapped the entire field on the track, but was penalised 3 minutes for not complying with the pit stop regulations which dropped him down to 2nd overall. This promoted Christopher Keen, in the 4.7 litre Kurtis, to the win in the race, and officially they were the only two cars to complete 26 laps. The Maserati was officially 1 minute and 50 seconds behind in 2nd place. Best of the rest, in 3rd place, was Steven Boultbee-Brookes at the wheel of the classic Aston Martin DB3S.
The All-Comer short handicap race for pre-war cars with a pretty full grid of 33 cars. This was a 5 lap event that saw a close win for Harry Painter in his MG PA by just 1.62 seconds ahead of Paul Baker in his Frazer Nash Sports and Theodore Hunt in his Frazer Nash TT Rep
The Patrick Lindsay Memorial & Amschel Rothschild Trophies race for pre-1961 Racing Cars saw a demonstration by Frederick Harper in the Kurtis Indy-Roadster who led from start to finish. The battle for 2nd was between Guillermo Fierro Eleta in his Maserati 250F and Charlie Martin in his Cooper Monaco T49 who finished in that order.
The twenty minute race for 1950s Sports and Sports Racing cars saw a smaller field than a lot of the races, but was an interesting mix of Lister, Cooper and Lotus variants plus others. Steven Boultbee-Brooks led from start to finish in his Lister Jaguar Flat Iron with a narrow 2 second lead over class winning Justin Maeers in his Cooper Monaco T49. Third place went to Tony Bianchi in his Farrellac Allard Sports who also won the Post 1956 Car over 2000cc class. The other class winners were Stuart Dean in his MG Dick Jacobs Special (Pre 1956 Car up to 1500cc), John Are in his Cooper Bristol T24/25 (Pre 1956 car 1501-2000cc class) and John Clark in a Cooper Bristol (Post 1956 car up to 1500cc).
The 500 Owners Association has assembled a reasonable field of cars for their Formula 3 (500) race. These small cars are big on racing and the race was won by Gordon Russell in a Mackson F3 by just 0.22 of a second from Xavier Kingsland in a Staride Mk3. Richard de la Roche was 3rd in the first of several Coopers in the race, in his Mk5. The other class winners were Nigel Challis in a Cooper Mk8 and JB Jones in a JLR.
The final race on Saturday was an All-Comers short scratch race for Pre-war cars and Mark Gillies took a comfortable win in an ERA R3A ahead of Julian Grimwade in a Frazer Nash Norris Special and Terry Crabb in ERA R12C, with all three winning their respective classes. The other class winner was 13th placed Mark Elder in an Austin Sports Special.
Sunday saw wins for Tom Waterfield in a GN Special, Keith Ahlers in a Morgan Plus 8, , Julian Grimwade in the Frazer Nash Norris Special, Peter Horsman in the Lotus 18/21 P1, Anthony Fenwick-Wilson in the Railton LS Tourer, and Stephen Riddington in a Riley 12/4 Special. The Mike Stripe team Relay race was won by Manche D'Enchanteur. The HRDC Coombs Heritage race for Pre-1966 Jaguar Touring cars was won by Alistair Dyson in a Jaguar Mk2 and the AR Motorsport Morgan Challenge was won by Keith Ahlers in a Morgan Plus 8.
© By Simon & Janet Wright