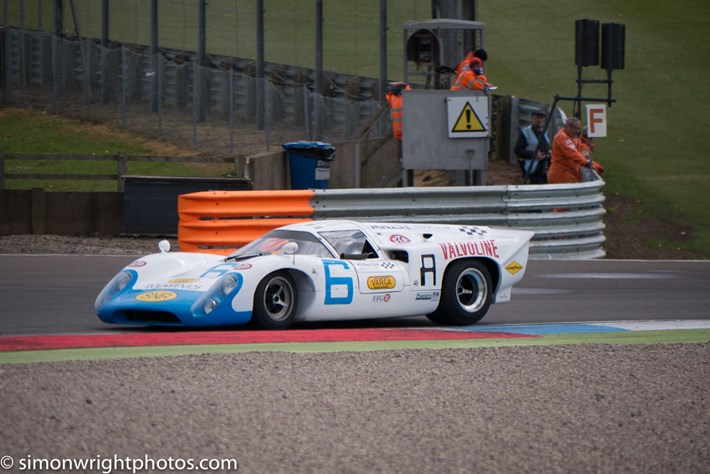 Run over three days, a packed nineteen race program covered all types of historic motorsport, with the racing taking place over the weekend.
The Pre-61 front engined Formula Junior cars saw John Sykes in a Merlyn Mk2 twin both races. More up to date, the HSCC Super Touring Car Challenge for 1970-2000 Touring cars had Honda, Audi, MG, BMW, Volvo, Alfa Romeo and Ford all represented. James Dodd was another double winner in his Honda Accord and won both races from Neil Smith in an Alfa Romeo 150 STW. Vintage racing next with the Mad Jack race for Pre-war sports cars. The Frazer Nash of Frederic Wakeman and Patrick Blackeney-Edwards dominated the 40 minute race, lapping the entire field. Clive Morley in a Bentley 3/4 1/2 litre just held 2nd from the other Bentley 3/4 1/2 driven by Richard Hudson and Stuart Morley, who also won their class.
The Under 2 litre Touring Cars Trophy for Pre-66 saloons always provides great racing round the sweeping curves of Donington Park. It was Andrew and Maxim Banks in an Alfa Romeo Giulia Sprint who won both races of the weekend ahead of Touring car legend Steve Soper in a Ford Lotus Cortina.
The main race of the meeting was the HSCC FIA Historic Formula 2 International Race Series with two 25 minutes races. After several leading drivers retired during the race, it was Frazer Gibney driving a March 782 who won the first race. The second race on Sunday was won by Richard Evans driving a March 742. For most fans the star of the first F2 race was the Ferrari 166 Dino as driven by Graham Adelmann, which unfortunately retired on lap four. In practice on Friday, the sound of its 1600cc engine screaming down the Craner Curves was awesome.
Back to saloons with the Historic Touring Car Challenge with Tony Dron Trophy for cars from the 1960s, 70s and 80s. After a very close qualifying it was the Steve Soper and Chris Ward Rover Bastos Vitesse in pole position. The one hour race was a re-enactment of the old European Touring car Championship, with Soper and Ward winning in the Rover Vitesesse and David Tomlin 2nd in a Ford Escort RS1800 while Dominik Roschmann was 3rd in a fabulous BMW 3.0 CSL.
The next race was the FJHRA/HSCC Silverline championship race for pre-64 front and rear engined Formula Junior single seaters. James Murray in a Lola Mk5A won in the first race, but could only manage 2nd in the race on Sunday. John Fyda who as 3rd in the first race, won the second in a Brabham BT6.
The Stirling Moss Trophy for pre-61 sportscars was a one hour race which saw several leaders before Chris Ward, who had started from pole position, took victory in the Lister Jaguar Costin.
A forty five minute race for the HRDC 'Touring Greats for pre-60 Touring cars and invited TC63 saw former British Touring Car Champion Andrew Jordan and his father Mike in their Austin GT40 take pole position and a comfortable win by over 52 seconds. In 2nd place was the Jaguar Mk1 of Richard Butterfield and Dorlin and 3rd place went to Neil Brown in his Austin A35 Speedwell.
The final race of the day was a 90 minute into the dark '1,000 Kms' race for pre-73 Prototypes, Touring and GT cars. Disappointingly, this was a small grid, with just 14 cars taking part. The powerful Lola T70s dominated the grid with Paul Gibson and Chris Ward on pole position in their 5 litre Lola T70 Mk3 B which they converted into a victory in the race. Leo Voyazides and Simon Hadfield in another Lola T70 Mk3B were 2nd, while Chris Beighton and Nigel Greensall made it a Lola 1-2-3 with their Lola T70 Mk3B.
Sunday started with a two hour marathon GT and Sports Car Cup race for pre-66 GT and pre-63 sportscars. Leo Voyazides and Simon Hadfield were out again, this time in a AC Cobra 289, but it was another AC Cobra 289 that won the race, driven by Grahame and Oliver Bryant.
Now it was time for the Jaguar Classic Challenge for pre-66 Jaguar cars and Gary Pearson snatched pole in his Jaguar E-Type by just 0.003 of a second, then winning by just over 14 seconds from Ben Short in another Jaguar E-Type.
After lunch it was time for the RAC Woodcote Trophy for pre-56 sportscars. This one hour race was led off by the pole position Cooper T38 of Frederic Wakeman and Patrick Blakeney-Edwards who went on to lap the entire field, completing 42 laps in just over the hour. In 2nd place it was the Wolfgang Friedrichs and Simon Hadfield Aston Martin DB3S a lap behind.
The HRDC Coys Trophy for pre-66 Touring Cars was another typical exciting touring car race at Donington that saw David Tomlin in a Ford Lotus Cortina eventually win ahead of Graham Pattle in another Ford Lotus Cortina while Burton was a class winning 3rd overall in his Ford Mustang. Mike and Andrew Jordan won their class again in their Austin GT40 in 9th and the final class winner was Bruce Chapman in 20th, in an Austin A35 Academy car.
© By Simon & Janet Wright.