United Kingdom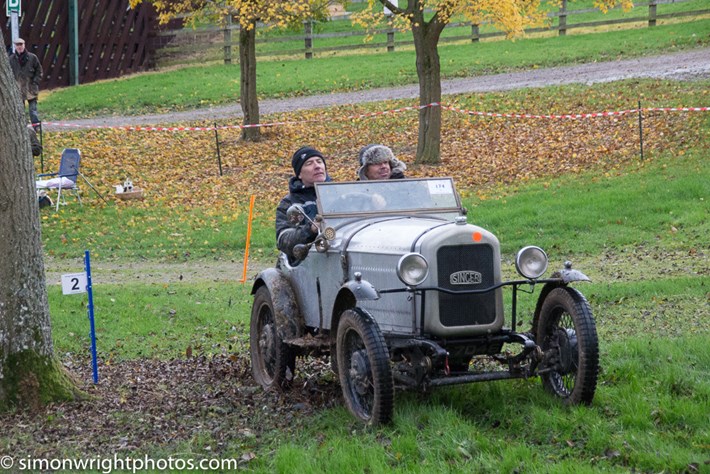 As winter approaches and the circuit racing season has finished, the Vintage Sports Car Club continues to enjoy its motorsport by taking to the hills. The Cotswold Trial is based around the Prescott hill climb course, with a total of fourteen off road sections. The morning tests took place in the surrounding Gloucestershire countryside, and the afternoon tests all based within the Hillclimb venue. The aim of the Trial is to see how far up each hill the car can travel in a forward direction. There are control points where the vehicle must stop and then re-start without going backwards. Each car can carry as many passengers as the car allows, as distance and not speed is the objective. The additional weight of the passengers can help push the thin tyres through the usually muddy surface and gain extra grip. The amusing part of these events is watch the passengers bounce up and down in the vehicle trying to gain extra grip and get the vehicle a little further up the slope.
A capacity entry of over 100 pre-war cars were greeted with a bright cold dry day and a lot of the hills started dry and hard from the overnight cold weather, although the previous couple of days had been wet. This gave an advantage to the early cars in the run, with many being small, lightweight Austin 7 variants who managed to race up the hills, straight to the top, gaining maximum scores.
Overall victory and the Harold Powell Plate went to Simon Price and his 'bouncer' Karen Davies, driving a 1930 Ford Model A Special (No. 145) in the Short Wheelbase Modified and Special class with a perfect round total score of 385. Matthew Blake won the Inderwick cup in his 1922 GN Vitesse 2 Str (No. 117) with a final score of 326 for the Short Wheelbase Standard Cars. Finally 21 year old Hughie Walker making his Trial debut in the Novice Class, driving 1930 Austin 7 (No. 1) powered by a 1923 ABC Scorpion 1200cc Fiat Twin engine, was declared the winner of The Cotswold Cup with a score of 310.
The long wheelbase cars were suffering under the muddy conditions as they reached the tests after the course had been churned up by the earlier runners. John Higgs came out on top of the Long Wheelbase Modified and Special Cars class in his 1929 Morris Cowley (No 241) with a total score of 330. The Long Wheelbase Standard cars class was dominated by the Ford Model A with Mike Littlewood in his 1930 version (No. 207) winning the class with a total score of 330.
By Simon & Janet Wright.