United Kingdom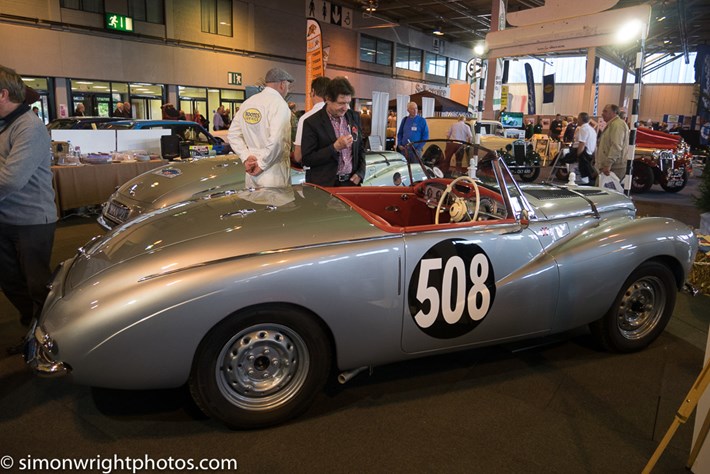 A record crowd of around 71,000 enthusiasts defended on the National Exhibition Centre (NEC) for this years Classic Motor Show, the largest indoor classic motoring celebration in the UK. The five largest halls at the NEC, spanning one million square feet, housed 2.500 classic cars and bikes over the 3 days of the show. The exhibits ranged from an 1869 Tasker B2 'Little Giant' engine through to the current Bloodhound SSC land speed record show car. This year there were 273 car clubs exhibiting at the show, which had a theme of Heroes and Heroines. Some clubs high-lighted real life heroes while others used fictional heroes incorporated in to their displays.
The Meguiar's Club showcase had their annual display which contained 16 winning cars from previous shows around the UK during the year. The NEC show decides the ultimate winning car. This years selection included a 1952 Ford Anglia, a 1966 Volkswagen Beetle, a 1981 Ford Capri 3.0, a 1972 Triumph TR6, a 1954 Chevvy Pickup, a 1954 Jaguar XK120 FHC, a 1977 Volkswagen Golf Mk1 and the overall winner was a 1966 Mini Traveller owned by Andy Nash from Dover.
There was a Wheeler Dealer Live Stage with Discovery Channel in Hall 5 which was hosted by Mike Brewer who was joined by Edd China, Ant Instead and Fuzz Townshend. Over the show there were also appearances by Sir Stirling Moss, Richard Noble OBE and US reality star Jesse McClure.
The Lancaster Insurance Pride of Ownership saw the public vote for the favourite vehicle from the twenty selected for the final. The range of vehicles was again impressive with the most stylish car on display an old pre-war Auburn. However, the public vote gave the award to James Cribb from Winsford for his 1989 Austin Metro City. Second place went to Stuart Turp from Barnsley for his 1969 Ford Capri Mk ! and third place went to Mark McClellan from Kilmarnock, Scotland for his 1984 Vauxhall Astra GTE.
Silverstone Auctions held a sale at the show which achieved an 80% sale rate, with total sales of £5.8 million, the best ever sale at the NEC. Top buy was a 1957 Porsche 356A T1 Speedster which sold for £306,563. TV presenter Ant Anstead had restored a 1958 Lotus Elise for his TV show 'For the Love of cars' and that fetched #121,500 in the Auction.
The Ferrari Owners club staged a racing grid of Ferrari sports cars, while the Maserati stand featured the Maserati Tipo 151/3 with its Drogo designed sports car body, often referred to as the Racing Van, powered by a 5 litre V8 engine which developed 430 bhp. The show had something for every one with an American car section which featured the Classic American Car of the year award. This was won by John Hayes with his 1966 Chevrolet Corvette. Eastern Bloc cars, racing and rally cars and cars representing most British and European manufacturers made this a show not to miss, but you really needed at least a couple of days to see everything.
By Simon & Janet Wright.