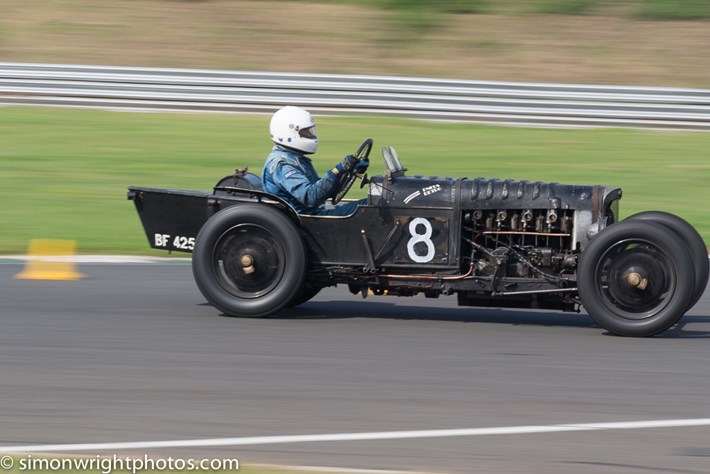 After nearly loosing Mallory Park as a racing circuit a couple of years ago due to noise complaints by new locals in the nearby village, the Vintage Sports Car Club returned to this historic short circuit in Leicestershire for its summer race meeting. With a mixture of 12 races and handicap races for vintage cars, the club attracted a great entry of drivers keen to compete on the 1.35 mile course which consists of a flat oval circuit with a hairpin squeezed out at one end of the track.
A bright sunny day drew out a large crowd, many of whom had arrived in Vintage cars, which made the car park its own vintage car show!
A lot of the races were a mix of vehicles, with both scratch and handicap events to give everyone an even chance of winning a trophy. The high-light races were the Dick Baddiley & Edwardian Racing trophies race for Edwardian Cars, the John Taylor Memorial Race for Formula Junior cars, a F3 race for 500cc cars and the Bob Gerard Memorial Trophy Race for Pre 1961 Racing Cars. This last race was the main event, as the meeting was named after it. There was not a large entry for this race, and it saw Frederick Harper in the Kurtis Indy-Roadster win the race but it was 2nd placed Duncan Ricketts in an Alta 2 litre that was the winner of the Bob Gerard Memorial Trophy. The first Post-war F2 Car and winner of the Robert Ashley Trophy was Steve Russell in a Cooper Bristol MkII.
The Edwardian race was a real thriller with Jonathan Miller in a Stutz Bearcat taking the win by just 0.19 of a second from Richard Caldwell in a De Dietrich 130 HP Course and Mark Walker a further 0.94 of a second behind in 3rd place at the wheel of his Darracq 200HP.
The F3 500 Racing cars race proved to be a Cooper walk over, with Simon Brown winning in a Cooper Mk4 from Peter De La Roche in a Mk V and Stuart Wright in a Mk XI.
The Formula Junior race for the John Taylor Memorial trophy was won by Chris Drake in a Terrier Series 1 Mk IV.
An all MG race by the Triple M Register for Pre-war MG cars saw Thomas Hardman win in an MG Bellevue Special from Mike Painter in an MG Kayne.
The other winners of the handicap and scratch races were Jonathan Cobb driving a Frazer Nash Ford, Julian Grimwade took a couple of wins in a Frazer Nash Single Seater, Andrew Mitchell in a HRG 1 1/2 litre, Tom Walker in an Amilcar-Hispano Special, John Seber in a Wolseley Hornet Special, and Geoff Toms in a Fiat 508S.
By Simon & Janet Wright.