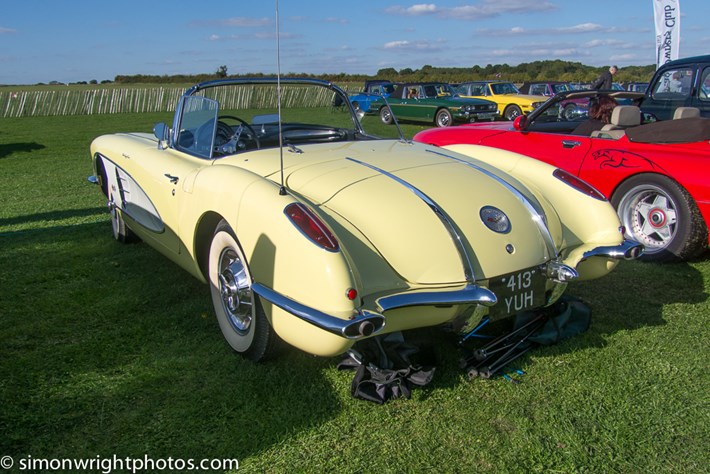 Now in it's third year, Pistons and Props continues to celebrate cars and aircraft in its own unique way. The very large static car club displays had a wide range of vehicles gleaming in the late summer sun. For classic car owners who don't belong to a car club, there was a large area set aside at the end of the display field for owners of classic cars to park up and show their vehicles. This had quite a mix of vehicles parked next to each other, which quite a few classic American cars as well as hot rods parked between classic British cars such as the Mini.
One advantage Sywell has over other classic car shows is that it is an operational airfield. One of the Taxiways was converted in to a drag racing strip, complete with the 'Christmas' tree starting lights. Classic dragsters, funny cars and hot rods smoked their tyres and burned rubber up the quarter mile. After the Drag racing, it was the turn of go karts and motorcycles to have demonstration runs up both the taxiway and the main runway. A few Group B rally cars did short demonstrations round marker cones on the Taxiway before making way for three Grand prix cars from the 1980s to howl up the main runway, letting the spectators both see and hear these fantastic machines at high speed.
The title of the event is Pistons and Props and the air displays were highly entertaining. The high light of which was a large display of the types of aircraft that took part in the First World War staging a battle and dog fights in the skies over Northamptonshire.
Add in the vintage displays and the people wearing period outfits from the 1940s through to the 1960s and you have a perfect weekend to re-live days gone-by.
By Simon & Janet Wright