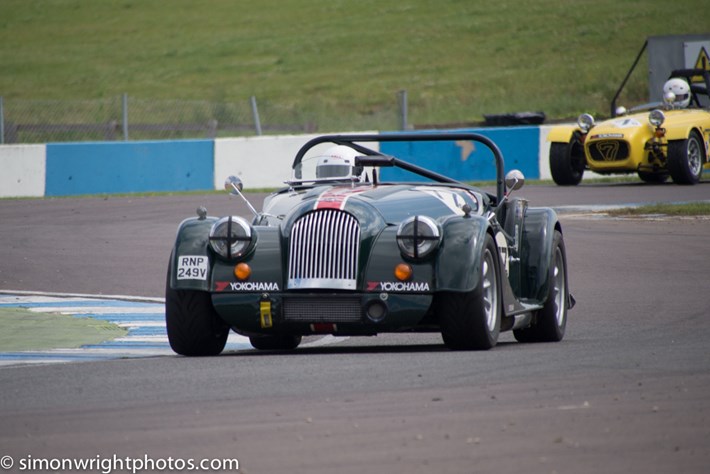 This years Masters Festival at Donington Park seemed to be a slightly low key event compared to previous years. Having said that, there was a new race on the programme, the Masters Four Hour race for GT cars, which saw four Ford GT40s at the head of the 30 car field at the start. The four went down to three in an intense battle for the lead, then it was left to two as Roger Wills and James Littlejohn took victory ahead of Jason Wright, Michael Gans and Andy Wolfe. Third place went to another GT40 of Tony Wood and Martin Stretton, but they were two laps down at the end after suffering a broken exhaust and misfire. The lead battle had swopped places several times up to the 3 hour mark, but then Wolfe was caught out by a back marker at Old Hairpin and spun. This opened up the lead for Wills and Littlejohn to a comfortable 15 seconds. Best of the under 2 litre cars was the Lotus Elan of David Tomlin and Richard Meaden who finished 5th overall.
The FIA Masters Historic Sports Car Championship race was won by Leo Voyazides and Simon Hadfield to lead a 1-2-3 for the Lola T70 Mk 3B with Jason Wright and Andy Wolfe 2nd and Daniel Gibson and James Littlejohn 3rd. Michael Gans pretty Lola T290 was the leading prototype in 4th place, while best of the pre-66 cars was the Cooper Monaco King Cobra of Keith Ahlers and Billy Bellinger, while Mark Bates won his class in the Porsche 911 RSR.
The Masters Pre 66 Touring car race provided an easy victory for Henry Mann's Ford Mustang. Behind, the heroic Mini Coopers of Nick Swift and Jonathan Lewis had held 2nd and 3rd overall after the pits stops, but the power of the American muscle cars meant that Roger Wills got 2nd at the finish in his Mercury Cyclone Comet, and Ben Hall took 3rd at the flag in his Ford Falcon.
The final two Masters races were for the 70s Celebration field which saw a win for Chris Beighton in the Sunbeam Tiger in race one and then Mark Wright in the Ford Escort Mk2 in race two with Nicholas King driving an Aston Martin DB4 finished 2nd in both races.
Supporting the Masters races were races for the Scottish BMW Compact Cup, the Scottish Classic Sports cars & Saloon Championship and the Toyo Tires Porsche Championship. The interesting race here was the Scottish Classic Sports and Saloon Championship race which saw a win for Tommy Gilmartin in a Morgan +8 just ahead of Keiron Baillie in a Lotus Seven while John Kinmond was 3rd in a Triumph TR7 V8. In the second race it was Mike Connon in a Lotus Seven that took the win from Gilmartin in the Morgan and Baillie was 3rd in his Lotus Seven.
© Simon & Janet Wright.