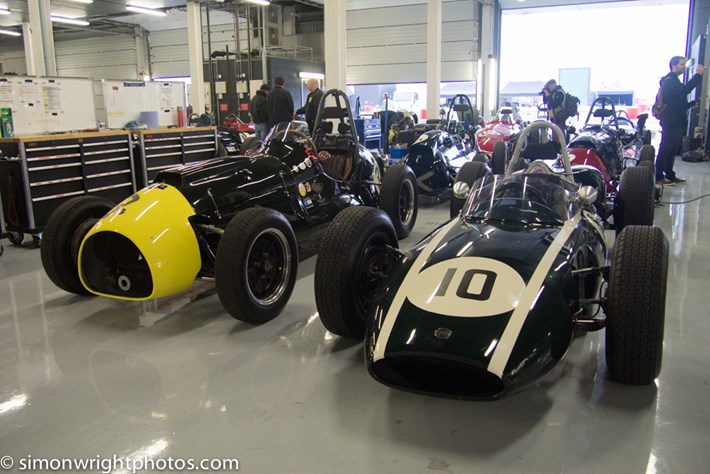 The 25th Anniversary Silverstone Classic attracted a record crowd of over 100,000 people during the 3 day event in England. Unfortunately the Silver anniversary event did not attract good weather this year with the Friday Practice day being very wet through most of the day. Several qualifying sessions had to be run behind the safety car as the track was so wet, and the grids were decided by previous race performances. Saturday was the best day of the weekend, with sunshine through a large part of the day, which was also the longest day of the the Classic meeting with the racing starting at 9am in the morning, and the Group C race not starting until 8:30pm in the dusk of the evening and running until 9pm. This was followed by a Status Quo concert.
Unfortunately, Sunday was another washout, with heavy rain falling during most of the day. This did not deter the drivers from putting on a fine display of wet weather racing skills to entertain the crowd. The weekend saw a total of twenty races covering everything from Formula Junior single seaters right through many decades of Grand Prix cars right up to the Masters Series for Historic Formula 1 cars up to the 1980s. Saloon car fans were treated to `Pre 66 under 2 litre touring cars and more modern Super Touring Cars from the 1970s and 80s. Sports Car and GT fans were not forgotten with Pre war Sports Cars, Pre 61 Sports Cars, Pre 56 Sports Cars, Pre 63 GT cars, Pre 66 GT Cars and both the Masters Historic sports Cars series for Le Mans cars from the 1960s and 70s and the fastest Group C sports cars. Finally, there were two demonstration sessions for Legends of Modern Formula 1 and 90s GT Legends.
Away from the track, there was an Auction of classic cars and racing cars, and the centre of the circuit was filled with thousands of classic and super cars, plus a trade village and various entertainment for the fans to enjoy. It may have been damp, but the record crowd didn't let the bad weather stop them enjoying the largest Classic Motorsport event in the country.
© Simon and Janet Wright