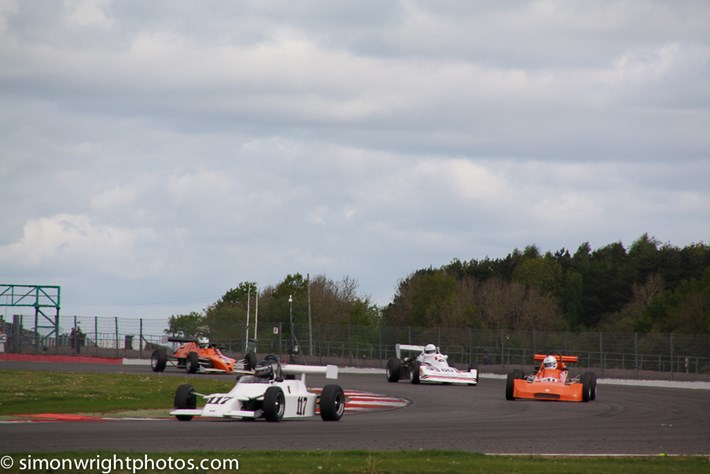 The Historic Sports Car Club (HSCC) ran the International Trophy meeting over the full Silverstone Grand Prix course. The event used to be for Formula 1 cars in the late 1960s and early 1970s but as the Grand Prix season expanded, all the non-championship races slowly slipped away. The HSCC have revived the event as a Historic weekend of motorsport and have incorporated the majority of their championships and series in to the weekend. This year saw the addition of the Jaguar Heritage Challenge and the Pre'80 Endurance Challenge, both with large grids, Sunday also saw a round of the GT & Sports Car Cup series (GTSCC) for GT and Sports cars built up to 1965. The one hour race saw Leo Voyazides and Simon Hadfield win in an AC Cobra Daytona by just over 20 seconds from the Lister Jaguar of Wood and Nuttall. The Historic Formula 3 had two races over the weekend. The Saturday race saw Peter Thompson win in a Brabham BT21 with Simon Armer driving a March 703 a very close 2nd just over 1/4 of a second behind at the flag. Roland Fischer in a Tecno was 3rd. In their second race on Sunday it was Armer who won by just over half a second from Thompson, with Ian Bankhurst 3rd this time out in an Alexis. The Derek Bell Trophy race was combined with the Classic Formula 3 for two races over the weekend. This combined grid gave a field of Formula 1,2,3,5000 and Atlantic single seater racing cars all in the same race. Saturday saw Greg Thornton take an easy victory in his Formula 5000 Surtees TS11 from Philip Hall in a Formula 2 March 752 and Paul Campfiels in a Chevron B35. Sunday saw a stunning drive from Richard Evans in a Formula Atlantic March 79B who simply out drove all the other competitors to take outright victory in the under powered car from Ian Ashley in a thundering Formula 5000 Lola T300, with early leader Greg Thornton a distant 3rd at the flag in his Formula 5000 Surtees TS11.
First race after lunch was a fifty minute Pre'80 Endurance race. This was for sports, GT and Touring cars that competed in the World Endurance Championship of the 1970s. It was to provide an easy victory for the lurid green Lola T292 of Michele Liguori from Italy, who was over half a minute ahead of the Lola T282 of Simon Hadfield and Leo Voyazides, with the Chevron B19 of Kirkaldy and O'Connell 3rd.
The Historic Formula Junior race saw a good battle early on between Andrew Hibberd and Sam Wilson in similar Lotus 22 single seaters but at the flag it was victory for Wilson with Hibberd 2nd and Manfredo Rossi 3rd in another Lotus 22. The field for the Jaguar Heritage Challenge saw a nice mixture of E=Types and XK102/150s with a few Mk1 saloons added for good measure. The Hancock/Shuckburgh Jaguar E-Type lead every lap except for the first lap and more importantly the last lap when it failed to finish, leaving victory to Martin Melling and Graeme Dodd in their E-Type from Clark and Shaw 2nd in another E-Type.
By Simon & Janet Wright