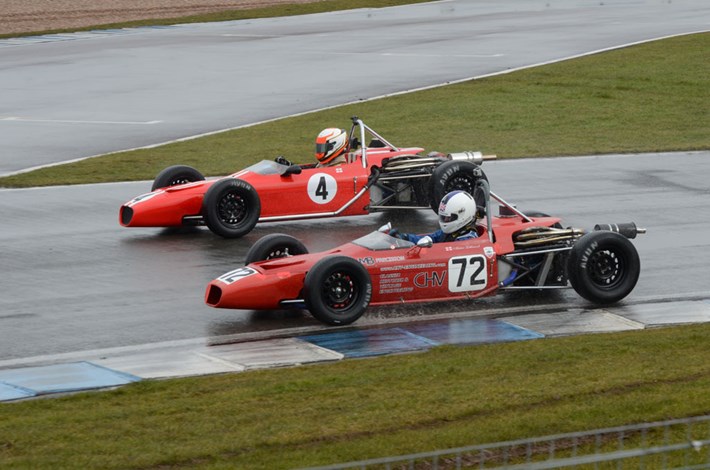 © Simon & Janet Wright.
The Historic Sports Car Club (HSCC) got the British historic racing scene off to a very cold start at Donington Park. Celebrating 80 years since the first race at Donington in 1933, there was a good entry for the first HSCC meeting of the year, with a wide variety of classes covering Saloons, Sports cars and single seater racing cars. It was cold and dry to start the morning, but around lunch time, a snow blizzard swept across the circuit making the track very wet, which caught out a few competitors. When racing started after lunch, the circuit was very wet, but the sky was lighter and it gradually stopped raining.
The wet track was a great leveler in car performance and this was really high-lighted in the Historic Touring Car Race. Practice had been in the dry and the big V8 American muscle cars had taken the first three positions with the Ford Falcon of Mike Gardiner on Pole position. The track was wet for the race and Gardiner took the initial lead, but by the second lap the Mini Cooper S of Roger Godfrey was in the lead and by the next lap the Red Mini Cooper S of Pete Morgan was through to 2nd. Peter Crewes in an Austin Mini Cooper s made it 1-2-3 for Mini by lap 4. However on lap 6 Godfrey lost it going in to the chicane as they began to lap some of the slower cars and spun off, recovering to 8th place. Pete Morgan went on to win the race outright from Crewes in another Mini while Godfrey managed to recover to 4th overall by the end, just behind the Ford Mustang of Richard Dutton.
The 70s Roadsport race was won by Julian Barter in a TVR 3000M, the Historic Formula Ford was won by Nelson Rowe in a Crossle 20F, while Stuart Roach dominated the front engined Formula Junior race in his Alexis Mk2. The Lotus Elan pair of Frazer Gibney and Roger Waite finished 1st and 2nd in the Historic Road sports race, while a Lotus 69 won the Classic Racing car event driven by Ian Jones. The Rear engined Formula Junior race was won by Sam Wilson in a Cooper T59 and the final race of the day, the 40 minutes Guards Trophy race was won by Charles Allison in a Chevron B8 dominated race, with Chevrons taking the first 4 positions.
With this calibre of racing, it looks like we have a great season to look forward to.