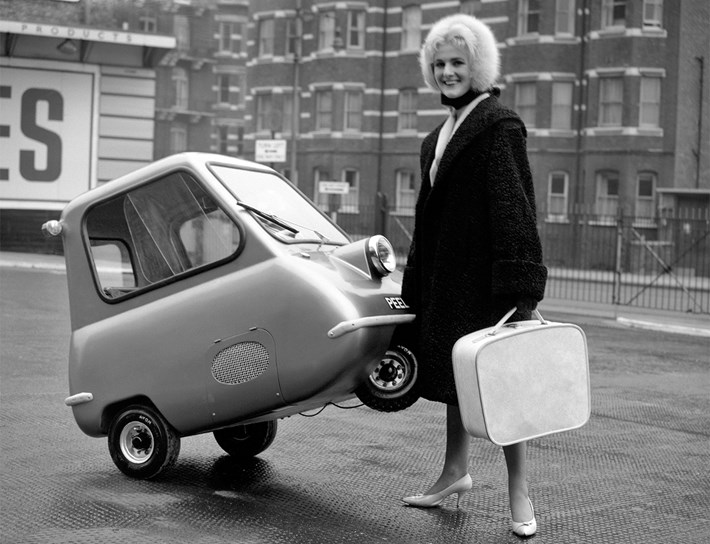 Improving mobility in cities is not a new concern, as demonstrated by the small British manufacturer Peel, which has produced two unique microcars.
The Peel Engineering Company was founded in the late 1940s by Cyril Cannell. He was born in Essex and grew up in London, but spent most of his adult life in the Isle of Man town of Peel. With its headquarters on an island, the company initially specialised in the manufacture of boats and marine equipment, but early experiments with the use of fibreglass led to the production of motorbike accessories such as fairings.
In 1953, Peel Engineering also turned its attention to the automotive industry, developing a one-piece body designed to be mounted on the chassis of a Ford Anglia. In 1955, Cyril Cannell and his partner Henry Kissack created a second car with a fibreglass body, called the Manxman. Equipped with a 250cc engine, it was intended to be sold assembled or as a kit. In the end, this model never went into production.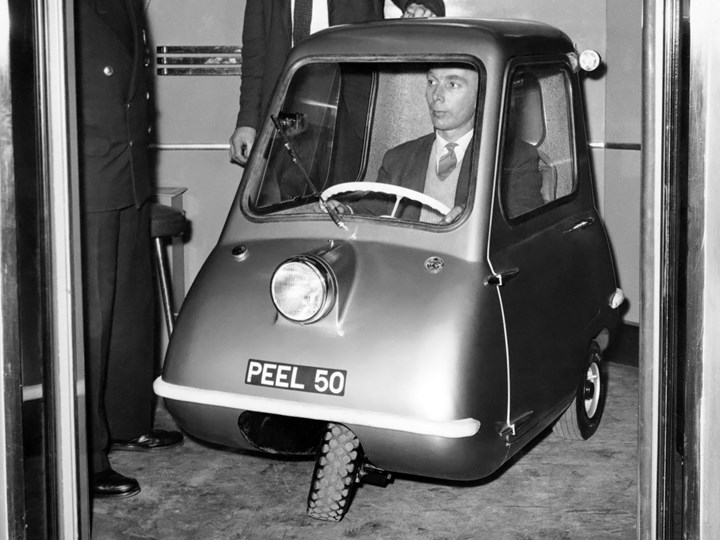 In the Guinness Book
It was the P50, launched in 1962, that gave the brand its start as a small car manufacturer. If you're a fan of the British TV show Top Gear, this is the three-wheeled, single-seater microcar that Jeremy Clarkson drives in a hilarious test in the corridors of the BBC in London. At just 1.34 m long, 99 cm wide and 1 m high, the P50 really is tiny.
It is still listed in the Guinness Book of Records as the world's smallest production car, and was already tackling the problem of mobility in big cities more than 60 years ago. To propel its 59 kg unladen weight, this machine is powered by a 49cc DKW air-cooled engine developing 4.5 bhp. The single-cylinder engine is mated to a 3-speed gearbox with no reverse gear. To reverse, all you need to do is get out of the car and push!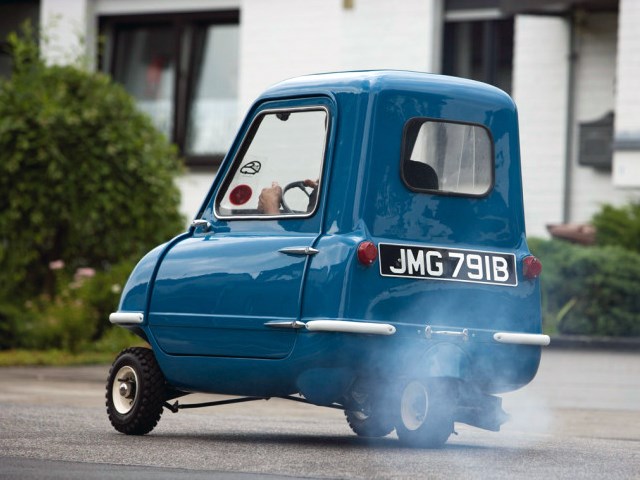 Two-seater
Capable of travelling at 60 km/h, the Peel P50 is terrifying to drive because its suspension is very minimalist, as is its steering, and the feeling of safety on board is virtually non-existent. As for the difference in size with normal vehicles, let's not even talk about it!
Presented at the 1962 Earls Court Motor Cycle Show, the prototype had only one wheel at the front and two at the rear, an architecture that was eventually reversed on the production P50. Priced at £199, it was cheaper than a motorbike.
However, sales did not keep pace and it is estimated that around fifty examples were built between 1962 and 1965. In 1964, Peel completed the range of models with the Trident, distinguished by its strange plexiglass bubble. Powered by the same 50cc engine as the P50, it found around 80 buyers.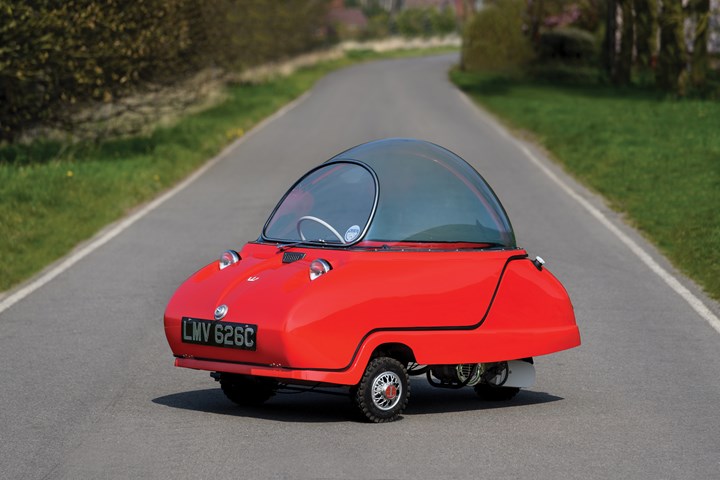 Unrealised Ideas
The company then presented the Viking Sport, a coupé using Mini's mechanical components and designed to be built around Mini components. This attracted the attention of British carmaker BMC (British Motor Corporation), which commissioned Peel to design a fibreglass body for the city car.
Unfortunately, an internal reorganisation in 1966 put an end to the project. Peel abandoned the car business and concentrated on moulded parts for motorbikes and the nautical world. The company was finally dissolved in 1974.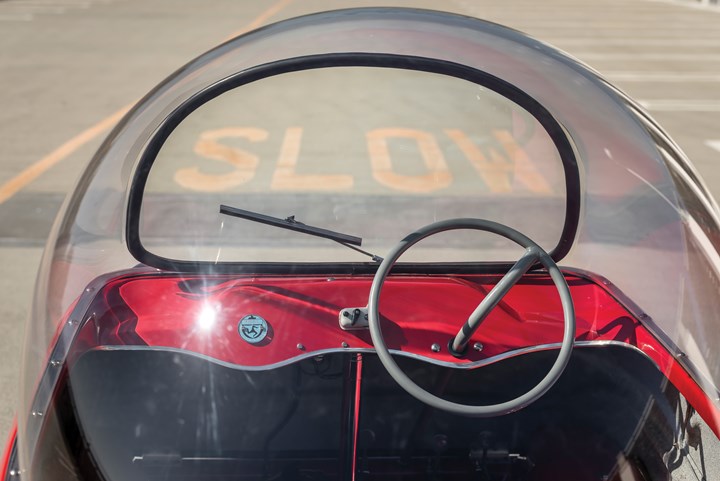 Delayed enthusiasm
Over the last few years, Peels have been gaining in popularity thanks to several media appearances that have made them better known to the general public. Now very rare, the original cars are being traded for astronomical sums, as evidenced by the latest sale organised by Car & Classic, which saw a P50 change hands for 132,000 euros!
Since 2010, Peel Engineering has been taken over and continues to produce new P50s and Tridents, but it seems that many customers have paid a deposit and never received their microcar. In the UK, there are also kits that allow you to build your own replica with a small 50cc engine or electric power. However, registering such a vehicle in the UK seems very complicated...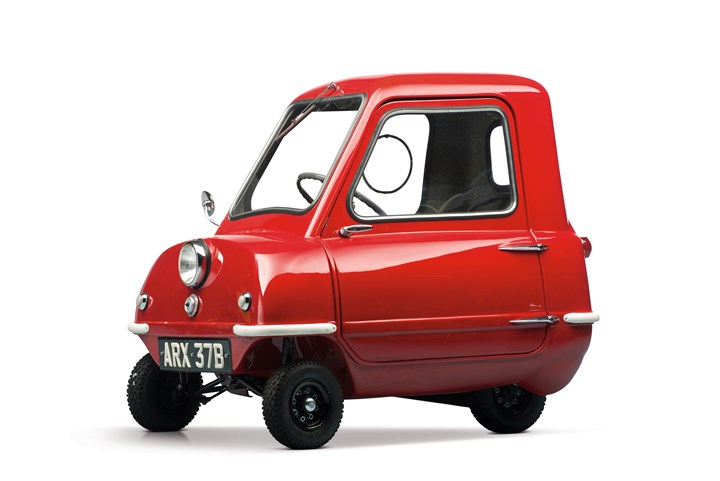 About the author: