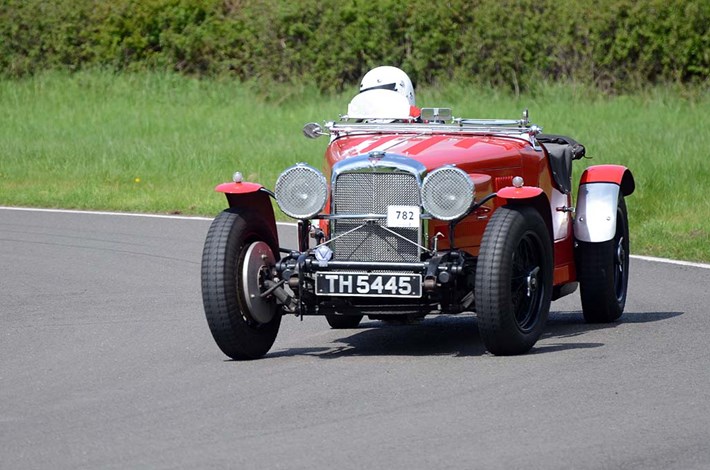 The Vintage Sports Car Club made their annual trip to the small Curborough sprint course near Lichfield, in the heart of England on Sunday 6th May 2012. The sun shone down but it was a fairly cold day. It is a short course with a long sweeping bend from the start line up to a short straight in to a very tight right-left-right series of corners, the Mole Hill, then another short straight to a long 180 degree sweeping hairpin leading to a long straight back to the start line.
This event always draws a large entry and a good turn out of spectators, as the majority of the course can be seen from the spectator bank. The entry was split in to 9 classes covering every thing from Edwardian or earlier cars right through to Pre-1941 Racing Cars over 3000cc. The Curborough Trophy for the fastest Time of Day (FTD) went to Tony Lees driving a 1925 AC/GN Cognac who completed the course in 37.30 seconds. Fastest Pre-war car was the 1937 ERA R12C of Terry Crabb who was timed at 37.41 seconds and the Fastest Vintage car was awarded to Robin Baker in a 1930 Hispano/Amilcar Special who managed to lap in 38.96 seconds.
Class winners included Andrew Bush in a Riley TT Sprint Rep, Terry Brewster in a 1937 Lagonda LG45, Dudley Sterry driving a HRS Sports, and Gareth Graham in a Bentley 3/4 ½ litre. Mark Walker was as spectacular as ever in the 1905 Darracq 200HP to win the Edwardian or Earlier cars class. Finally James Gunn won the Pre-1941 Racing Cars Class up to 1100cc in a 1936 MG Q Type.
© Simon & Janet Wright.
http://www.vscc.co.uk/vsccweb/