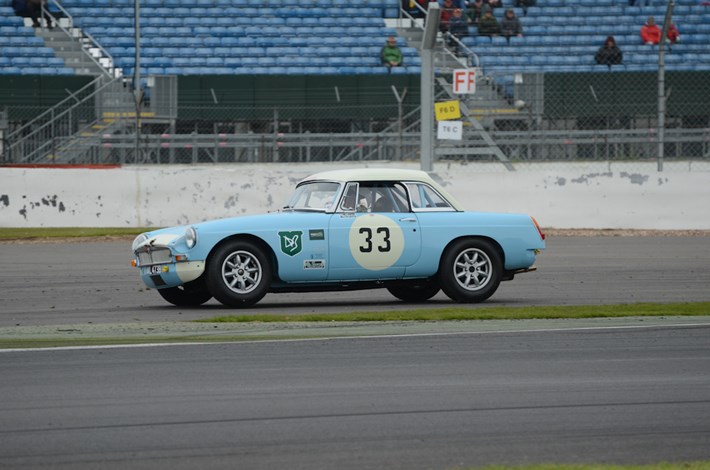 The International Trophy has been a major Non-Championship F1 race in the past, between 1949 and 1978. It has been won by many of the top drivers in Formula 1 including Ascari, Hawthorn, Stirling Moss, Jack Brabham, Graham Hill, Jim Clark, Jackie Stewart, Emerson Fittipaldi, James Hunt an Niki Lauda to name but a few.
Currently the International Trophy no longer refers to a single race, but to a Historic race weekend organised by the Historic Sports Car Club (HSCC). The high-light of this years meeting was the Martini Trophy for 2 litre Sports racing cars. To add to the grid, the Supersports are now part of the Martini Trophy series and added some variety to the entry list. The race on Sunday proved a start to flag victory for Silvio Kalb driving a March 76S, but mention must be made of David Gathercole driving a much earlier Lola 212 who was able to mix it with the much later models in the leading group and finished 4th overall to win his class. Chris Snowdon driving a Tiga SC80 won the Supersports class.
Supporting the Martini Trophy were two Derek Bell Trophy races for Formula 5000 and Formula 2 single seaters. Simon Hadfield in a Trojan T101 F5000 car took pole for the first race, but it did not take long for young Michael Lyons Lola T400 to get to the front, and Hadfield retires to the pits just after. Making it a family one-two was Frank Lyons finishing 2nd in his Gurney Eagle. The second race was the last race of the day and Frank lead for a few laps showing junior how to do it. Michael did eventually get in front to take his second win of the day and again making it a son/father 1-2 finish.
Another big race was the GT and Sports Car Cup which saw the Red Bull Grand Prix management team having a race for a change. Adrian Newey, the Red Bull designer, and Christian Horner, Red Bull Grand Prix Team Manager shared a Jaguar E-Type. Unfortunately, Adrian went off on the first lap and stuck it in a gravel trap. It took several laps to extract the car before it was able to continue. There was a good battle at the front and Leo Voyazides and Simon Hadfield in an ACE Cobra took the victory from Clark and Fiskin in a Jaguar E-Type
Other wins went to Benn Simms in a March 803B in the Classic Formula 3 race, Jon Milicevic Cooper T59 won the Formula Junior race and Leo Voyazides took a second win on the day in a Ford Falcon to win the ByBox Historic Touring Car race.
© Simon & Janet Wright