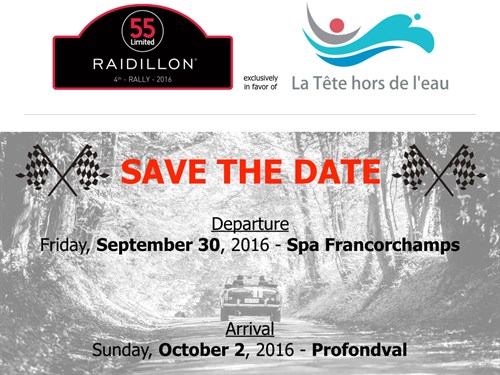 This year, from the 30th of September till the 2nd of October, the Belgian watch brand Raidillon organizes the 4th edition of the Raidillon Rally on a three days basis - two nights - to enjoy the roads of the Rally Raidillon driving your own classic car
while contributing to the association la Tête Hors de l'Eau.

To be continued...
Association La Tête Hors de l'Eau
People are not born equal; that is a simple truth.
The purpose of our organisation is to support children that suffer from limb disabilities by offering them the psychological and financial assistance they need to lead a happy life.
"La Tête hors de l'eau" is a charity supported by deeply involved personnel and a scientific committee comprising well-known medical professionals always striving for transparency and concrete results.
Video last edition