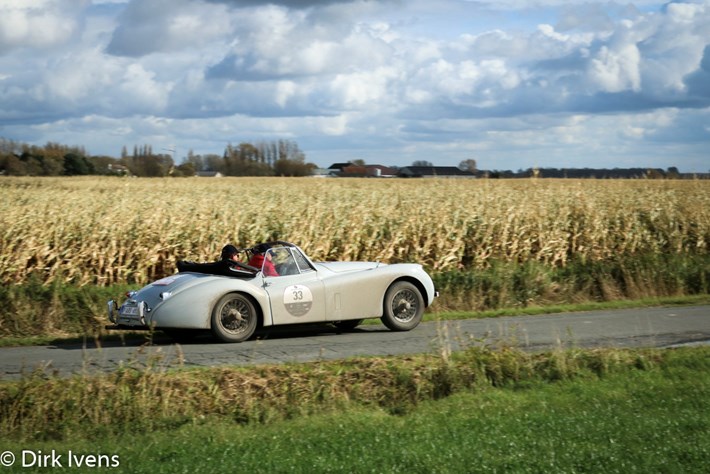 Last summer it was announced that the Zoute Grand Prix would be moved to next year but a "private" edition was organized without an audience.
On Wednesday, the 7th of October, a small press conference was held in the beautiful surroundings of Cwart in Knokke, the perfect place for organizing events. At the express request of the organization, no communication about the rally was allowed before the end of the event in order to avoid a crowd of curious automobile enthusiasts at any time.
During this conference we also got a taste of the cars that would be auctioned off by Bonhams on Sunday.
Large golden sculptures by the artist Jan Fabre could also be admired on the estate.
On Thursday 8 October, the usual ballot for participating cars took place, followed by a short rally within a 10 km radius of Knokke to determine the starting order for the next day.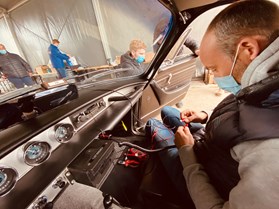 Finally, on Friday, October 9, some 175 classic cars took the start, of which 108 took part in the regularity rally. Even if the weather forecast did not announce much good, the rally of this first day however took place under a beautiful sun of late summer.
Cars crisscrossed the roads to Diksmuide and De Panne on their way to Plopsaland for a well-deserved lunch.
There, the participants had the joy of crossing the park with their beautiful bodywork before reaching the lunch venue, and from there the Roadbook brought the cars back to Knokke, where a special RT was scheduled on the closed area of the Horse Racing.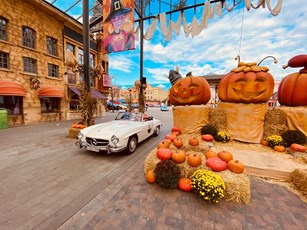 On Saturday, the cars discovered the magnificent roads towards Ursel in the direction of Le Coq. After a lunch stop in the beautiful Lauretum laurel nursery in Jabbeke, the journey continued via Blankenberge and Damme towards Knokke.
The arrival in Knokke was in no way comparable to the welcome that the participants received in previous years. The coronavirus has seriously hampered habits this year.
The winners of this 2020 edition:
1er:      Verstraete-Verstraete - Jaguar XK120 OTS
2ème:   Martens-Pick - Austin Healey A30
3ème:   Maes-Vanoverschelde - Porsche 356C.
The question that arises is whether an event such as the Zoute Grand Prix can cope with such a drastic pandemic. In previous years, the event also included a Concours d'Elegance on the Zoute golf course, a GT tour and the Zoute car gallery where the latest models of prestigious car brands were displayed in the shopping streets as well as near the sea wall. Should the organizers rethink and reinvent the event?
Photos and text (translated) by : Dirk Ivens